November 21 Killer Blues 78's & 45's Auction-complete list,
page 4
Closes Tuesday, November 21 2023 at 7 pm PT


Post War Blues / R&B 45's & Post War Blues 78's
pg 1 • pg 2 • pg 3 • pg 4
November 21st Killer Blues 45's & 78's Auction highlights

Printed (PDF) version of my November 21st Auction
How to bid on my Monthly Auctions
Post War Blues 78's: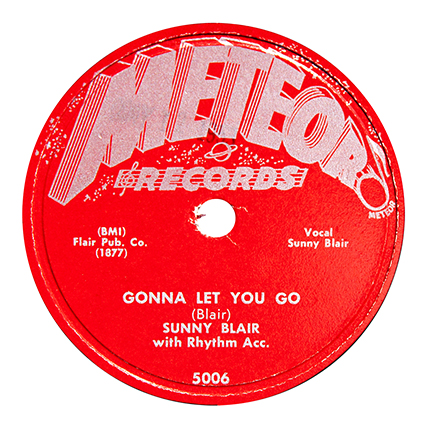 179. Sunny Blair — "Gonna Let You Go / Please Send My Baby Back" METEOR 5006 • E Monster Country Blues and near impossible to find on 45 rpm! MB $500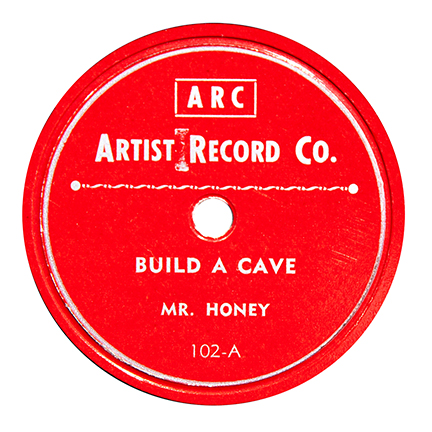 180. Mr. Honey aka HONEYBOY EDWARDS — "Build A Cave / Who May Your Regular Be" ARTIST RECORD COMPANY 102 • E Yes, this is the great Honeyboy Edwards in his only truly VINTAGE recording. SUPER SCARCE—I only know of three copies!!! Miss this one and search for decades for another one! MB $2,000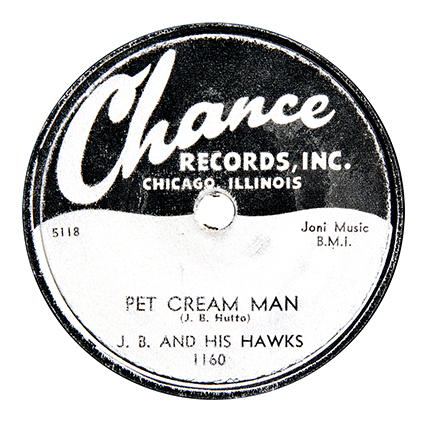 181. J. B. (Hutto) And His Hawks — "Pet Cream Man / Lovin' You" CHANCE 1160 • E+ STUNNING COPY OF A STUNNING RECORD!!! Chicago Blues Masterpiece! The 45 has THREE known copies!!! Absolutely essential for any serious collector of Post War Blues! MB $500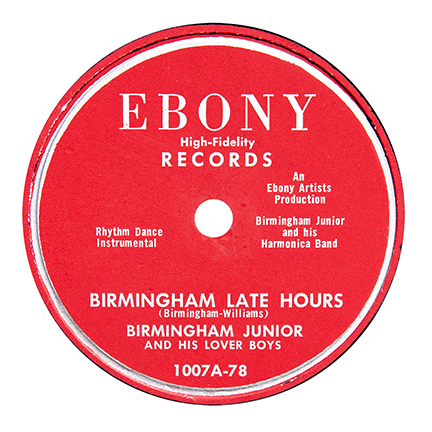 182. Birmingham Junior And His Lover Boys — "Birmingham Late Hours / You're Too Bad" EBONY 1007 • E+ OBSCURE CHICAGO BLUES MASTER-PIECE on a label owned by PARAMOUNT LABEL TALENT SCOUT J. Mayo Williams!!! TOUGH! MB $500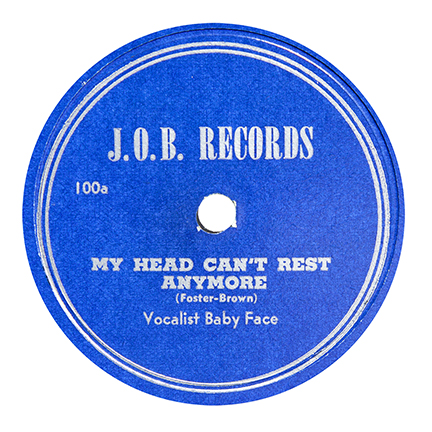 183. Baby Face Leroy — "My Head Can't Rest Anymore / Take A Little Walk With Me" J. O. B. 100 • E+ CHICAGO BLUES MASTERPIECE and the very first J.O.B. release. MB $800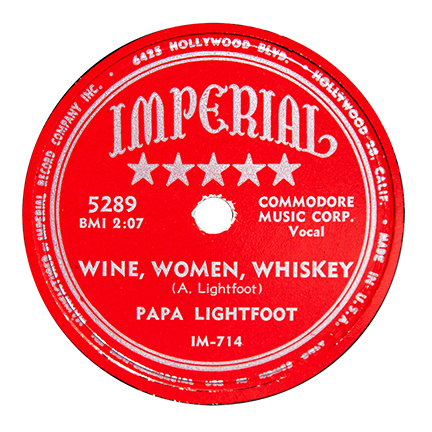 184. Papa Lightfoot — "Wine, Women, Whiskey / Mean Old Train" IMPERIAL 5289 • E+ This one gets my vote for being the LOUDEST, MOST ROCKIN' BLUES recorded in the 1950's!!! Just incredible two-sider! Near impossible on 45 rpm. MB $800
185. Kokomo Arnold — "Milk Cow Blues/Old Original Kokomo Blues" DECCA 48000 E-/E+ Kicking off their new Blues series in 1948, Decca decided to re-release this Pre-War classic MB $25
186. Mr. Google Eyes — "Japoline/Bad Nerves" DOMINO 352 E+ MB $75
187. Mr. Google Eyes — "Young Boy/Poppa Stoppa's" COLEMAN 118 E+ MB $75
188. Mr. Google Eyes — "Rough And Rocky Road/No Wine, No Women" OKEH 6820 E+ MB $50
189. Mr. Google Eyes August — "O What A Fool/Play The Game" DUKE 117 E+ MB $25
190. LaVern Baker as MISS SHARECROPPER — "I've Tried/How Long" NATIONAL 9151 E+ Her first record MB $50
191. Mr. Bear And His Bear Cats — "I'm Gonna Keep My Good Eye On You/How Come" GROOVE 0125 E+ MB $50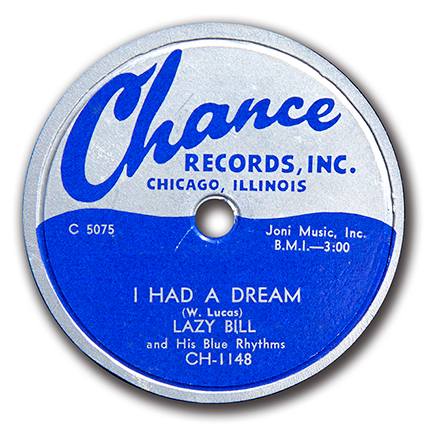 192. Lazy Bill And His Blue Rhythms — "I Had A Dream/She Got Me Walkin' " CHANCE 1148 E FABULOUS!!! MB $300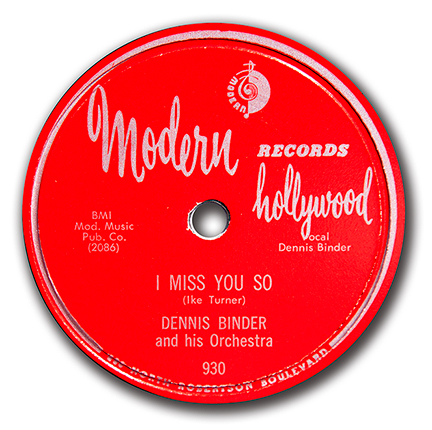 193. Dennis Binder And His Orchestra — "I Miss You So/Early Times" MODERN 930 E+/E FABULOUS ROCKIN' BLUES MB $100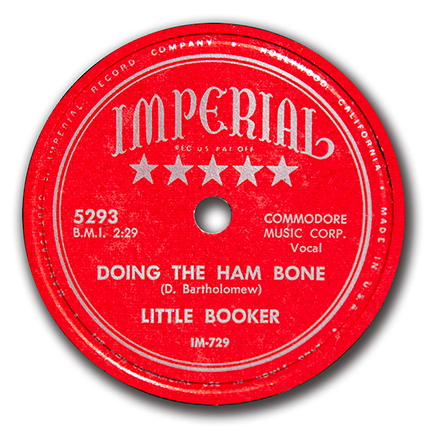 194. Little Booker — "Doing The Ham Bone/Thinkin' About My Baby" IMPERIAL 5293 E+ VINYL—and the sound just leaps from the grooves! MB $100
195. Calvin Boze And His All Stars — "Stinkin' From Drinkin'/Look Out For Tomorrow Today" ALADDIN 3072 E+ MB $50
196. Big Bill Broonzy And His Guitar — "I Love My Whiskey/Water Coast Blues" MERCURY 8122 E MB $25
197. Honey Brown — "Rockin' And Jumpin'/Lonesome And Mistreated" DERBY 761 E+ MB $50
198. Piney Brown — "Gloomy Monday Blues/Mourning Blues" APOLLO 402 E+ MB $25
199. Beulah Bryant — "What Am I Gonna Do?/Prize Fightin' Papa" EXCELLO 2049 E+ TOUGH FEMALE BLUES MB $50
200. Allen Bunn And Trio — "The Guy With A "45"/She'll Be Sorry" APOLLO 436 E+ MB $25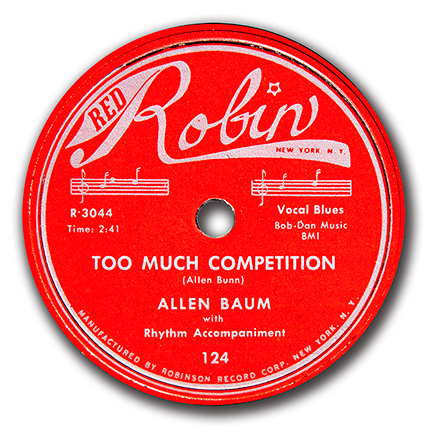 201. Allen Baum (Bunn) — "Too Much Competition/My Kinda Woman" RED ROBIN 124 E FABULOUS MB $100
202. Harold Burrage — "Messed Up/I Don't Care Who Knows" COBRA 5012 E+ MB $75
203. Dr. Clayton — "I Need My Baby/Hold That Train, Conductor" RCA VICTOR 20-1995 E+ MB $25
204. Sammy Cotton — "It's So Hard/You've Been Mistreating Me" REGAL 3284 E+ WHITE LABEL PROMO MB $25
205. Arthur "Big Boy" Crudup — "Rock Me Mama/Who's Been Foolin' You" BLUEBIRD 34-0725 E MB $25
206. Arthur "Big Boy" Crudup — "Cool Dispo-sition/Keep Your Arms Around Me" BLUE-BIRD 34-0738 E MB $25
207. Arthur "Big Boy" Crudup — "I'm In The Mood/She's Gone" RCA VICTOR 34-0746 E MB $25
208. Arthur "Big Boy" Crudup — "Dust My Broom/You Know That I Love You" RCA VICTOR 22-0074 E Has tiny edge chip that doesn't go into the grooves MB $20
209. Big Boy Crudup — "Goin' Back To Georgia/Mr. So And So" RCA VICTOR 20-4572 E MB $20
210. Walter Davis — "My Friends Don't Know Me/When You Need My Help" RCA VICTOR 20-2156 E+ MB $25
211. Walter Davis — "Things Ain't What They Used To Be/Just One More Time" RCA VICTOR 20-2335 E MB $20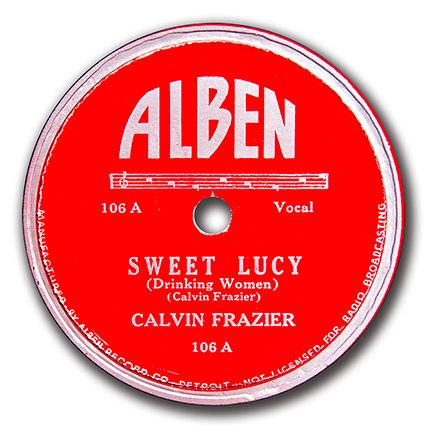 212. Calvin Frazier — "Sweet Lucy (Drinking Women)/Be-Bop Boogie" ALBEN 106 V RARE MB $100
213. Little Boy Fuller — "Shake Your Stuff/ Lazy Bug Blues" SAVOY 5535 E-/E MB $25
214. Jazz Gillum — "Whiskey Head Buddies/Afraid To Trust Them" BLUEBIRD 34-0741 E+ MB $25
215. Jazz Gillum — "Reckless Rider Blues/ Look On Yonder Wall" RCA VICTOR 20-1974 E+ MB $25
216. Jazz Gillum — "Can't Trust Myself/All In All Blues" RCA VICTOR 20-2232 E/E+ MB $20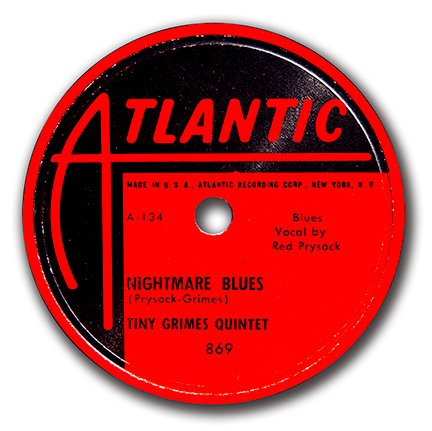 217. Tiny Grimes Quintet — "Nightmare Blues/Hot In Harlem" ATLANTIC 869 M- Super early ATLANTIC with vocal by Red Prysock MB $100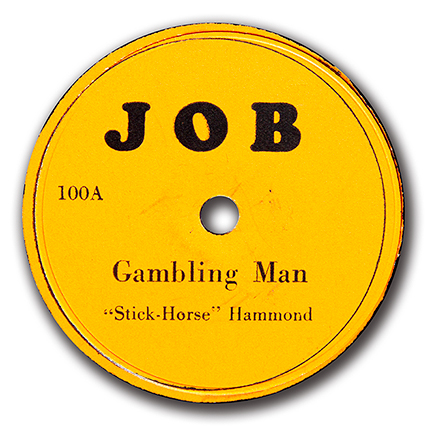 218. "Stick Horse" Hammond — "Gambling Man/Alberta" J O B 100 E- With hard to spot one inch hairline crack RARE MB $100
219. Wynonie Harris With Todd Rhodes Orchestra — "Lovin' Machine/Luscious Woman" KING 4485 E+ MB $25
220. Wynonie Harris — "The Deacon Don't Like It/Song Of The Bayou" KING 4635 E- WHITE LABEL PROMO MB $25
221. Smokey Hogg — "Little Car Blues/Country Gal" MODERN 833 E+ # OL MB $25
222. John Lee Hooker — "Ride 'Til I Die/It's Stormin' And Rainin' " MODERN 901 E MB $50
223. John Lee Hooker — "I Wonder Little Darling/Jump Me" MODERN 931 E MB $50
224. John Lee Hooker — "I Tried Hard/Let's Talk It Over" MODERN 935 E/E+ MB $50
225. John Lee Hooker — "I'm So Worried Baby/The Road Is So Rough" VEE-JAY 233 E+ MB $50
226. John Lee Hooker — "I Love You Honey/You've Taken My Woman" Vee-Jay 293 E/E+ MB $50
227. Lightnin' Hopkins — "Fast-Mail Rambler/Thinkin' And Worryin' " ALADDIN 204 E+ Magnificent! MB $100
228. Lightnin' Hopkins — "Early Mornin' Boogie/Nothin' But The Blues" HERALD 443 E MB $50
229. Lightnin' Hopkins And His Guitar — "They Wonder Who I Am/Evil Hearted Woman" HERALD 449 E WHITE LABEL PROMO pressed on thin VINYL for that sound that just leaps from the grooves, #ol MB $50
230. Bull Moose Jackson — "Big Fat Mamas Are Back In Style Again/My Beloved" KING 4412 E+ MB $25
231. Moose Jackson — "Nosey Joe/Sad" KING 4524 M- WHITE LABEL PROMO MB $50
232. Lil' Son Jackson — "Good Ole Wagon/SAME" IMPERIAL 5312 E Same label on both sides MB $50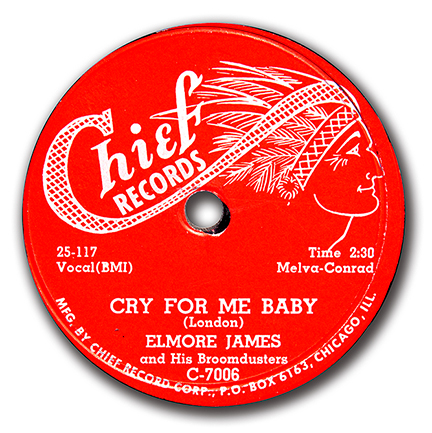 233. Elmore James And His Broomdusters — "Cry For Me Baby/Take Me Where You Go" CHIEF 7006 E MB $300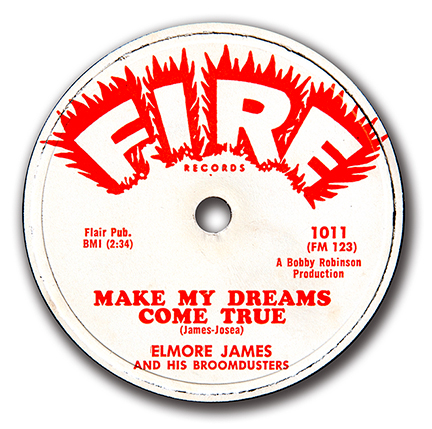 234. Elmore James And His Broomdusters — "Make My Dreams Come True/Bobby's Rock" FIRE 1011 E- RARE ON 78 RPM FORMAT MB $300
235. Bo-Bo Jenkins — "Baby, Don't You Want It To Go/10 Below Zero" FORTUNE 838 E MB $200
236. Memphis Jimmy — "Drifting/Mercy Mama" RCA VICTOR 20-1887 E MB $20
237. St. Louis Jimmy — "Dog House Blues/ Bad Condition" RCA VICTOR 20-2650 E MB $20
238. Cousin Joe — "Post-War Future Blues/ Mop-Mop" ALADDIN 118 E- With one inch hairline crack . . . tough one MB $20
239. Cousin Joe With Pete Brown's Brooklyn Blues Blower — "Weddin' Day Blues/You Got It Comin' To You" SAVOY 5527 E+ MB $25
240. Cousin Joe With Hoogie Beetle on piano — "Old Man Blues/Too Tight To Walk Loose" SAVOY 5536 E+ MB $25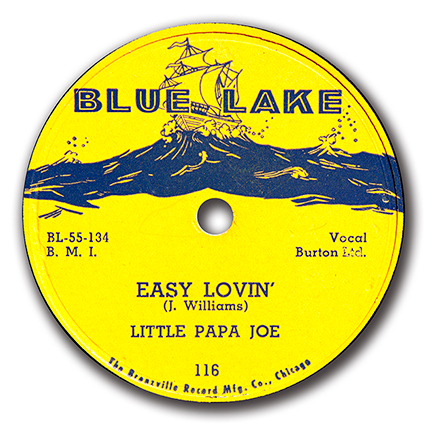 241. Little Papa Joe — "Easy Lovin'/Looking For My Baby" BLUE LAKE 116 E+ aka JODY WILLIAMS MB $50
242. Smokey Joe — "The Signifying Monkey/Listen To Me Baby" SUN 228 V+ MB $20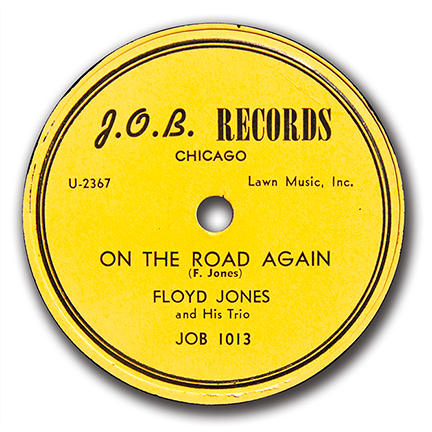 243. Floyd Jones And His Trio — "On The Road Again/Skinny Mama" J. O. B. 1013 E CHICAGO BLUES MASTERPIECE MB $400
244. Curtis Jones — "Don't Leave Me Baby/ Her Love Will Get It" COLUMBIA 37472 E MB $25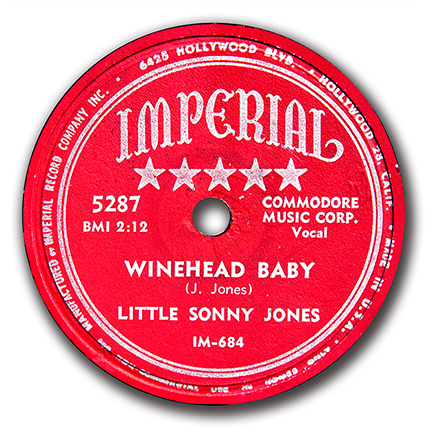 245. Little Sonny Jones — "Winehead Baby/Going To The Country" IMPERIAL 5287 M- MB $100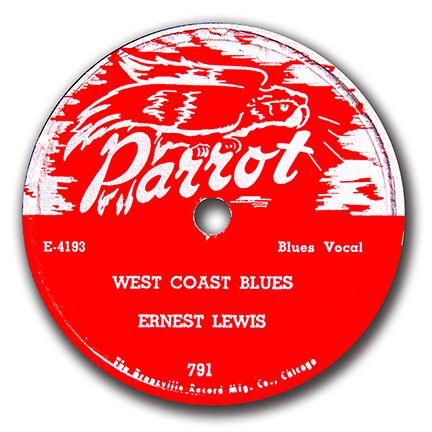 246. Ernest Lewis — "West Coast Blues/No More Lovin' " PARROT 791 E CHICAGO BLUES MASTERPIECE MB $200
247. Jimmy Liggins — "Going Away/Come Back Home" SPECIALTY 484 E WHITE LABEL PROMO MB $25
248. Robert Lockwood, Jr. — "Dust My Broom/I'm Gonna Dig Myself A Hole" MERCURY 8260 E+/E MB $300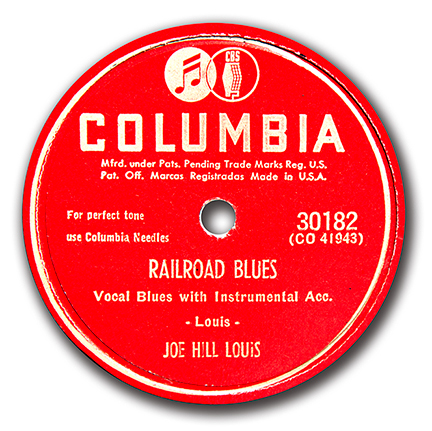 249. Joe Hill Louis — "Railroad Blues/A'Jumpin' And A'Shufflin" COLUMBIA 30182 E With 1/2 inch lam on the A-side—RARE! MB $300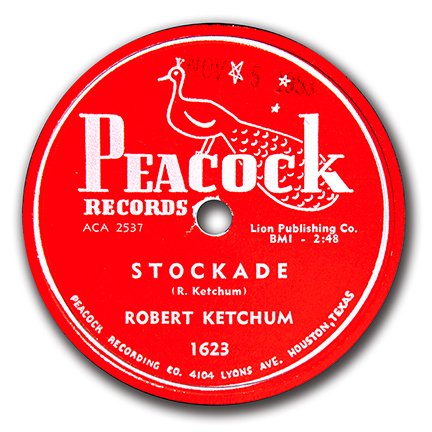 250. Robert Ketchum — "Stockade/She's Gone From Me" PEACOCK 1623 E-/E+ MB $200
251. Big Maceo — "Kid Man Blues/Things Have Changed" BLUEBIRD 34-0735 E MB $20
252. Big Maceo — "My Own Troubles/I Lost My Little Woman" RCA VICTOR 20-2353 E MB $20
253. Big Maceo — "One Sunday Morning/Just Tell My Baby" SPECIALTY 346 E/E+ MB $20
254. Percy Mayfield — "Loose Lips/I Need Love So Bad" SPECIALTY 485 E WHITE LABEL PROMO MB $20
255. Big Red McHouston — "I'm Tired/Where Is My Honey" GROOVE 0020 E+ WHITE LABEL PROMO, aka MICKEY BAKER MB $50
256. Memphis Minnie — "I'm So Glad/Mean Mistreater Blues" COLUMBIA 37295 E- MB $20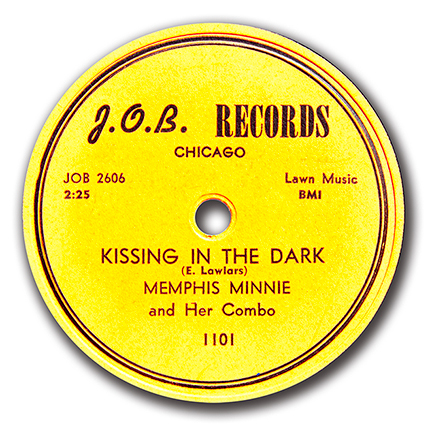 257. Memphis Minnie And Her Combo — "Kissing In The Dark/World Of Trouble" J. O. B. 1101 E+ Post War Minnie Masterpiece MB $300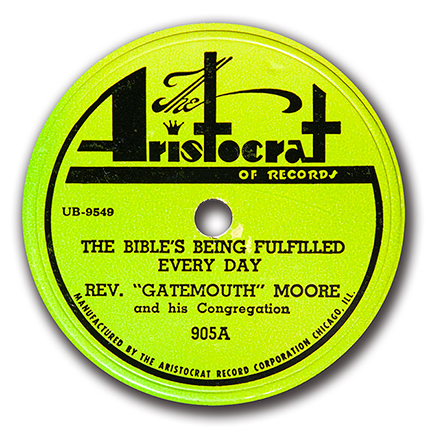 258. Rev. "Gatemouth" Moore And His Congregation — "The Bible's Being Fulfilled Every Day/Glory, Glory" ARISTOCRAT 905 E+ RARE MB $100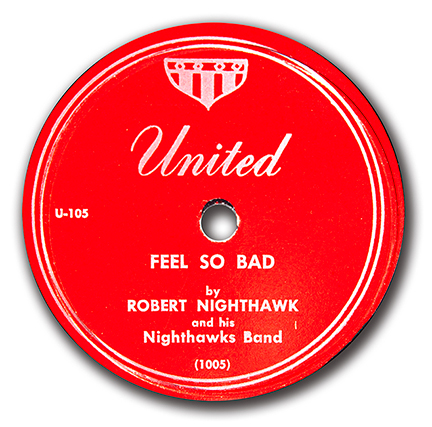 259. Robert Nighthawk And His Nighthawks Band — "Feel So Bad/Take It Easy Baby" UNITED 105 E+ SUPER HARD TO FIND SUPER CLEAN MB $500
260. Tampa Red — "I'll Be Up Again Some Day/ I Oughta Bite You" RCA VICTOR 20-2147 E+/E MB $20
261. Tempo Toppers — "Rice, Red Beans And Turnip Greens/Always" PEACOCK 1628 V MB $25
262. Tommy Ridgley — "Earley Dawn Boogie/Shresbury Blues" IMPERIAL 5054 V+ MB $20
263. Washboard Sam And His Washboard Band — "Soap And Water Blues/You Can't Make The Grade" RCA VICTOR 20-2440 E+ MB $25
264. Guitar Slim And His Band — "Woman Troubles/Cryin' In The Morning" IMPERIAL 5278 E MB $25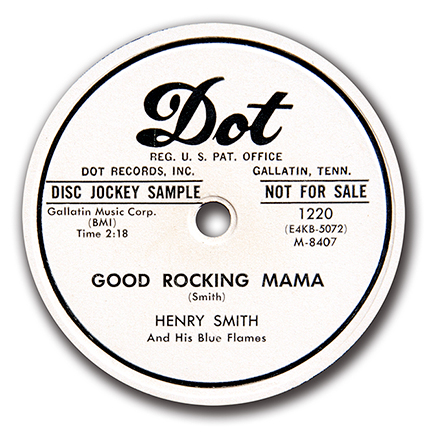 265. Henry Smith And His Blue Flames — "Good Rocking Mama/Lonesome Blues" DOT 1220 E+/E WHITE LABEL PROMO, MASTERPIECE MB $300
266. Blance Thomas — "You Ain't So Such A Much/Not The Way That I Love You" IMPERIAL 5302 E+ Date on A-side label—thin VINYL pressing MB $100
267. Irene Treadwell — "Dear Santa, Bring Back My Daddy To Me!/The Church" JAY-DEE 782 E- MB $20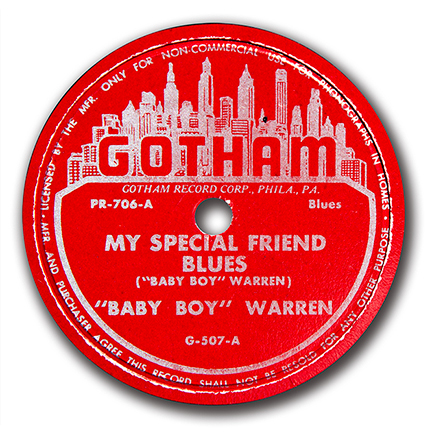 268. "Baby Boy" Warren — "My Special Friend Blues/Nervy Woman Blues" GOTHAM 507 E+ MB $200
269. Muddy Waters — "I Won't Go On/She's Got It" CHESS 1692 E+ MB $100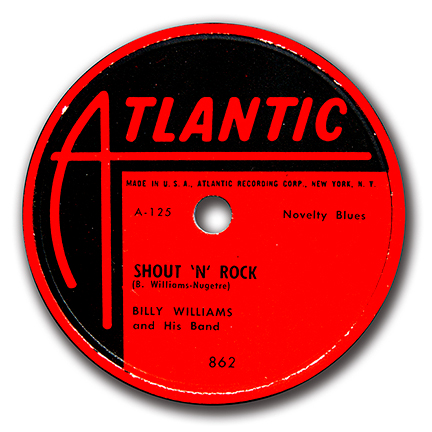 270. Billy Williams And His Band — "Shout 'N' Rock/The Blues That Jack Built" ATLANTIC 862 E+ RARE EARLY ATLANTIC MB $100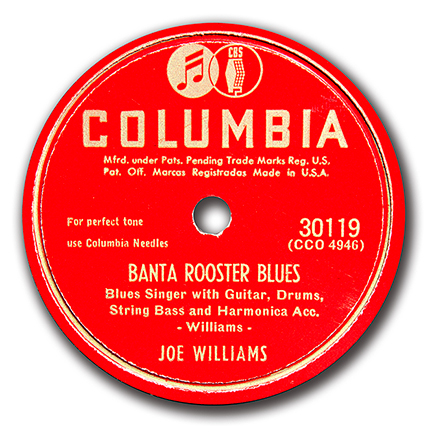 271. Joe Williams — "Banta Rooster Blues/ House Lady Blues" COLUMBIA 30119 E Great Cover Version of CHARLEY PATTON'S "BANTY ROOSTER BLUES" MB $50
272. Joe Williams — "Somebody's Been Worrying/Vitamin A" BLUEBIRD 34-0739 E MB $20
273. Sherman Williams Orchestra — "The Bounce/Sad And Blue" UNIQUE 001 E+/E MB $30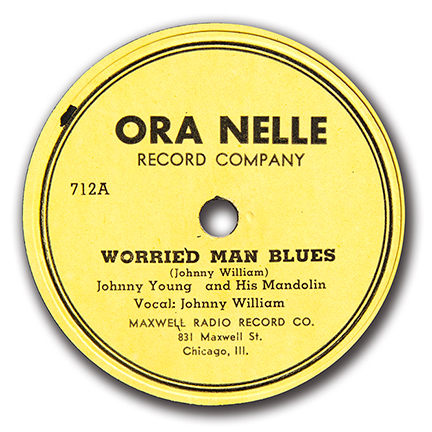 274. Johnny Young And His Mandolin — "Worried Man Blues/Money Talkin' Woman" ORA NELLE 712 E+ MB $400
275. Sonny Boy Williamson — "Decoration Day Blues No. 2/Love Me, Baby" BLUEBIRD 34-0713 E MB $20
276. Sonnyboy Williamson — "Miss Stella Brown/Desparado Woman" BLUEBIRD 34-0736 E MB $20
277. Sonny Boy Williamson — "Alcohol Blues/Apple Tree Swing" RCA VICTOR 20-2893 E MB $20
278. Jimmy Witherspoon — "Foolish Prayer/ Two Little Girls" FEDERAL 12095 E+ WHITE LABEL PROMO MB $50
My November 21st Killer Blues Auction highlights
Good luck, everybody!
John Tefteller

Next Month's Auction:
Pete Whelan Pre-War Blues 78's Collection — Part 3!