The Ralph DeLuca Collection of Pre-War Blues 78's (Auction #2), Highlights!

Closes Thursday, December 16, 2021 at 7:00 pm PT
This is auction #2 (of at least five) of the record collection of Ralph DeLuca.
Mr. DeLuca is most known for his legendary collection of rare movie posters, but for 15 years he actively, and aggressively, collected rare Blues 78's, mostly Pre-War.
He plunged into collecting rare Blues 78's hot and heavy and went for the best whenever and wherever he could find them. He bought smart and paid big to get what he wanted!
Mr. DeLuca has moved into the art world, no longer collecting 78's, as he finds it easier to buy rare art than rare records. That should tell you something!
There should be something for each and every Blues collector reading this auction. There are titles here not seen for sale in decades . . . and some may never be seen again.
This is your chance to get some LEGENDARY rarities and just plain GREAT records for your collection. Be prepared though — the great stuff is going to go for a lot of money!
E+ is the highest grade used. This is the old-time 78 grading system and I am very strict.
The next Ralph DeLuca auction will be in March of 2022 and contains another 100 or so goodies.
The previous DeLuca auction realized over $200,000 in sales and this one is even better!
Good luck to all!

Ralph DeLuca's Pre-War Blues 78's auction, Auction #2, full list


Printed (PDF) version of Ralph DeLuca's Pre-War Blues 78's auction, Auction #2, low-res (14 mb)


Printed (PDF) version of Ralph DeLuca's Pre-War Blues 78's auction, Auction #2, high-res (23 mb)
How to bid on my Monthly Auctions
The Six Kings of Pre-War Blues!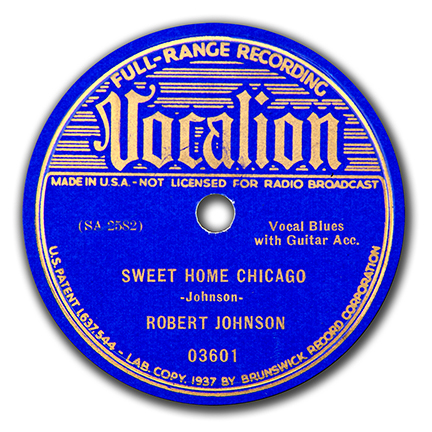 1. Robert Johnson — "Sweet Home Chicago / Walkin' Blues" VOCALION 03601 • STRONG V+ Very nice copy of double-sided Johnson classic! The A-side has been covered by others for decades and the B-side was borrowed from Son House. Then Muddy Waters recorded it as the B-side of his First Chess label release. MB $5,000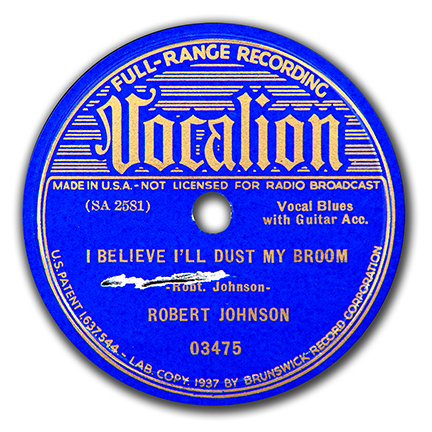 2. Robert Johnson — "I Believe I'll Dust My Broom / Dead Shrimp Blues" VOCALION 03475 • STRONG V+ Another nice copy and all time Blues masterpiece! Elmore James wasn't the first to record this classic! There is a tiny 1/2" hair crack on the outer edge that is super hard to spot and makes no noise when played. MB $5,000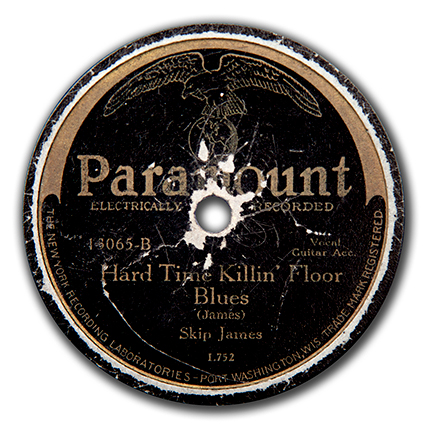 3. Skip James — "Hard Time Killin' Floor Blues / Cherry Ball Blues" PARAMOUNT 13065 • POOR Quite possibly the rarest record I have ever offered! This is one of only three or four known copies! Yes it's wrecked, but it plays through and you can hear Skip's playing and singing. You never, ever see this for sale. MB $10,000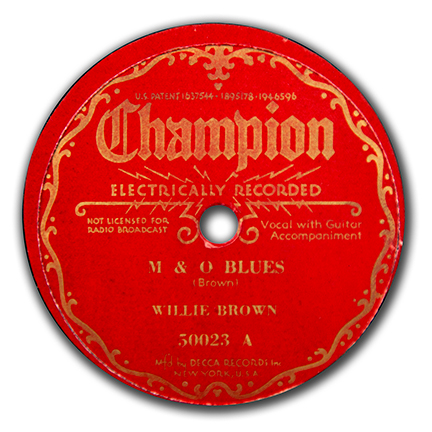 4. Willie Brown — "M & O Blues / Future Blues" CHAMPION50023 • E Absolutely stunning copy of legendary rarity. Yes, it is a second issue but there are only about four known on Paramount and never for sale. 1/2" hair crack, very hard to spot, on the outer edge. Almost perfect otherwise. "Future Blues" is one of the Top Ten Blues records of all time! MB $8,000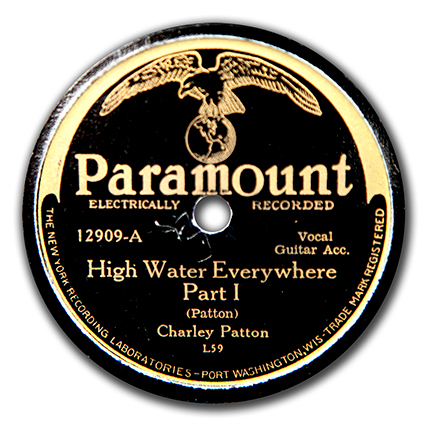 5. Charley Patton — "High Water Everywhere Part I / Part II" PARAMOUNT 12909 • V+ PLAYS AMAZINGLY LOUD AND CLEAR!!! Patton masterpiece! Almost never for sale at ANY price and usually found in wrecked condition! They don't get better than this one and it is so great to be able to hear it play loud and clear! MB $10,000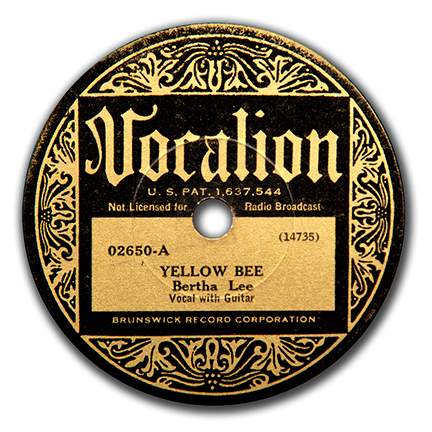 6. Bertha Lee With Her Husband, Charley Patton — "Yellow Bee / Mind Reader Blues" VOCALION 02650 • E WHAT A RECORD! Charley Patton singing with his wife! Absolutely stunning sound on this ultra clean copy! Almost never for sale at any price! MB $8,000
DeLuca Consignment Pre-War Blues Auction Highlights, auction #2!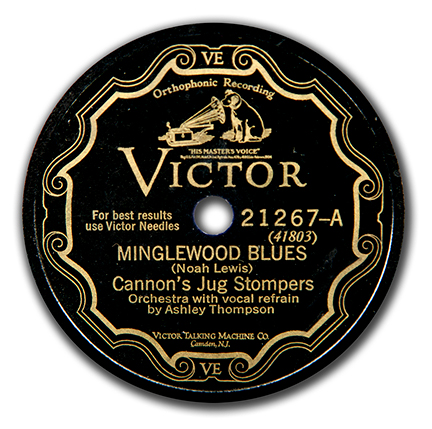 21. Cannon's Jug Stompers —"Minglewood Blues / Madison Street Rag" VICTOR 21267 • E MASTERPIECE and this is one super clean copy!!! MB $2,000
26. Blind Ben Covington — "It's A Fight Like That /Boodle-Dee Bum Bum" BRUNSWICK 7121 • E RARE MB $750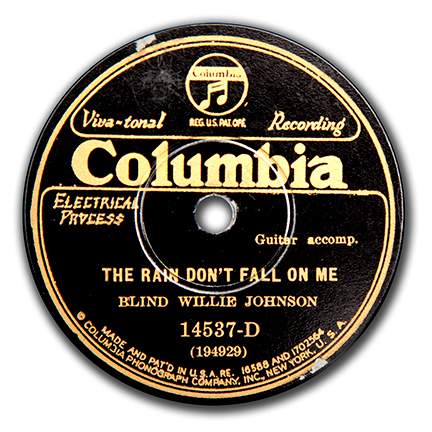 54. Blind Willie Johnson — "The Rain Don't Fall On Me / Trouble Will Soon Be Over" COLUMBIA 14537 • E SUPER CLEAN COPY!!! MB $1,000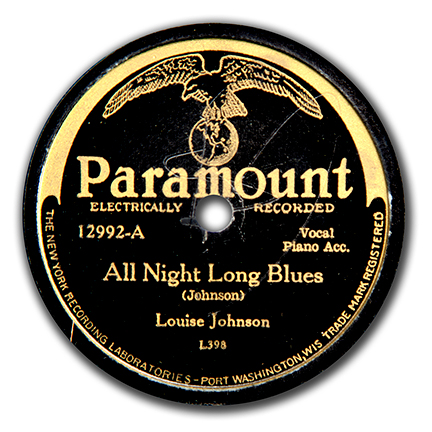 57. Louise Johnson With Charley Patton And Son House — "All Night Long Blues / Long Ways From Home" PARAMOUNT • 12992 V Legendary record from legendary session that saw Johnson (girlfriend of Patton, then House) make records with House and Patton rollicking in the background! This is the only "affordable" Son House Paramount and almost never for sale! MB $2,000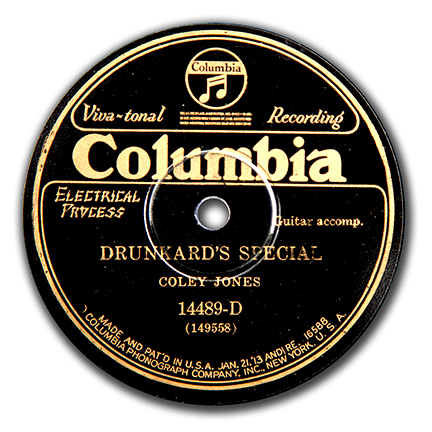 58. Coley Jones — "Drunkard's Special / The Elder's He's My Man" COLUMBIA 14489 • E+ DALLAS STRING BAND MB $750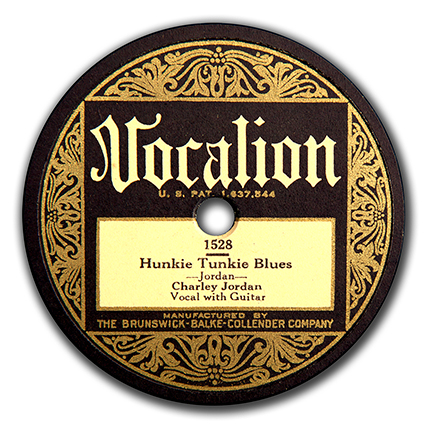 60. Charley Jordan — "Hunkie Tunkie Blues / Raidin' Squad Blues" VOCALION 1528 • E+ FLAWLESS COPY—OLD STORE STOCK MB $1,500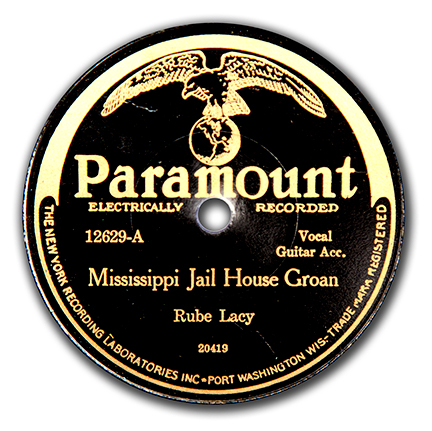 62. Rube Lacy — "Mississippi Jail House Groan / Ham Hound Crave" PARAMOUNT 12629 • E- HIS ONLY RELEASE—AND WHAT A RECORD!!! MB $1,000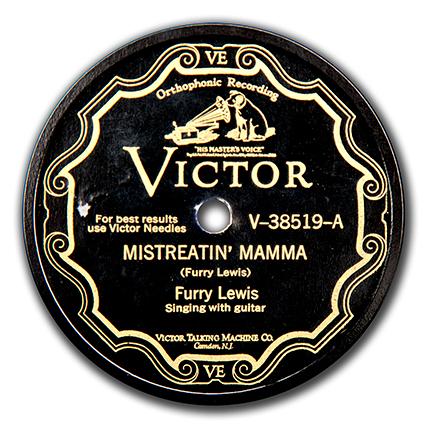 63. Furry Lewis — "Mistreatin' Mamma /Furry's Blues" VICTOR 38519 • E+ With tiny label tear as shown, just about perfect copy! MB $2,000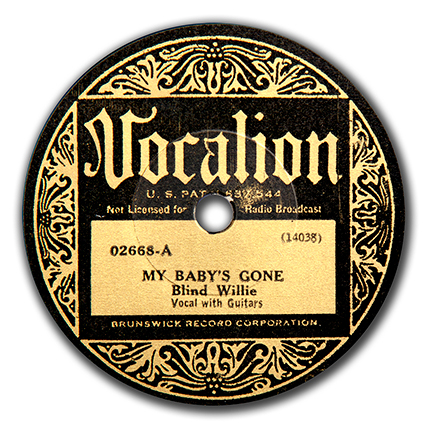 67. Blind Willie McTell — "My Baby's Gone / Weary Hearted Blues" VOCALION 02668 • E GORGEOUS COPY MB $2,000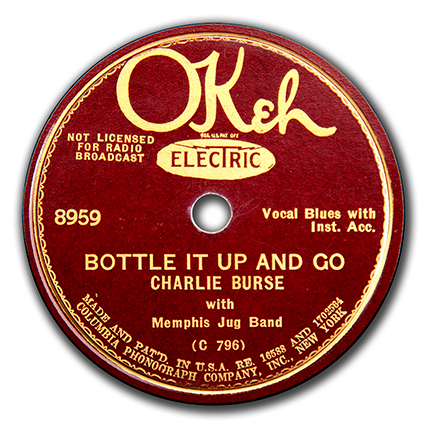 69. Memphis Jug Band — "Bottle It Up And Go /Insane Crazy Blues" OKEH 8959 • E+ GORGEOUS COPY MB $800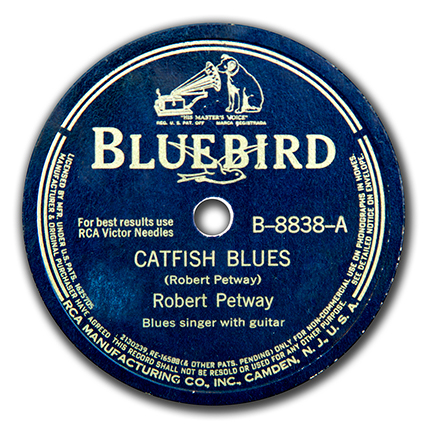 73. Robert Petway — "Catfish Blues / Ride 'Em On Down" BLUEBIRD 8838 • E- His Rarest and his Best! Fabulous record, almost never turns up! MB $1,000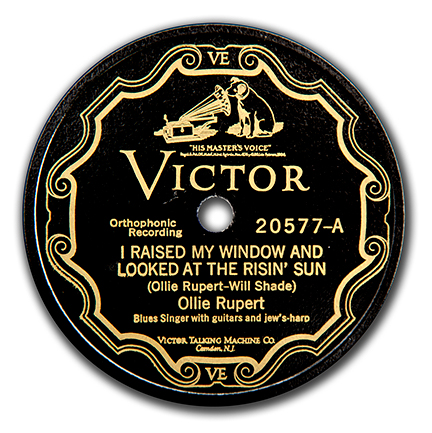 82. Ollie Rupert With The Memphis Jug Band — "I Raised My Window And Looked At The Risin' Sun / Ain't Gonna Be Your Low Down Dog" VICTOR 20577 • E NICE ONE!!! MB $750
79. Seth Richard — "Skoodledum Doo /Lonely Seth Blues" COLUMBIA 14325 • E+ RARE AND GREAT MB $1,000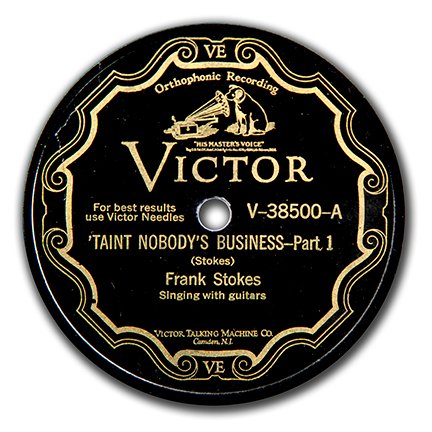 86. Frank Stokes — " 'Taint Nobody's Business_Part 1 / Part 2" VICTOR 38500 • E+ STUNNING COPY MB $2,000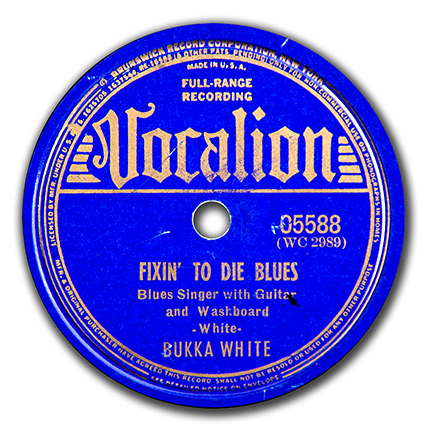 97. Bukka White — "Fixin' To Die Blues / Black Train Blues" VOCALION 05588 E/V+ ALL TIME CLASSIC MB $1,000
My December 16th DeLuca Pre-War Blues 78's Auction #2, full list:
Good luck, everybody!
John Tefteller