The Ralph DeLuca Collection of Pre-War Blues 78's (Auction #2), Complete List!
Closes Thursday, December 16, 2021 at 7:00 pm PT
This is auction #2 (of at least five) of the record collection of Ralph DeLuca.
Mr. DeLuca is most known for his legendary collection of rare movie posters, but for 15 years he actively, and aggressively, collected rare Blues 78's, mostly Pre-War.
He plunged into collecting rare Blues 78's hot and heavy and went for the best whenever and wherever he could find them. He bought smart and paid big to get what he wanted!
Mr. DeLuca has moved into the art world, no longer collecting 78's, as he finds it easier to buy rare art than rare records. That should tell you something!
There should be something for each and every Blues collector reading this auction. There are titles here not seen for sale in decades . . . and some may never be seen again.
This is your chance to get some LEGENDARY rarities and just plain GREAT records for your collection. Be prepared though — the great stuff is going to go for a lot of money!
E+ is the highest grade used. This is the old-time 78 grading system and I am very strict.
The next Ralph DeLuca auction will be in March of 2022 and contains another 100 or so goodies.
The previous DeLuca auction realized over $200,000 in sales and this one is even better!
Good luck to all!

Ralph DeLuca's Pre-War Blues 78's auction, Auction #2, highlights


Printed (PDF) version of Ralph DeLuca's Pre-War Blues 78's auction, Auction #2, low-res (14 mb)


Printed (PDF) version of Ralph DeLuca's Pre-War Blues 78's auction, Auction #2, high-res (23 mb)
How to bid on my Monthly Auctions
DeLuca Pre-War Blues 78's consignment, auction #2, full-list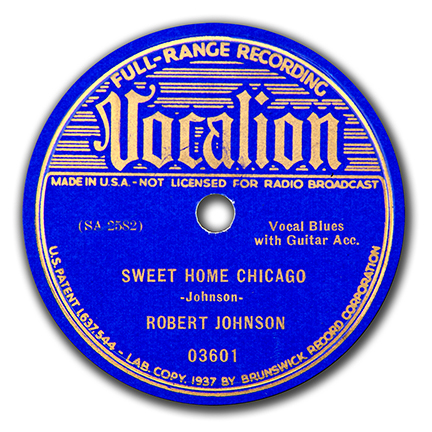 1. Robert Johnson — "Sweet Home Chicago / Walkin' Blues" VOCALION 03601 • STRONG V+ Very nice copy of double-sided Johnson classic! The A-side has been covered by others for decades and the B-side was borrowed from Son House. Then Muddy Waters recorded it as the B-side of his First Chess label release. MB $5000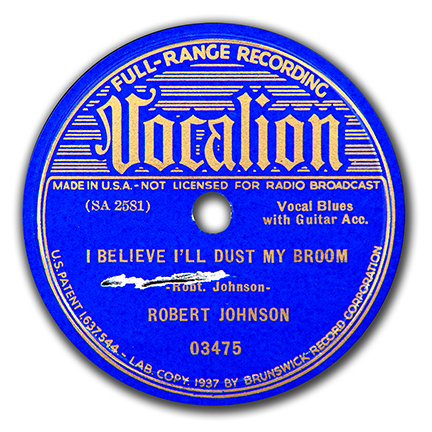 2. Robert Johnson — "I Believe I'll Dust My Broom / Dead Shrimp Blues" VOCALION 03475 • STRONG V+ Another nice copy and all time Blues masterpiece! Elmore James wasn't the first to record this classic! There is a tiny 1/2" hair crack on the outer edge that is super hard to spot and makes no noise when played. MB $5000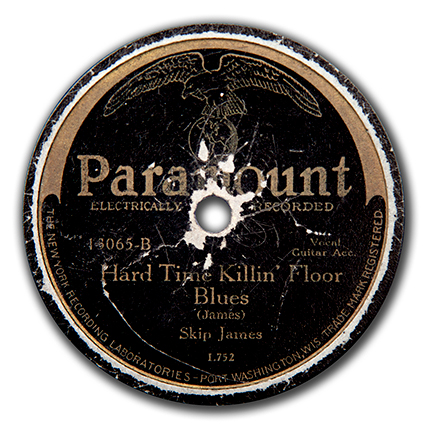 3. Skip James — "Hard Time Killin' Floor Blues / Cherry Ball Blues" PARAMOUNT 13065 • POORQuite possibly the rarest record I have ever offered! This is one of only three or four known copies! Yes it's wrecked, but it plays through and you can hear Skip's playing and singing. You never, ever see this for sale. MB $10,000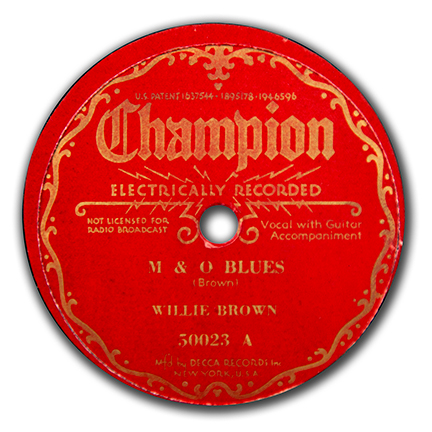 4. Willie Brown — "M & O Blues / Future Blues" CHAMPION50023 • E Absolutely stunning copy of legendary rarity. Yes, it is a second issue but there are only about four known on Paramount and never for sale. 1/2" hair crack, very hard to spot, on the outer edge. Almost perfect otherwise. "Future Blues" is one of the Top Ten Blues records of all time! MB $8,000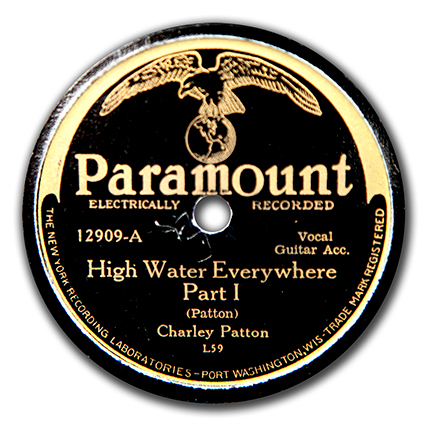 5. Charley Patton — "High Water Everywhere Part I / Part II" PARAMOUNT 12909 • V+ PLAYS AMAZINGLY LOUD AND CLEAR!!! Patton masterpiece! Almost never for sale at ANY price and usually found in wrecked condition! They don't get better than this one and it is so great to be able to hear it play loud and clear! MB $10,000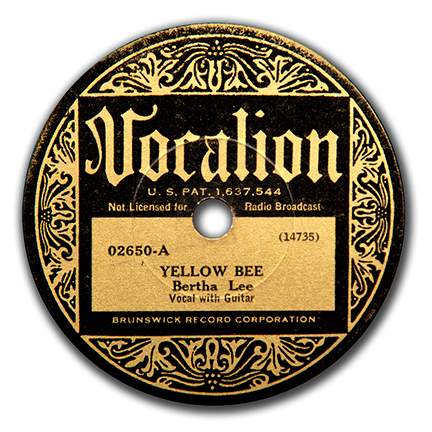 6. Bertha Lee With Her Husband, Charley Patton — "Yellow Bee / Mind Reader Blues" VOCALION 02650 • E WHAT A RECORD! Charley Patton singing with his wife! Absolutely stunning sound on this ultra clean copy! Almost never for sale at any price! MB $,8000
7. Texas Alexander — "The Risin' Sun/Tell Me Woman Blues" OKEH 8673 V+ GREAT GUITAR MB $100
8. Mose Andrews — "Young Heifer Blues/Ten Pound Hammer" DECCA 7338 E MB $200
9. Kokomo Arnold — "How Long How Long Blues/Things 'Bout Coming My Way" DECCA 7070 E MB $200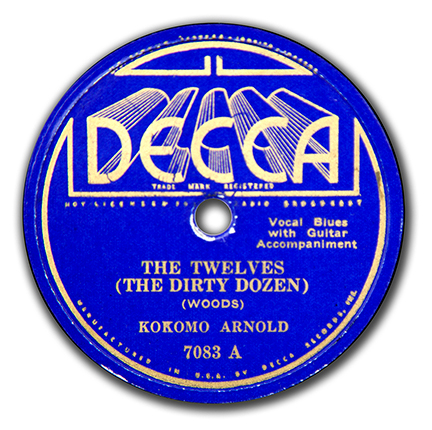 10. Kokomo Arnold — "The Twelves (The Dirty Dozen)/Feels So Good" DECCA 7083 E- ALL TIME CLASSIC MB $200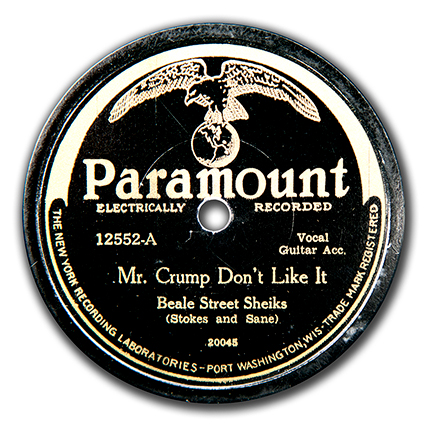 11. Beale Street Sheiks — "Mr. Crump Don't Like It/Blues In "D" " PARAMOUNT 12552 V+ GREAT ONE BY FRANK STOKES AND DAN SANE—and Mr. Crump was a real person in Memphis! MB $500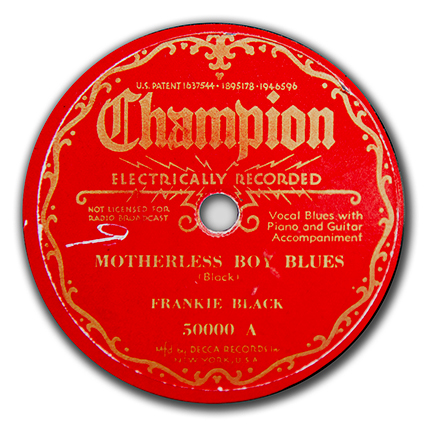 12. Frankie Black aka Scrapper Blackwell — "Motherless Boy Blues/Wayback Blues" CHAMPION 50000 E The Scrapper Blackwell solo records are just soooo good and this one is no exception! MB $500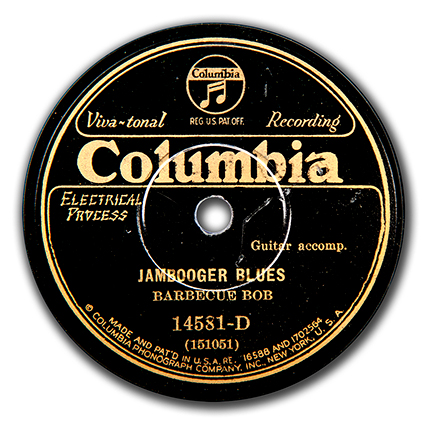 13. Barbecue Bob — "Jambooger Blues/New Mojo Blues" COLUMBIA 14581 E SUPER CLEAN!!! And super clean Barbecue Bob 78's just don't turn up anymore. You will see lots of beat ones but try and find them in E or better . . . MB $500
14. Emory Brooks aka John D. Fox — "The Worried Man Blues/Barrell House Blues" CHAMPION 15416 V REALLY TOUGH to find in any condition MB $300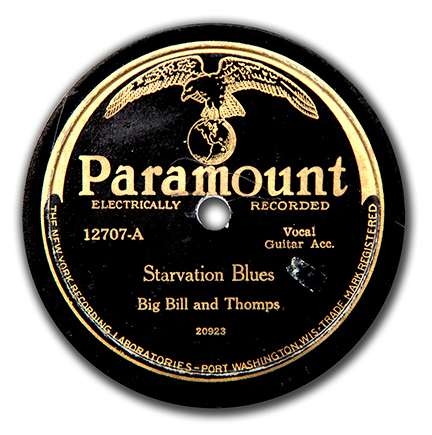 15. Big Bill And Thomps — "Starvation Blues/Down In The Basement Blues" PARAMOUNT 12707 V Really, really GREAT and early BIG BILL BROONZY!!! MB $300
16. Big Bill (Broonzy) — "Match Box Blues/Big Bill Blues" MELOTONE 6-05-56 V+ MB $50
17. Big Bill (Broonzy) — "Bull Cow Blues/Too Too Train Blues" MELOTONE M 12570 V+ MB $50
18. Big Bill (Broonzy) — "I Want My Hands On It/Just Made A Date With An Angel" PERFECT 8-02-57 E-/V+ MB $50
19. Big Bill And The Memphis Five — "WPA Rag/Living On Easy Street" VOCALION 04429 V+/E- MB $50
20. Butterbeans And Susie — "You're No Count Triflin' Man/Oh Yeah!" OKEH 8502 E- MB $50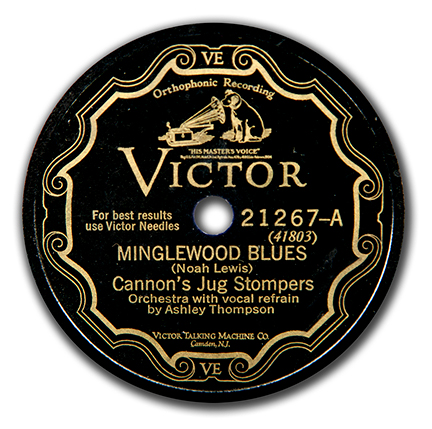 21. Cannon's Jug Stompers —"Minglewood Blues / Madison Street Rag"VICTOR 21267 • E MASTERPIECE and this is one super clean copy!!! MB $2000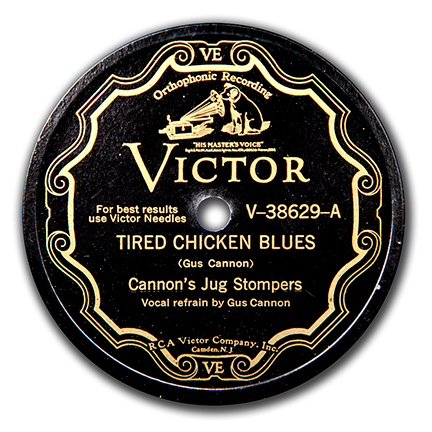 22. Cannon's Jug Stompers — "Tired Chicken Blues/Jonestown Blues" VICTOR 38629 V+ TOUGH ONE and this copy plays fabulous MB $750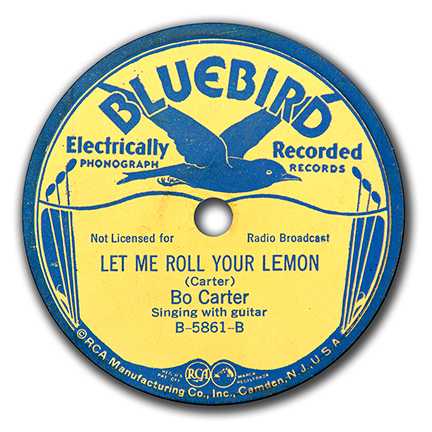 23. Bo Carter — "Let Me Roll Your Lemon/Old Shoe Blues" BLUEBIRD 5861 V+ Bo Carter classic MB $500
24. Bo Carter — "Shoo That Chicken/Be My Salty Dog" BLUEBIRD 7968 V+/E- MB $200
25. Martha Copeland — "Bank Failure Blues/Second-Hand Daddy" COLUMBIA 14281 V MB $25
26. Blind Ben Covington — "It's A Fight Like That /Boodle-Dee Bum Bum" BRUNSWICK 7121 • ERARE MB $750
27. Ida Cox — "Those Married Man Blues/Georgia Hound Blues" PARAMOUNT 12263 E MB $200
28. Ida Cox And Her All-Star Band — "Hard Times Blues/Four Day Creep" VOCALION 05298 E/E- X carved into B-side label MB $20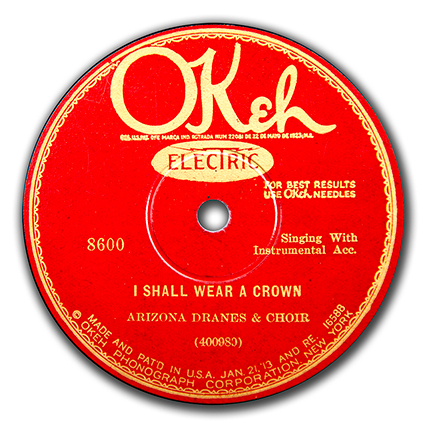 29. Arizona Dranes & Choir — "I Shall Wear A Crown/I'll Go Where You Want Me To" OKEH 8600 E-/E GREAT POUNDING PIANO GOSPEL MB $300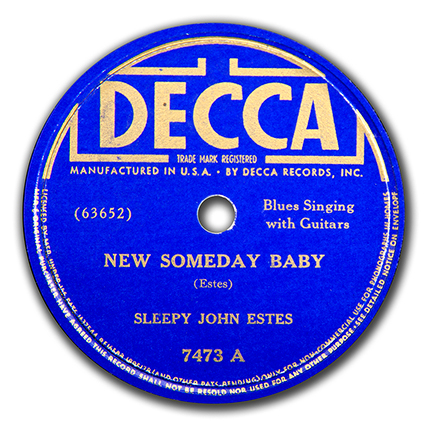 30. Sleepy John Estes — "New Someday Baby/Brownsville Blues" DECCA 7473 E+ FABULOUS MB $500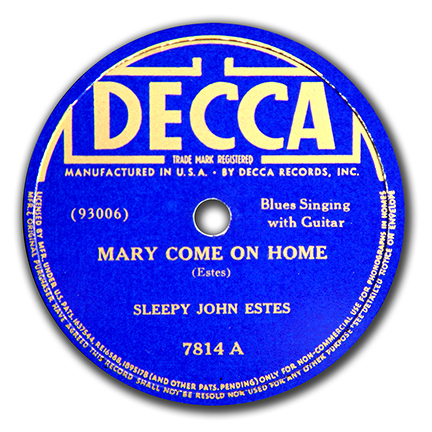 31. Sleepy John Estes — "Mary Come On Home/Jailhouse Blues" DECCA 7814 E+ MB $500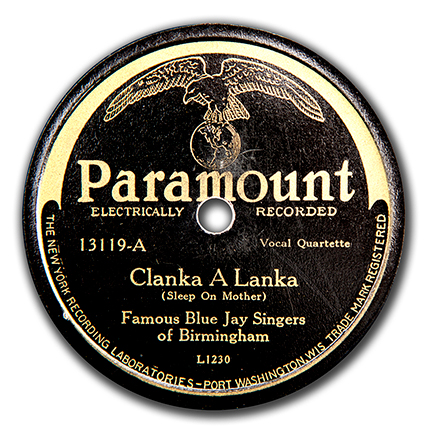 32. Famous Blue Jay Singers Of Birmingham — "Clanka A Lanka/I'm Leaning On The Lord" PARAMOUNT 13119 V+ Gorgeous late Paramount by stunning Gospel group MB $300
33. Pat Flowers — "After The Sun Goes Down/Beg, Borrow And Steal" DECCA 8587 E+ MB $100
34. Lillian Glinn — "Shake It Down/Where Have All The Black Men Gone" COLUMBIA 14315 E MB $100
35. Lil Green — "If I'm A Fool/I Have A Place To Go" BLUEBIRD 8985 V+ MB $20
36. The Harlem Ham Fats — "Oh Babe, Has Your Money Come!/You Brought Me Every-thing" VOCALION 05179 E+ MB $100
37. The Harlem Ham Fats — "Empty Bed Blues/We're Gonna Pitch A Boogie Woogie" DECCA 7326 E- MB $50
38. The Harlem Ham Fats — "Toodle Oo Blues/You Got To Be Satisfied" DECCA 7406 E MB $50
39. The Harlem Ham Fats — "I'd Rather Be With You/Time's A-Wastin' " DECCA 7454 E- MB $50
40. The Harlem Ham Fats — "Let Me Feel It/Don't Start No Stuff" DECCA 7466 E MB $50
41. Rose Henderson — "I'm Broke Fooling With You/I Ain't No Man's Slave" PARAMOUNT 12058 E MB $100
42. Rosa Henderson — "He May Be Your Dog But He's Wearing My Collar/I Want My Sweet Daddy Now" VOCALION 14708 E GREAT TITLE!!! MB $75
43. Mississippi John Hurt — "Candy Man Blues/Stack O' Lee Blues" OKEH 8654 POOR Rare but wall hanger MB $100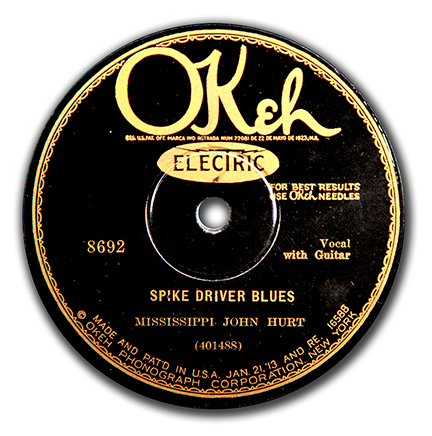 44. Mississippi John Hurt — "Spike Driver Blues/Blue Harvest Blues" OKEH 8692 V+ Nice playing copy of all time classic MB $500
45. Bertha Idaho — "Graveyard Love/You Got The Right Eye But You're Peeping At The Wrong Keyhole" COLUMBIA 14355 E MB $200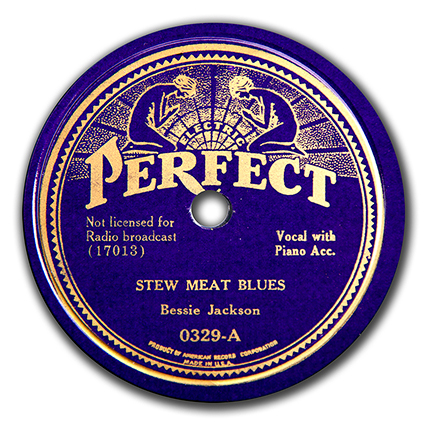 46. Bessie Jackson — "Stew Meat Blues/Skin Game Blues" PERFECT 0329 E MB $200
47. Papa Charlie Jackson — "The Cats Got The Measles/I Got What It Takes But It Breaks My Heart To Give It Away" PARAMOUNT 12259 G Plays through but worn MB $20
48. Jesse James — "Southern Casey Jones/Lonesome Day Blues" DECCA 7213 V+ CLASSIC PIANO BLUES MB $50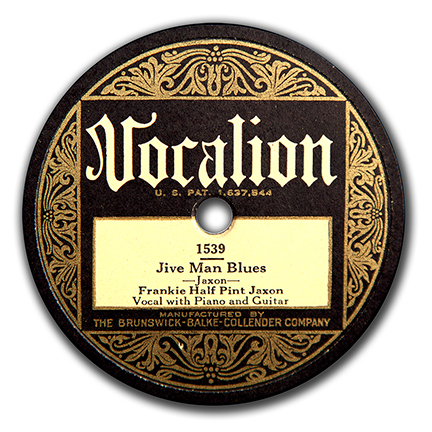 49. Frankie Half Pint Jaxson — "Jive Man Blues/It's Heated" VOCALION 1539 E+ GORGEOUS COPY MB $300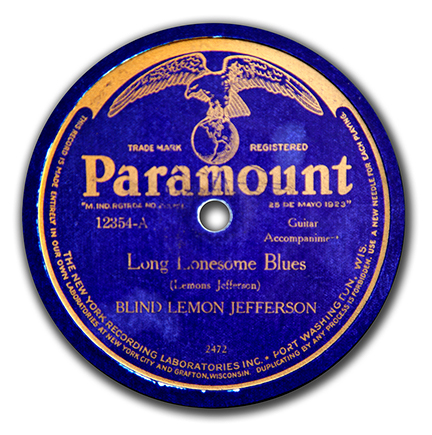 50. Blind Lemon Jefferson — "Long Lonesome Blues/Got The Blues" PARAMOUNT 12354 V+ NICE PLAYING copy of his very first record. Original first pressing on Blue and Gold label too! MB $300
51. Blind Lemon Jefferson — "Old Rounders Blues/Beggin' Back" PARAMOUNT 12394 G Wall hanger, crack to the label MB $10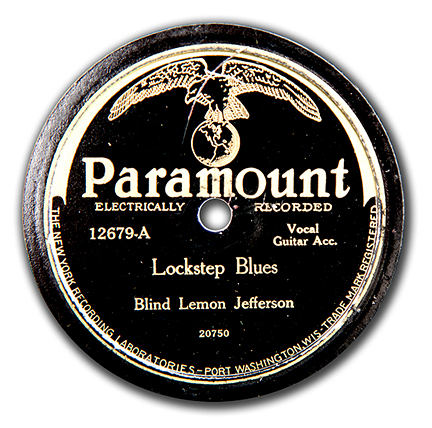 52. Blind Lemon Jefferson — "Lockstep Blues/Hangman's Blues" PARAMOUNT 12679 E- NICE COPY! MB $300
53. Blind Willie Johnson — "Lord I Just Can't Keep From Crying/Keep Your Lamp Trimmed And Burning" COLUMBIA 14425 V+ CLASSIC and plays fabulous MB $100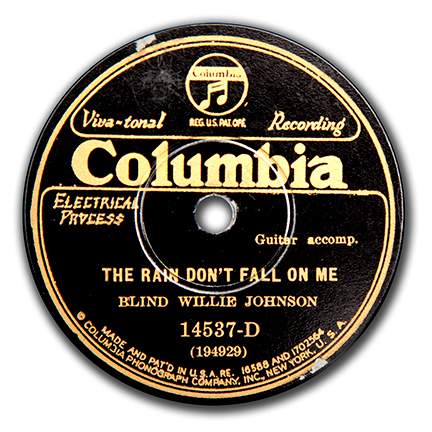 54. Blind Willie Johnson — "The Rain Don't Fall On Me / Trouble Will Soon Be Over"COLUMBIA 14537 • E SUPER CLEAN COPY!!! MB $1,000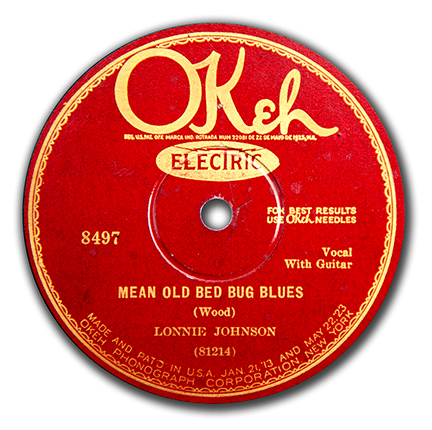 55. Lonnie Johnson — "Mean Old Bed Bug Blues/Roaming Rambler Blues" OKEH 8497 E BEAUTIFUL COPY MB $300
56. Lonnie Johnson — "Wrong Woman Blues/A Broken Heart That Never Smiles" OKEH 8601 E- NICE ONE MB $250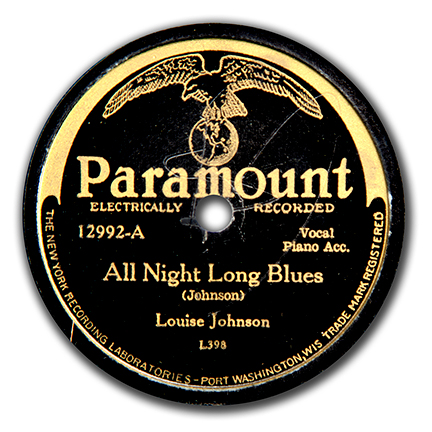 57. Louise Johnson With Charley Patton And Son House — "All Night Long Blues / Long Ways From Home"PARAMOUNT • 12992 VLegendary record from legendary session that saw Johnson (girlfriend of Patton, then House) make records with House and Patton rollicking in the background! This is the only "affordable" Son House Paramount and almost never for sale! MB $2,000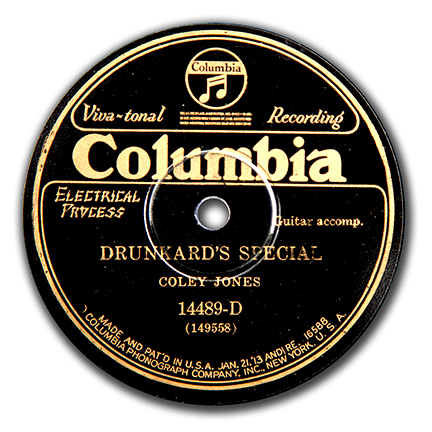 58. Coley Jones — "Drunkard's Special / The Elder's He's My Man" COLUMBIA 14489 • E+ DALLAS STRING BAND MB $750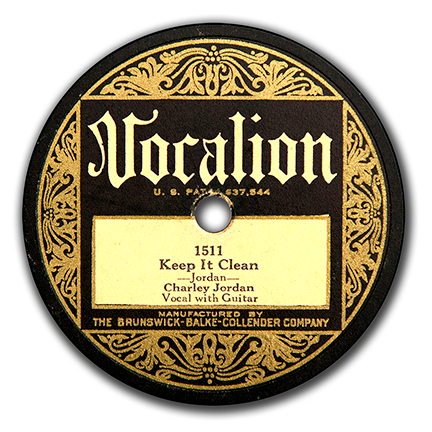 59. Charley Jordan — "Keep It Clean/Big Four Blues" VOCALION 1511 V+ NICE PLAYING COPY and this one is super hard to find!!! MB $500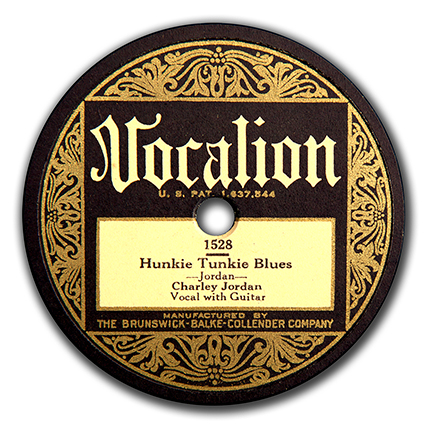 60. Charley Jordan — "Hunkie Tunkie Blues / Raidin' Squad Blues" VOCALION 1528 • E+FLAWLESS COPY—OLD STORE STOCK MB $1,500
61. Kansas City KItty And Georgia Tom — "Root Man Blues/Close Made Papa" VOCALION 1600 V+ MB $100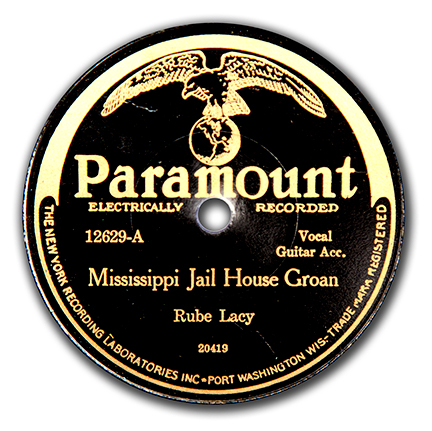 62. Rube Lacy — "Mississippi Jail House Groan / Ham Hound Crave" PARAMOUNT 12629 • E- HIS ONLY RELEASE—AND WHAT A RECORD!!! MB $1,000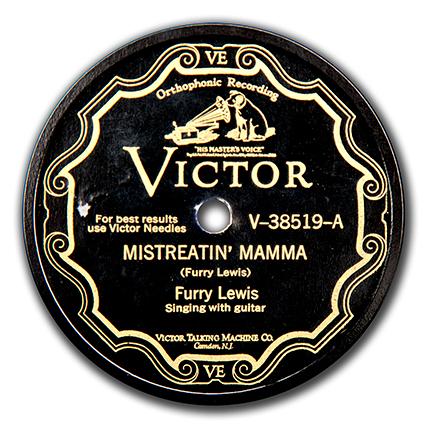 63. Furry Lewis — "Mistreatin' Mamma /Furry's Blues" VICTOR 38519 • E+ With tiny label tear as shown, just about perfect copy! MB $2,000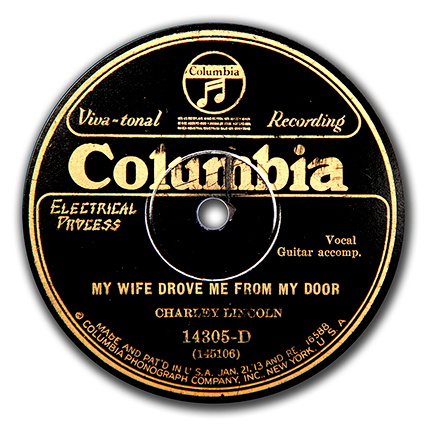 64. Charley Lincoln — "My Wife Drove Me From My Door/Jealous Hearted Blues" COLUMBIA 14305 E+ GORGEOUS MB $500
65. Cripple Clarence Lofton — "You Done Tore Your Playhouse Down/Brown Skin Girls" PERFECT 6-11-66 E CLASSIC PIANO BLUES MB $200
66. Sherry Magee And His Dixielanders — "Shake It And Break It/Tin Roof Blues" VOCALION 5281 E MB $100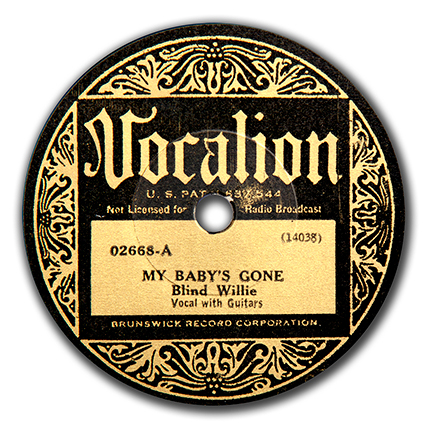 67. Blind Willie McTell — "My Baby's Gone / Weary Hearted Blues"VOCALION 02668 • E GORGEOUS COPY MB $2,000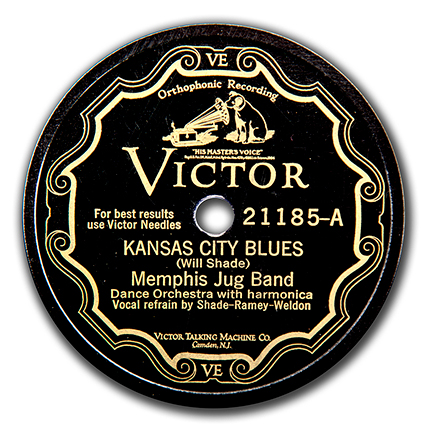 68. Memphis Jug Band — "Kansas City Blues/State Of Tennessee Blues" VICTOR 21185 E SUPER CLEAN!! MB $500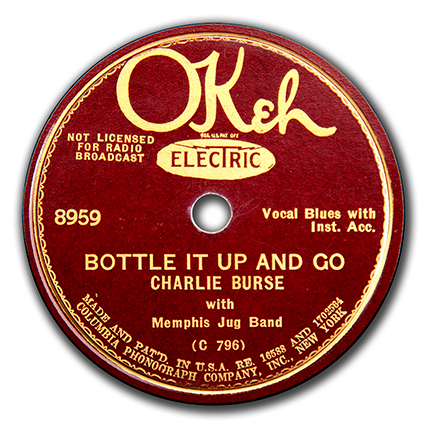 69. Memphis Jug Band — "Bottle It Up And Go /Insane Crazy Blues" OKEH 8959 • E+ GORGEOUS COPY MB $800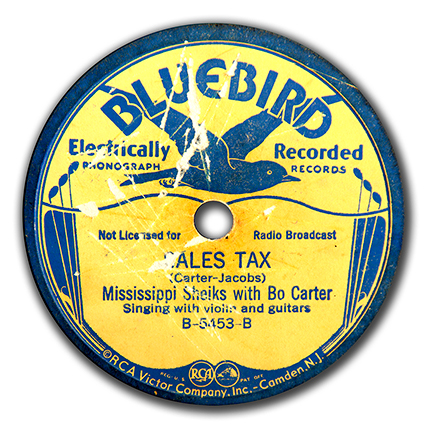 70. Mississippi Sheiks With Bo Carter — "Sales Tax/Sweet Maggie" BLUEBIRD 5453 V Great and Rare! MB $300
71. Mitchell's Christian Singers — "Standing By The Bedside/What Kinda Shoes Do The Angels Wear" MELOTONE 6-12-53 E- MB $100
72. Romeo Nelson — "1129 Blues/Dyin' Rider Blues" VOCALION 1494 V+ MB $100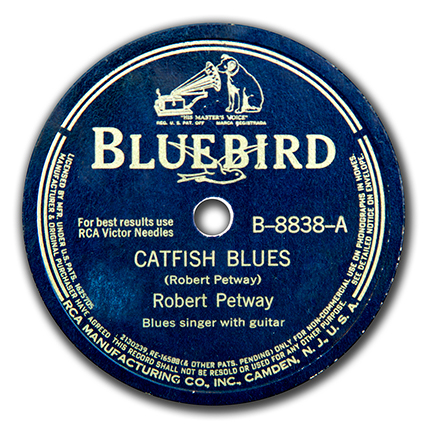 73. Robert Petway — "Catfish Blues / Ride 'Em On Down"BLUEBIRD 8838 • E- His Rarest and his Best! Fabulous record, almost never turns up! MB $1,000
74. Joe Pullum — "Black Gal_No. 3/Mississippi Flood Blues" BLUEBIRD 5844 E- MB $200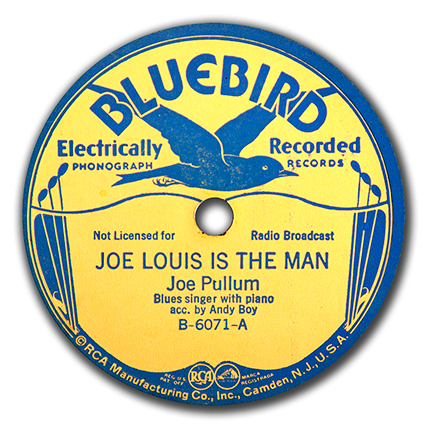 75. Joe Pullum/Peter J. Clayton — "Joe Louis Is The Man/Peter's Blues" BLUEBIRD 6071 E MB $200
76. Madame Ma Rainey — "Moonshine Blues/Southern Blues" PARAMOUNT 12083 E- MB $200
77. Speckled Red — "Try Me One More Time/Louise Baltimore Blues" BLUEBIRD 8012 E+ MB $200
78. Tampa Red — "Cotton Seed Blues/Things 'Bout Coming My Way" VOCALION 1637 E/V+ MB $100
79. Seth Richard — "Skoodledum Doo /Lonely Seth Blues" COLUMBIA 14325 • E+ RARE AND GREAT MB $1,000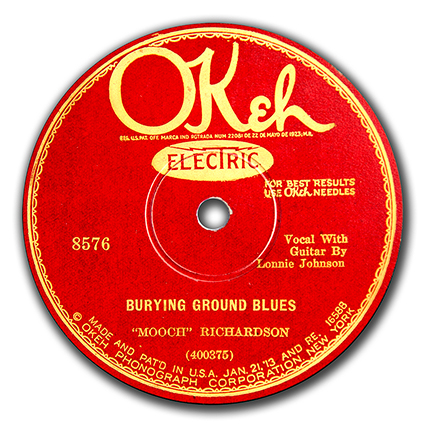 80. "Mooch" Richardson — "Burying Ground Blues/Big Kate Adams Blues" OKEH 8576 E+ MB $1,000
81. Walter Roland — "House Lady Blues/Early This Morning" CONQUEROR 8322 E MB $200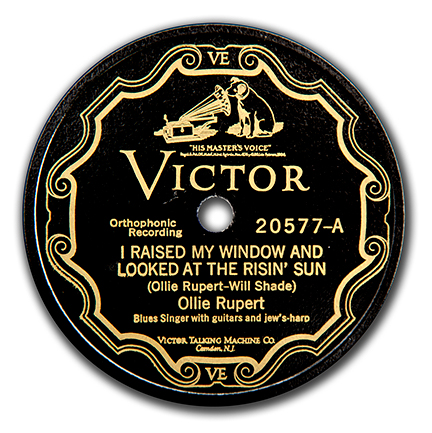 82. Ollie Rupert With The Memphis Jug Band — "I Raised My Window And Looked At The Risin' Sun / Ain't Gonna Be Your Low Down Dog" VICTOR 20577 • E NICE ONE!!! MB $750
83. The Scare Crow — "I'm Long Gone/Ornery Blues" CHAMPION 16103 V+/V has a crack to the label MB $50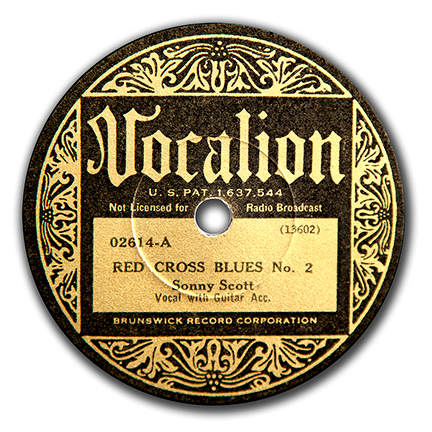 84. Sonny Scott — "Red Cross Blues No. 2/Fire-Wood Man" VOCALION 02614 E+ GORGEOUS COPY MB $500
85. Clara Smith — "Ain't Got Nobody To Grind My Coffee/Wanna Go Home" COLUMBIA 14368 E MB $100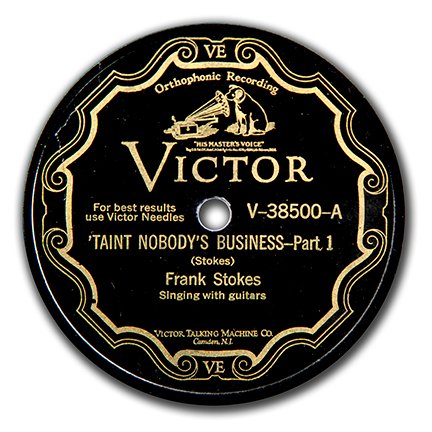 86. Frank Stokes — " 'Taint Nobody's Business_Part 1 / Part 2" VICTOR 38500 • E+ STUNNING COPY MB $2,000
87. Roosevelt Sykes — " "44" Blues/Boot That Thing" OKEH 8702 E+ B-side has a 1" scratch at the beginning that clicks for about 15 seconds, STORE STOCK otherwise MB $100
88. Roosevelt Sykes — "New 44 Blues/Big Legs Ida Blues" BLUEBIRD 5323 E- MB $100
89. Roosevelt Sykes — "The Honeydripper/High Price Blues" BLUEBIRD 34-0737 V+/V Classic MB $10
90. Johnnie Temple And The Harlem Hamfats — "Mama's Bad Luck Child/Snapping Cat" DECCA 7416 V+ MB $25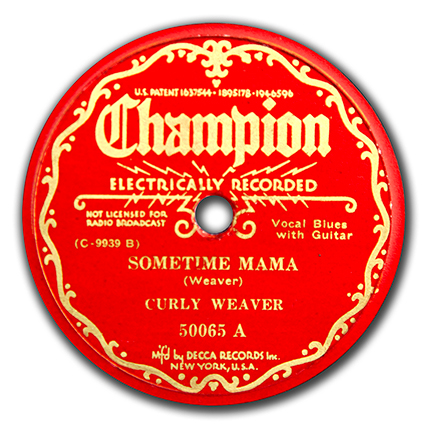 91. Curley Weaver — "Sometime Mama/Two-Faced Woman" CHAMPION 50065 E+/E MB $400
92. Sylvester Weaver — "Guitar Blues/Guitar Rag" OKEH 8109 V+ THE VERY FIRST COUNTRY BLUES RECORD! NOT Mamie Smith's "Crazy Blues"—THIS is the very FIRST Blues record!!! MB $100
93. Casey Bill Weldon — "We Gonna Move (To The Outskirts Of Town)/Gonna Take My Time" VOCALION 03373 E MB $150
94. Casey Bill Weldon — "Lady Doctor Blues/Go Ahead Buddy" VOCALION 04001 E MB $100
95. Peetie Wheatstraw (The Devil's Son-In-Law) — "Good Home Blues/These Times" DECCA 7061 E MB $100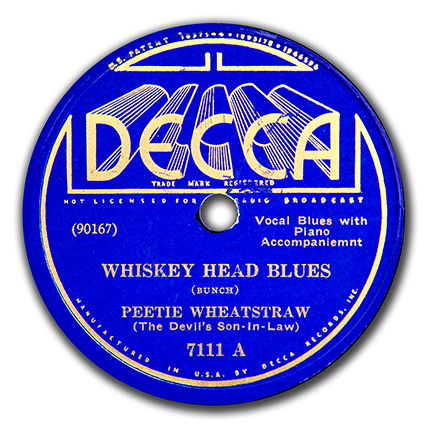 96. Peetie Wheatstraw (The Devil's Son-In-Law) — "Whiskey Head Blues/Slave Man Blues" DECCA 7111 E+ MB $100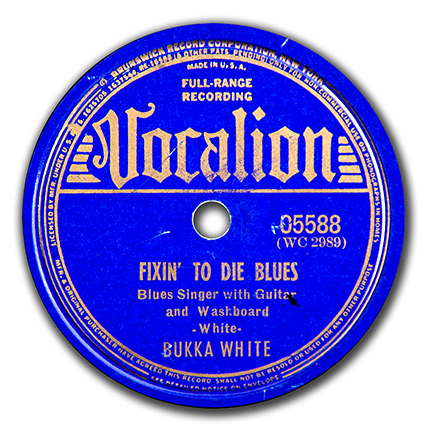 97. Bukka White — "Fixin' To Die Blues / Black Train Blues" VOCALION 05588 E/V+ ALL TIME CLASSIC MB $1,000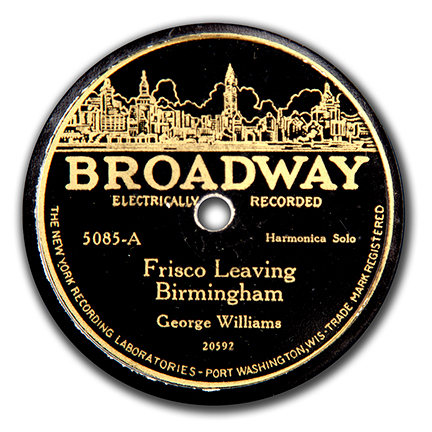 98. George Williams aka George "Bullet" Williams — "Frisco Leaving Birmingham/The Escaped Convict" BROADWAY 5085 V+/V ORIGINAL was on PARAMOUNT . . . this could be the ONLY KNOWN COPY on BROADWAY! Classic Harmonica Blues! MB $500
99. Sonny Boy Williamson — "Welfare Store Blues/Train Fare Blues" BLUEBIRD 8610 E Sticker on B-side label MB $150
100. Sonny Boy Williamson — "My Baby Made A Change/Big Apple Blues" BLUEBIRD 8766 E+/E- Sticker on B-side label MB $100
My December 16th DeLuca Pre-War Blues 78's Auction #2, highlights:
Good luck, everybody!
John Tefteller