Pete Whelan's World-Class Pre-War Blues 78's collection, part 3: COMPLETE LIST!
Closes Tuesday, December 12, 2023 at 7:00 pm PT
Peter Whelan was a friend of mine for over twenty years. He started collecting records in 1946 and was the founder of the Origin Jazz Librarylabel in 1960 and of 78 Quarterly in 1967—THE magazine for 78 collectors for 35 years!
Pete passed away in January at the age of 93. Last year, he offered to sell me his World Class collection of Jazz and Blues 78's. He stated his price, which would be the most I ever paid for a record collection, but I didn't hesitate to say YES!
It will take a few years and multiple auctions to find new homes for all of Mr. Whelan's records. Some of these gems are staying here, enhancing my already fantastic collection, but some of them are duplicates and/or records I'm not interested in.
Prices for World Class Blues 78's have been climbing steadily for the past 40+ years and recently have been rising VERY dramatically! This is your chance to obtain some legendary records from one of the world's BEST, and most important, collections before their prices shoot up even higher! So bid competitively if you want to win and use my call back system for "must-have" items!
The Jazz records will be sold separately from the Blues collection. Please let me know if you want to receive the Jazz auction ads.
Thank you and good luck to all!
Pete Whelan''s Pre-War Blues 78's collection auction, part 3, HIGHLIGHTS

Printed (PDF) version of Pete Whelan's Pre-War Blues 78's collection auction, part 3

How to bid on my Monthly Auctions
THE KINGS OF PRE-WAR BLUES (Records 1 – 8)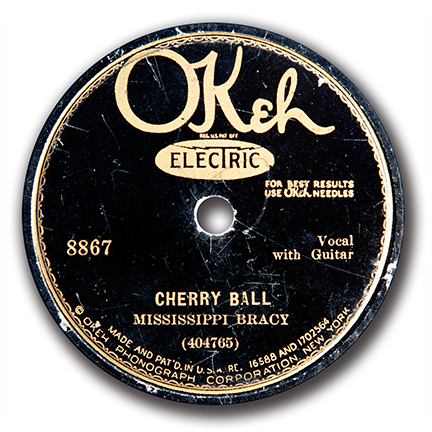 1. Mississippi Bracy "Cherry Ball / Stered Gal (Stir It Gal)" OKEH 8867 • V Apparently, this is NOT Ishman Bracey . . . but whomever it is, it is a MASTERPIECE! About FIVE known copies and never for sale!!! Plays FANTASTIC! MB $1,000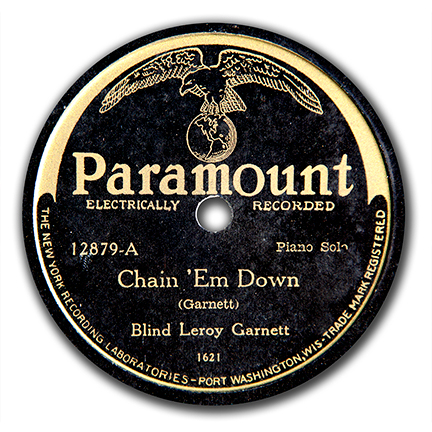 2. Blind Leroy Garnett "Chain 'Em Down / Louisiana Glide" PARAMOUNT 12879 • EPiano Blues Masterpiece and TOUGH to find in clean shape. You will search for years to find another (or better) copy! MB $1,000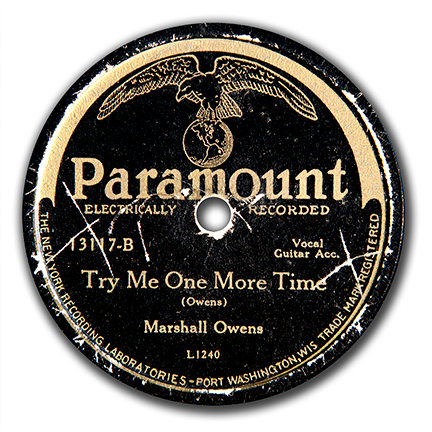 3. Marshall Owens "Try Me One More Time / Texas Blues" PARAMOUNT 13117 • G One of TWO known copies. (I own the other one). This MASTERPIECE is the copy that was used to produce all the re-issues you hear on CD comps. Stunning BLUES MASTERPIECE! This will be your ONE CHANCE IN LIFE TO OWN IT! MB $1,000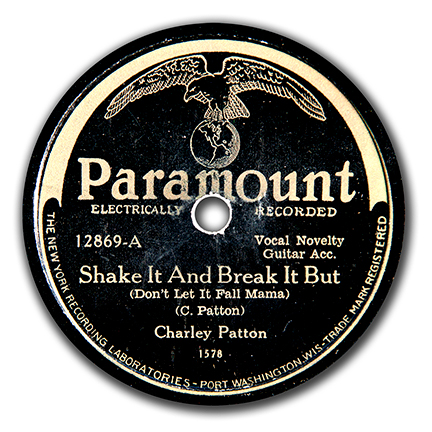 4. Charley Patton "Shake It And Break It But (Don't Let It Fall Mama) / A Spoonful Blues" PARAMOUNT 12869 • E- DOUBLE-SIDED PATTON MASTERPIECE!!! And CLEAN too! You almost never see Pattons better than V condition. Only about SIX known copies and most are V condition. MB $15,000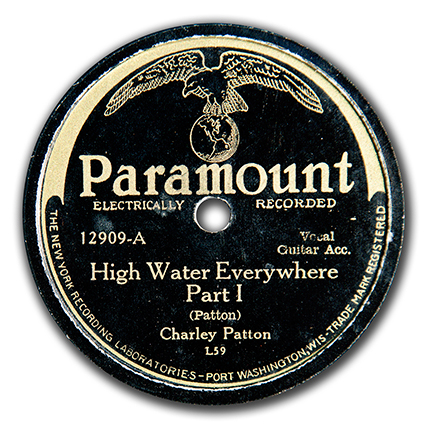 5. Charley Patton "High Water Everywhere Part I / Part II" PARAMOUNT 12909 • E- Many consider this Patton's best record! And, unlike most copies, it's CLEAN! Ever seen FOUR Pattons for sale? Well, how about SEVEN?! Check out the others in the regular section for that many Pattons being offered in this one auction.MB $15,000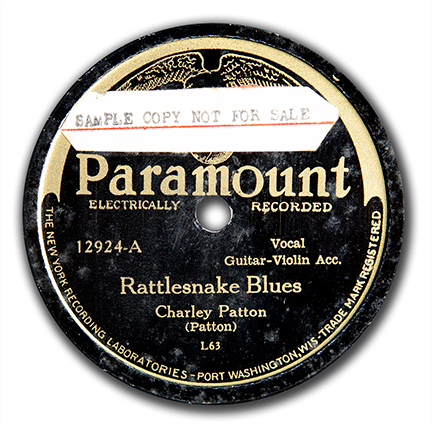 6. Charley Patton "Rattlesnake Blues / Runnin' Wild Blues" PARAMOUNT 12924 • E-ANOTHER CLEAN PATTON!!! And with a PROMO sticker to boot! This is your chance to own these Patton 78s—when they're gone, it will be a long time before you will see any more for sale . . . and chances are they will be whipped! Now is the time if you've ever wanted to own one (or ALL) of them! MB $15,000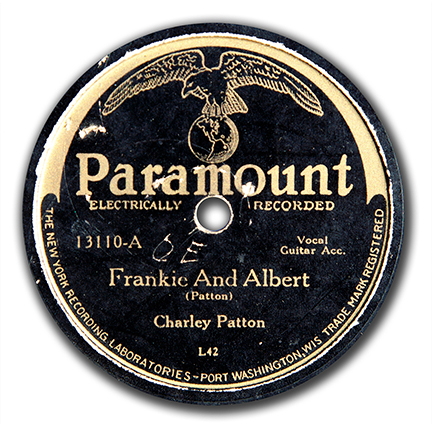 7. Charley Patton "Frankie And Albert / Some These Days I'll Be Gone" PARAMOUNT 13110 • GOne of only TWO KNOWN COPIES (I own the other one). INSANELY RARE 13000 series Paramount. One inch crack and B-side label wear. Check out the other Pattons in the regular section of this auction. MB $10,000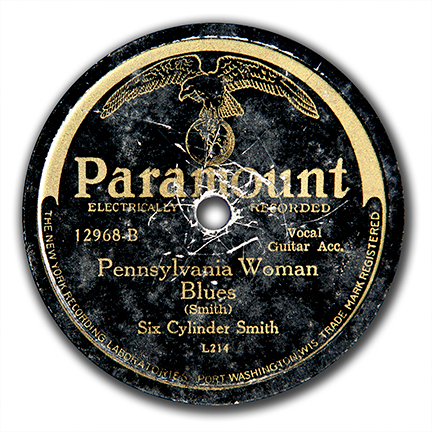 8. Six Cylinder Smith "Pennsylvania Woman Blues / Oh, Oh Lonesome Blues" PARAMOUNT 12968 • V MAYBE three known copies!!! Masterpiece!!! Some think this is Blind Joe Taggart taking a break from Gospel to do a couple mean Blues songs—whomever it is, he plays as well as Blind Joe Taggart and it's a FANTASTIC record! MB $5,000
9. The Beale Street Sheiks — "Mr. Crump Don't Like It/Blues In "D" " PARAMOUNT 12552 V- Affordable copy of all time classic FRANK STOKES record! MB $25
10. The Biddleville Quintette — "Handwriting On The Wall/As I Live Let Me Live In Love" PARAMOUNT 13092 V TOUGH 13000 Paramount MB $25
11. Scrapper Blackwell — "Springtime Blues/Rocky Luck Blues" CHAMPION 15973 G SUPER RARE with only two or so copies known. The early Scrapper solo records are super great and NEVER turn up. MB $50
12. Scrapper Blackwell as FRANKIE BLACK — "My Old Pal Blues/Bad Liquor Blues" CHAMPION 50036 V A-side is a tribute to LEROY CARR MB $50
13. Scrapper Blackwell — "Blue Day Blues/Down South Blues" VARSITY 6042 E+/E The Varsity records were pressed from original metal parts of records that, in many cases, do not exist on original labels—they are fantastic! MB $50
14. Scrapper Blackwell — "Rambling Blues/Sneaking Blues" VARSITY 6028 E+ MB $50
15. Scrapper Blackwell — "Hard Time Blues/Back Door Blues" VARSITY 6049 E MB $50
16. Blind Blake — "Early Morning Blues/West Coast Blues" PARAMOUNT 12387 V Blind Blake's First Record! MB $50
17. Blind Blake — "Dry Bone Shuffle/One Time Blues" PARAMOUNT 12479 V MB $50
18. Blind Blake — "Bad Feeling Blues/That Will Never Happen No More" PARAMOUNT 12497 V+ MB $100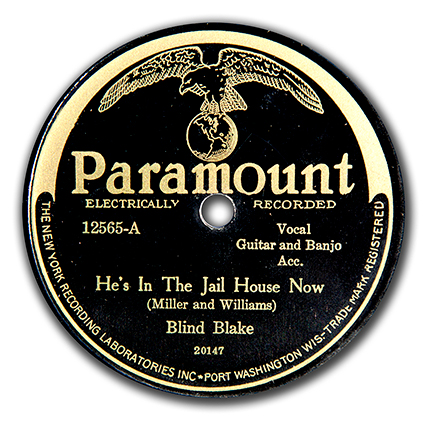 19. Blind Blake — "He's In The Jail House Now / Southern Rag" PARAMOUNT 12565 • E+ Stunning copy of all time Blake classic two-sider! Lots of V or so Blakes out there, but just TRY to find E+ copies!MB $1,000
20. Blind Blake — "Hard Road Blues/Sea Board Stomp" PARAMOUNT 12583 V MB $100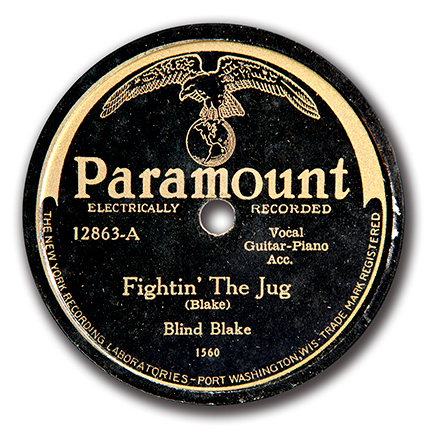 21. Blind Blake With CHARLIE SPAND — "Fightin' The Jug / Hastings Street" PARAMOUNT 12863 • E Masterpiece with Piano and Guitar compli-menting each other better than most any other record of the genre! MB $500
22. Blind Blake — "Ice Man Blues/Chump Man Blues" PARAMOUNT 12904 G ONE OF HIS RAREST!!! Never turns up MB $50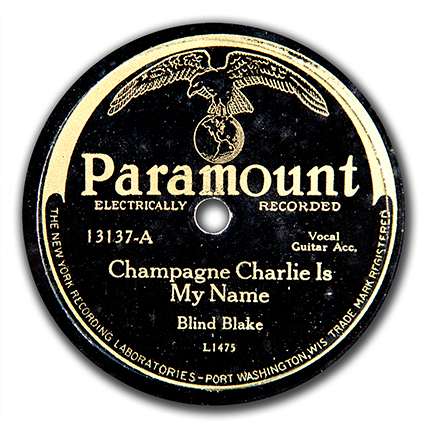 23. Blind Blake — "Champagne Charlie Is My Name / Depression's Gone From Me" PARAMOUNT 13137 • E- CLASSIC!!! Covered in the 1970's by LEON REDBONE, this copy plays NEAR PERFECT! MB $500
24. Barbecue Bob — "Barbecue Blues/Cloudy Sky Blues" COLUMBIA 14205 V MB $25
25. Lucille Bogan — "They Ain't Walking No More/Dirty Treatin' Blues" BRUNS-WICK 7163 V Original title! Re-recorded and issued 20 numbers later as "Tricks Ain't Walkin' No More" MB $25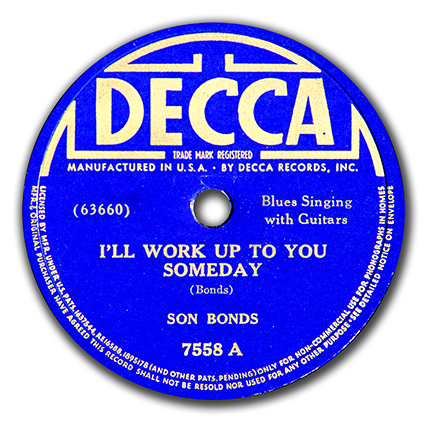 26. Son Bonds With SLEEPY JOHN ESTES — "I'll Work Up To You Someday / Old Bachelor Blues" DECCA 7558 • E GREAT ONE with Guitar backing by Sleepy John Estes!!! MB $300
27. Ishman Bracey — "The Four Day Blues/BLANK" VICTOR TEST PRESSING E+ Vinyl TEST PRESSING of one side of super rare Victor 38000 release MB $100
28. Ishman Bracey — "Trouble Hearted Blues/BLANK" VICTOR 45460-2 E+ Vinyl TEST PRESSING of unissued Take 2 MB $100
29. Tommie Bradley — "Adam And Eve/Pack Up Her Trunk Blues" CHAMPION 16149 V+ With two inch internal hair crack, RARE!!! MB $50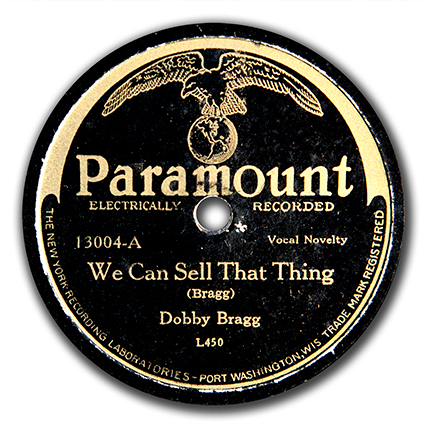 30. Dobby Bragg aka ROOSEVELT SYKES — "We Can Sell That Thing / 3-6 And 9" PARAMOUNT 13004 V RARE 13000 Paramount! MB $200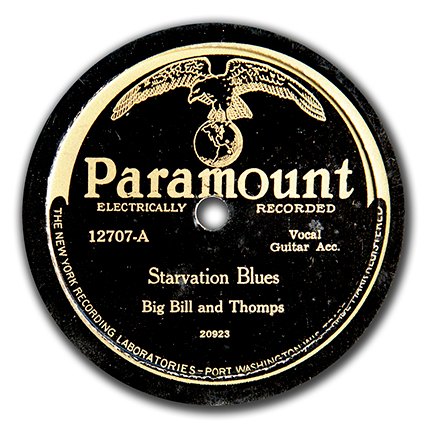 31. Big Bill And Thomps (Big Bill Broonzy) — "Starvation Blues/Down In The Basement Blues" PARAMOUNT 12707 V+ Classic early Big Bill Broonzy MB $200
32. Daniel Brown With BLIND BLAKE — "Beulah Land/Now Is The Needy Time" PARAMOUNT 12663 V Blind Blake plays guitar behind him on the B-side, A-side has piano by Tiny Parham MB $25
33. Henry Brown — "Stomp 'Em Down To The Bricks/Malt Can Blues" BRUNSWICK 7086 V+ MB $25
34. Oliver Brown From New Orleans — "Oh You Devil You/I Ain't Got Nobody" BLUEBIRD 6042 E-/V+ With internal hair crack . . . very scarce!!!! MB $100
35. Willie Brown/Son House — "Make Me A Pallet On The Floor/Shetland Pony Blues" HERWIN 92404 E+ VINYL release from the early 1970's MB $100
36. Pinetop Burks — "Shake The Shack/Mountain Jack Blues" VOCALION 03895 E+/E MB $100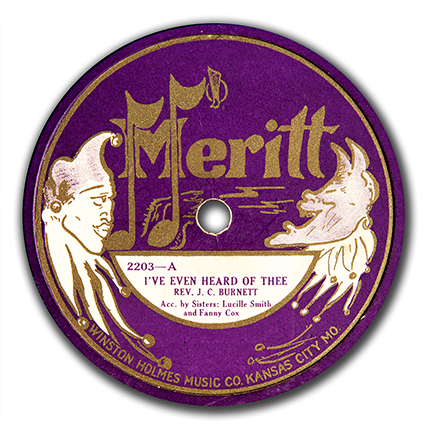 37. Rev. J. C. Burnett — "I've Even Heard Of Thee / The Downfall Of Nebuchadnezzar" MERITT 2203 • V+ RARE!!! You just never see this rare St. Louis label for sale! MB $300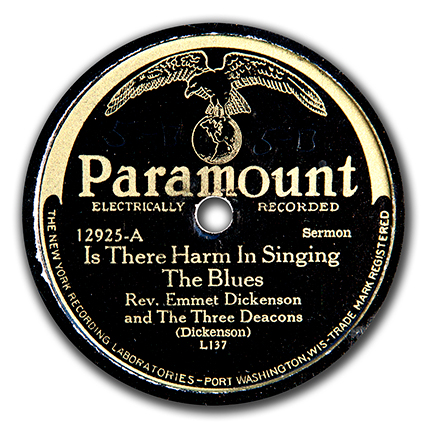 38. Rev. Emmet Dickenson And The Three Deacons — "Is There Harm In Singing The Blues/Sermon On Tight Like That" PARAMOUNT 12925 V GREAT TWO-SIDER MB $100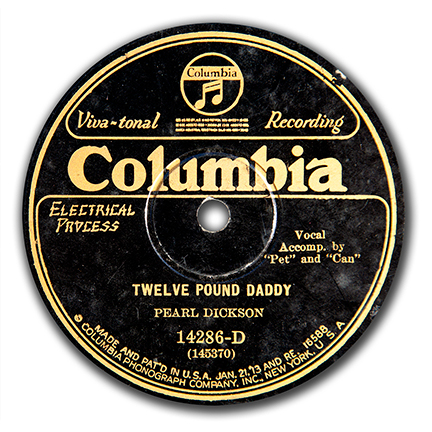 39. Pearl Dickson With Pet And Can — "Twelve Pound Daddy/Little Rock Blues" COLUMBIA 14286 E- Great Guitar backup to great Female singer! One of those guitars is THE legendary Hacksaw Harney! MB $200
40. Georgia Tom (Dorsey) — "Six Shooter Blues/Second Hand Woman Blues" SUPERTONE 9647 V MB $75
41. The Garner Brothers — "From Jerusalem To Jericho/I'm Over The Jordan Tide" JUBILEE GOSPEL SINGERS 20077 E Super Scarce GENNETT CUSTOM PRESSING! MB $200
42. The Garner Brothers — "Jim & Me/The Papal Anthem" JUBILEE GOSPEL SINGERS 20088 E- Another Super Rare Gennett Custom PressingS MB $150
43. Clifford Gibson & His Guitar — "Tired Of Being Mistreated—Part 1/Part 2" Q. R. S. 7079 V MB $100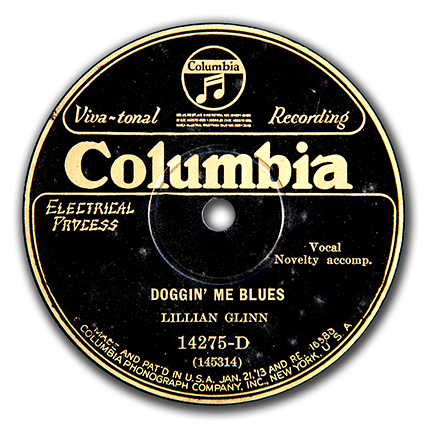 44. Lillian Glinn — "Doggin' Me Blues/Brown Skin Blues" COLUMBIA 14275 E+ MB $150
45. Mae Glover And James Parker — "Grasshopper Papa/Forty-Four Blues" CHAMPION 16351 V- Rare MB $100
46. Coot Grant And "Kid" Wesley Wilson — "Come On Coot Do That Thing/Have Your Chill, I'll Be Here When Your Fever Rises" PARAMOUNT 12317 V MB $50
47. Lee Green — "If I Get Drunk Whose Gonna Carry Me Home/Dud-Low Joe" VOCALION 1467 V+ MB $75
48. Lee Green — "Death Alley Blues/Train Number 44" VOCALION 1566 V+ MB $75
49. Helen Harris — "Dead Drunk Blues/Where Have All The Black Men Gone" CHAMPION 15550 V Great Guitar backing and gotta be insanely rare MB $200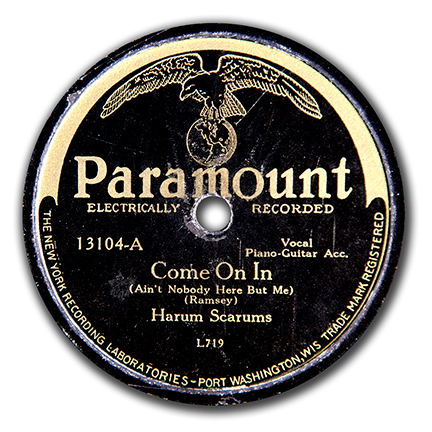 50. The Harum Scarums — "Come On In (Ain't Nobody Here But Me)/Where Did You Stay Last Night" PARAMOUNT 13104 G Rare!!! MB $50
51. Daddy Moon Hayes And His Boys — "Two Little Tommies Blues/Gang Of Brown Skin Women" GENNETT 6122 POOR With edge chip on A-side that goes in 8 grooves. Basically a wall hanger with faded and scratched up labels too—sad MB $20
52. Peg Leg Howell — "Rock And Gravel Blues/Low-Down Rounder Blues" COLUMBIA 14320 V+ MB $50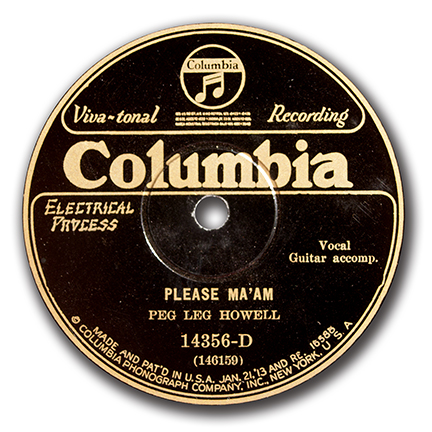 53. Peg Leg Howell — "Please Ma'am /Fairy Blues" COLUMBIA 14356 E/E+ TOUGH ONE MB $400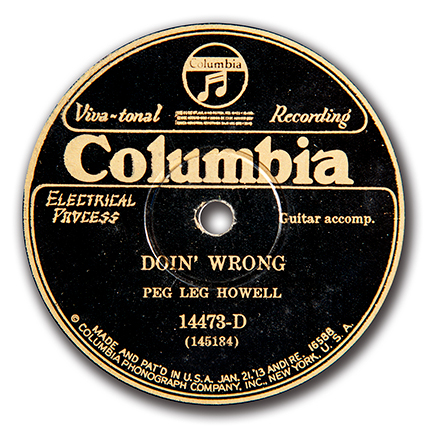 54. Peg Leg Howell — "Doin' Wrong / Skin Game Blues" COLUMBIA 14473 • E+ All time classic and this copy is brand new!MB $500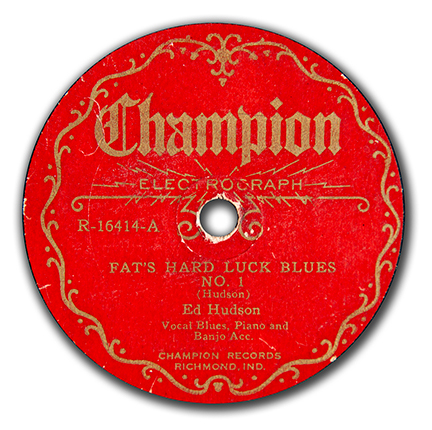 55. Ed Hudson — "Fat's Hard Luck Blues No. 1 / No. 2" CHAMPION 16414 • V RARE AND PLAYS GREAT!!! Fabulous Mandolin with Guitar and Piano. MB $500
56. Mississippi John Hurt — "Stack-O-Lee Blues/BLANK" OKEH VINYL TEST PRESSING E MB $100
57. Mississippi John Hurt — "Candy Man Blues/BLANK" OKEH VINYL TEST PRESSING E+ MB $100
58. Banjo Ike And Ivory Chitison — "My Four Reasons/Unlucky Blues" VOCALION 25011 V+ GREAT PIANO BLUES MB $50
59. George Jackson And Bessie Jones — "I'm Long Gone/Where You Been So Long" SUPERIOR 2555 G Rare MB $25
60. Walter Jacobs And Lonnie Carter (Mississippi Sheiks) — "The Sheik Waltz/The Jazz Fiddler" OKEH 45436 V- With stripped grooves MB $10
61. Davey Miller (The Blind Soldier) — "Cannon Ball Rag/Jailhouse Rag" PERFECT 12723 V Great Guitar solos MB $100
62. Alice Moore — "Lonesome Dream Blues/Kid Man Blues" PARAMOUNT 13107 G WITH HAIRLINE CRACK ALMOST TO THE LABEL . . . super scarce 13000 Paramount but pretty much a wall hanger MB $20
63. Bill Moore — "Ragtime Crazy / One Way Gal" PARAMOUNT 12648 • V+ John Lee Hooker's uncle who taught him to play—RARE! MB $500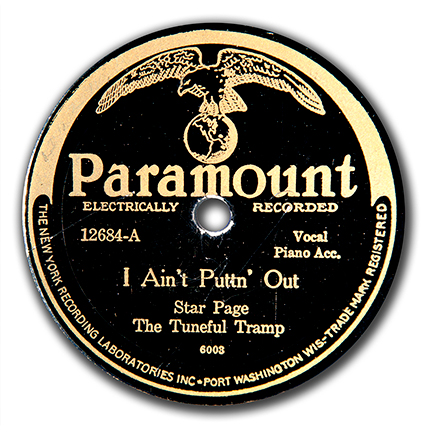 64. Star Page—The Tuneful Tramp — "I Ain't Puttn' Out/Georgia Blues" PARAMOUNT 12684 V+ RARE AND UNIQUE!!! MB $200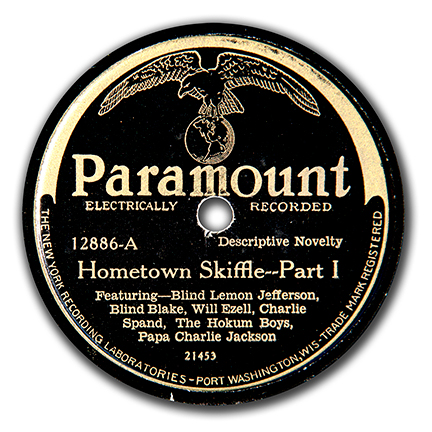 65. The Paramount All Stars — "Hometown Skiffle--Part I/Part II" PARAMOUNT 12886 V to V+ With Blind Blake, Will Ezell, Charlie Spand, The Hockum Boys, Papa Charlie Jackson and Blind Blake! Blind Lemon Jefferson is also listed on the label, but he had died before this session. Since Paramount wanted to cash in on him one last time, BLAKE imitates LEMON! All star classic nonetheless! MB $100
66. Paramount Ladies Four — "God's Gonna Set This World On Fire/Shine For Jesus" PARAMOUNT 12415 V+ MB $75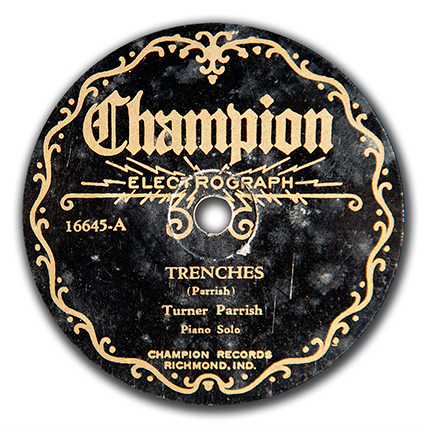 67. Turner Parrish — "Trenches/Fives" CHAMPION 16645 V+ RARE MB $75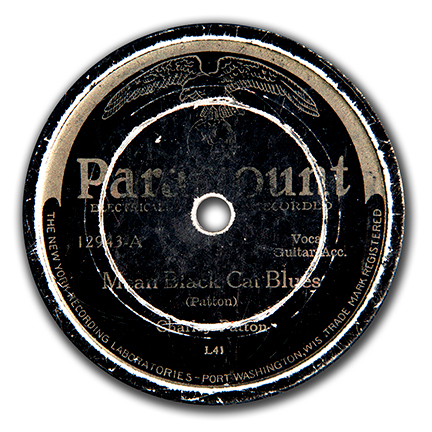 68. Charley Patton — "Mean Black Cat Blues/Magnolia Blues" PARAMOUNT 12943 POOR Patton wall hanger with skips on B-side and tons of scuffs, scratches and wear MB $50
69. Charley Patton — "Moon Going Down/Gonna Move To Alabama" PARAMOUNT 13014 POOR Wiped out wall hanger MB $100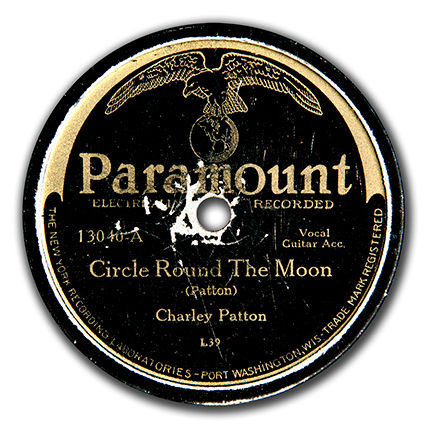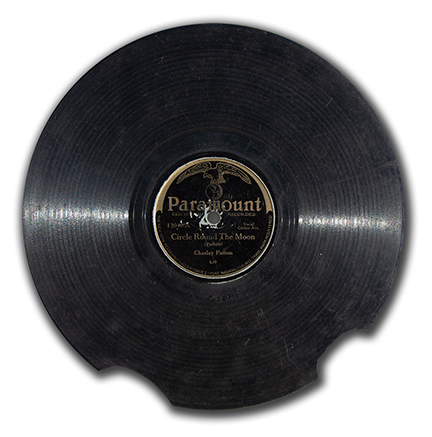 70. Charley Patton — "Circle Round The Moon/Devil Sent The Rain" PARAMOUNT 13040 POOR Two chunks missing and crack to the label—wall hanger MB $100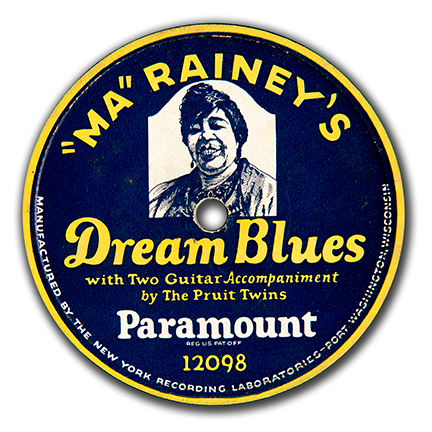 71. Ma Rainey — "Dream Blues/Lost Wandering Blues" PARAMOUNT 12098 V+ MB $100
72. Ma Rainey — "Slow Driving Moan/Gone Daddy Blues" PARAMOUNT 12526 V MB $25
73. Bessie Smith — "Honey Man Blues/One And Two Blues" COLUMBIA 14172 V+ With 1 1/2" Lam crack on A-side MB $20
74. Bessie Smith — "Hard Times Blues/Young Woman's Blues" COLUMBIA 14179 E MB $100
75. Bessie Mae Smith And Wesley Wallace — "St. Louis Daddy/Farewell Baby Blues" PARAMOUNT 12922 V to V+ RARE MB $100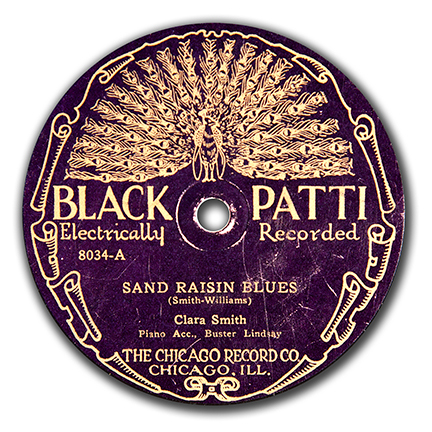 76. Clara Smith — "Sand Raisin Blues/Wandering Boy Blues" BLACK PATTI 8034 V With crack to the label—only known copy??? MB $200
77. "Funny Paper" Smith — "Howling Wolf Blues—No.1/No. 2" VOCALION 1558 V MB $50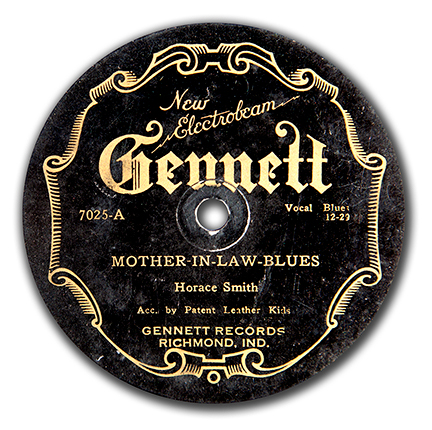 78. Horace Smith — "Mother-In-Law- Blues/Love Is Dead" GENNETT 7025 V RARE MB $100
79. Iva Smith — "Milk Man Blues/Ugly Woman Blues" CHAMPION 16080 V Labels faded and damaged, Rare MB $25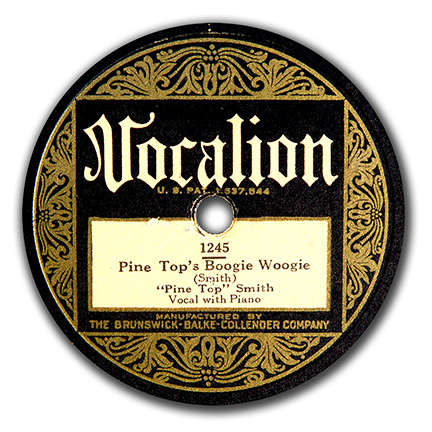 80. "Pine Top" Smith — "Pine Top's Boogie Woogie/Pine Top Blues" VOCALION 1245 E Classic MB $100
81. "Pinetop" Smith — "Nobody Loves You When You're Down And Out/Big Boy" VOCALION 1256 E+ MB $200
82. "Pinetop" Smith — "Now I Ain't Got Nothin' At All/Jump Steady Blues" VOCALION 1298 E- MB $100
83. Spark Plug Smith — "Sweet Evening Breeze/In A Shanty In Old Shanty Town" MELOTONE 12620 V+ MB $50
84. State Street Boys — "Crazy About You/Midnight Special" VOCALION 03004 V MB $20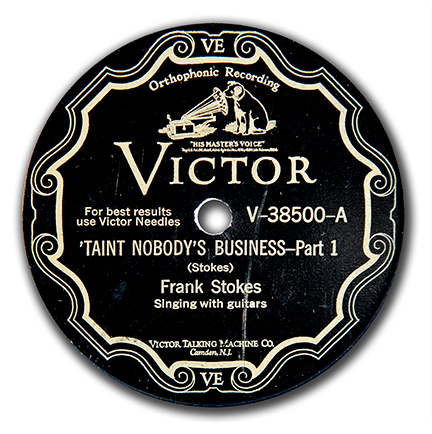 85. Frank Stokes — " 'Taint Nobody's Business_Part 1 / Part 2" VICTOR 38500 • E With tiny internal crack. MB $1,000
86. Item deleted from auction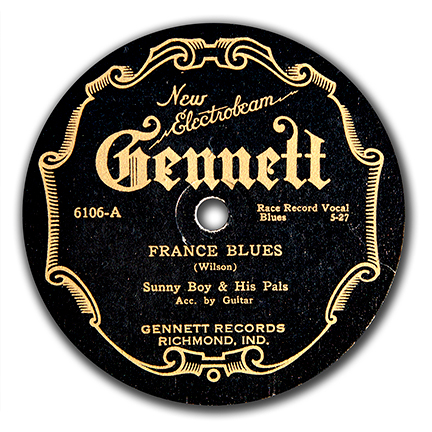 87. Sunny Boy & His Pals — "France Blues / Don't You Leave Me Here"GENNETT 6106 • V+ Decent playing copy of all time classic! AKA Papa Harvey Hull.MB $1,000
88. Roosevelt Sykes — "Mister Sykes Blues/Highway 61 Blues" CHAMPION 16586 V RARE MB $100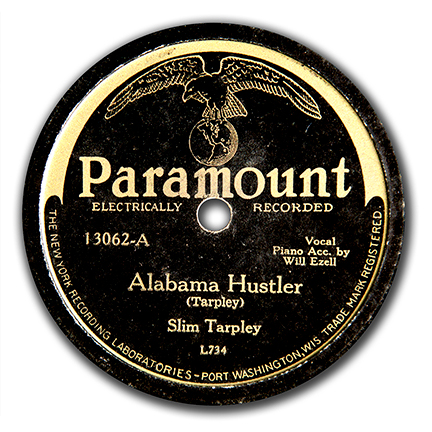 89. Slim Tarpley — "Alabama Hustler/Try Some Of That" PARAMOUNT 13062 E- Tough 13000 Paramount MB $500
90. Sam Tarpley — "Try Some Of That/That Stuff" SUPERIOR 2584 V Crack to the label . . . but ONLY KNOWN COPY?? MB $50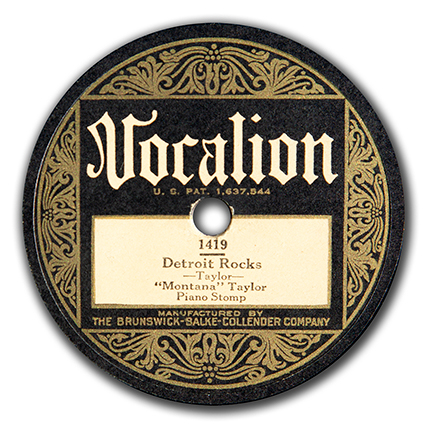 91. "Montana" Taylor — "Detroit Rocks/Indiana Avenue Stomp" VOCALION 1419 E PIANO BLUES Classic MB $300
92. Walter Taylor — "Thirty Eight And Plus/Broadcasting Blues" GENNETT 7157 V With 1 inch hair crack—only known copy??? MB $20
93. Taylor and Anderson — "Corrine Corrine/You Rascal You" CHAMPION 15951 V With stripped grooves on part of the A-side, Rare MB $20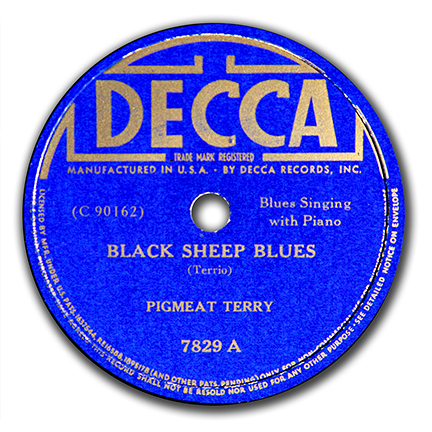 94. Pigmeat Terry — "Black Sheep Blues/Moaning The Blues" DECCA 7829 E MB $100
95. Ethel Waters — "Maybe Not At All/You Can't Do What My Last Man Did" COLUMBIA 14112 V MB $10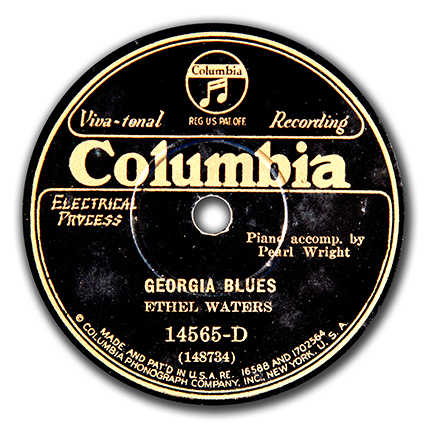 96. Ethel Waters — "Georgia Blues/I Like The Way He Does It" COLUMBIA 14565 E With multiple lams on A-side—GREAT ONE BY HER MB $50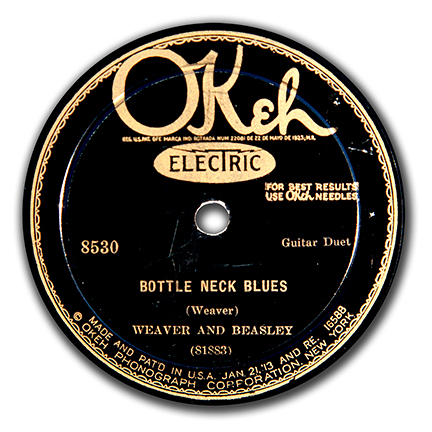 97. Weaver And Beasley — "Bottle Neck Blues/St. Louis Blues" OKEH 8530 E- With one inch lam crack on A-side MB $200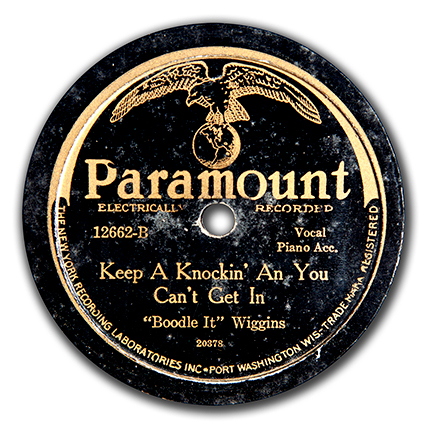 98. "Boodle It" Wiggins — "Keep A Knockin' An You Can't Get In/Evil Woman Blues" PARAMOUNT 12662 E+ With 1/4 inch TINY crack on the outer edge. This is the original of the song made famous by LITTLE RICHARD in the late 1950's as "Keep A-Knockin'." MB $300
99. James Wiggins — "Forty-Four Blues/Frisco Bound" PARAMOUNT 12860 V- MB $25
100. James Wiggins — "Corrine Corrina Blues/Gotta Shave 'Em Dry" PARAMOUNT 12916 POOR Tough one!!! MB $25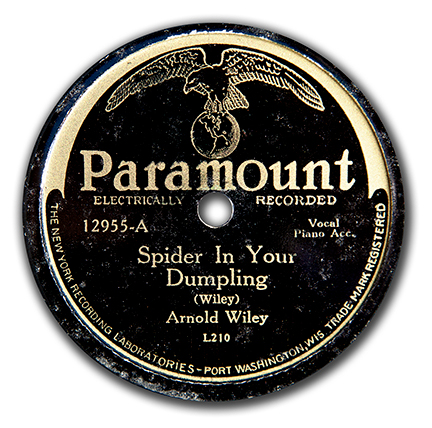 101. Arnold Wiley — "Spider In Your Dumpling/Jumping Blues" PARAMOUNT 12955 E Tough one!!! MB $500
Pete Whelan Pre-War Blues 78's Auction #3 highlights:
Good luck, everybody!
John Tefteller

Next Month's Auction:
R&B Vocal Groups 45's!!