Pete Whelan's World-Class Pre-War Blues 78's collection, part 3: HIGHLIGHTS!
Closes Tuesday, December 12, 2023 at 7:00 pm PT
Peter Whelan was a friend of mine for over twenty years. He started collecting records in 1946 and was the founder of the Origin Jazz Library label in 1960 and of 78 Quarterly in 1967—THE magazine for 78 collectors for 35 years!
Pete passed away in January at the age of 93. Last year, he offered to sell me his World Class collection of Jazz and Blues 78's. He stated his price, which would be the most I ever paid for a record collection, but I didn't hesitate to say YES!
It will take a few years and multiple auctions to find new homes for all of Mr. Whelan's records. Some of these gems are staying here, enhancing my already fantastic collection, but some of them are duplicates and/or records I'm not interested in.
Prices for World Class Blues 78's have been climbing steadily for the past 40+ years and recently have been rising VERY dramatically! This is your chance to obtain some legendary records from one of the world's BEST, and most important, collections before their prices shoot up even higher! So bid competitively if you want to win and use my call back system for "must-have" items!
The Jazz records will be sold separately from the Blues collection. Please let me know if you want to receive the Jazz auction ads.
Thank you and good luck to all!
Pete Whelan''s Pre-War Blues 78's collection auction, part 3, COMPLETE LIST

Printed (PDF) version of Pete Whelan's's Pre-War Blues 78's collection auction, part 3

How to bid on my Monthly Auctions

THE KINGS OF PRE-WAR BLUES (Records 1 – 8)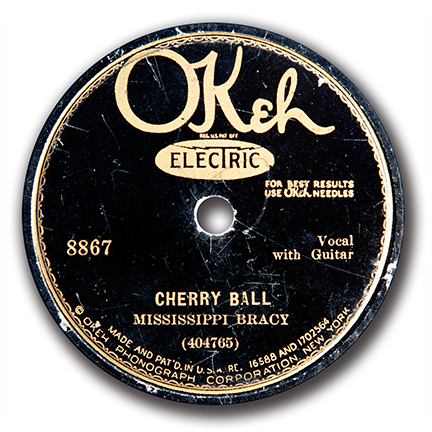 1. Mississippi Bracy "Cherry Ball / Stered Gal (Stir It Gal)" OKEH 8867 • V Apparently, this is NOT Ishman Bracey . . . but whomever it is, it is a MASTERPIECE! About FIVE known copies and never for sale!!! Plays FANTASTIC! MB $1,000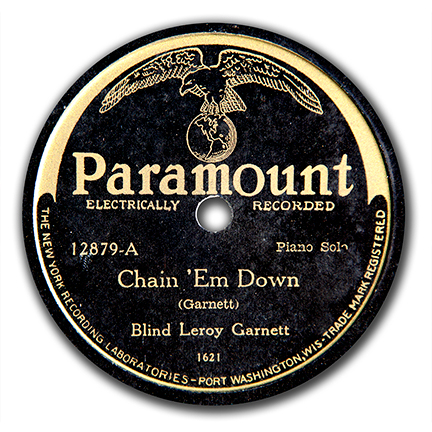 2. Blind Leroy Garnett "Chain 'Em Down / Louisiana Glide" PARAMOUNT 12879 • EPiano Blues Masterpiece and TOUGH to find in clean shape. You will search for years to find another (or better) copy! MB $1,000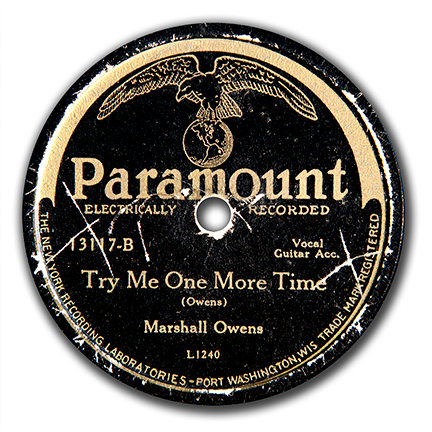 3. Marshall Owens "Try Me One More Time / Texas Blues" PARAMOUNT 13117 • G One of TWO known copies. (I own the other one). This MASTERPIECE is the copy that was used to produce all the re-issues you hear on CD comps. Stunning BLUES MASTERPIECE! This will be your ONE CHANCE IN LIFE TO OWN IT! MB $1,000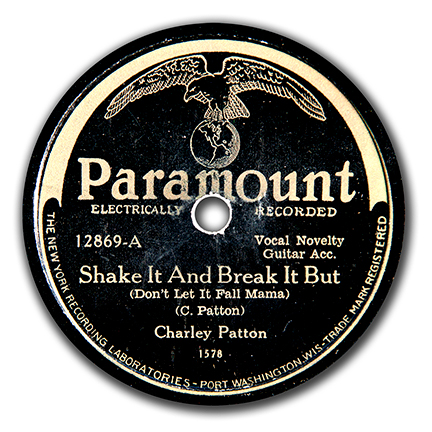 4. Charley Patton "Shake It And Break It But (Don't Let It Fall Mama) / A Spoonful Blues" PARAMOUNT 12869 • E- DOUBLE-SIDED PATTON MASTERPIECE!!! And CLEAN too! You almost never see Pattons better than V condition. Only about SIX known copies and most are V condition. MB $15,000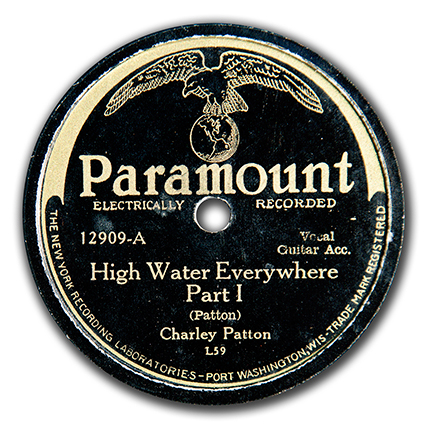 5. Charley Patton "High Water Everywhere Part I / Part II" PARAMOUNT 12909 • E- Many consider this Patton's best record! And, unlike most copies, it's CLEAN! Ever seen FOUR Pattons for sale? Well, how about SEVEN?! Check out the others in the regular section for that many Pattons being offered in this one auction.MB $15,000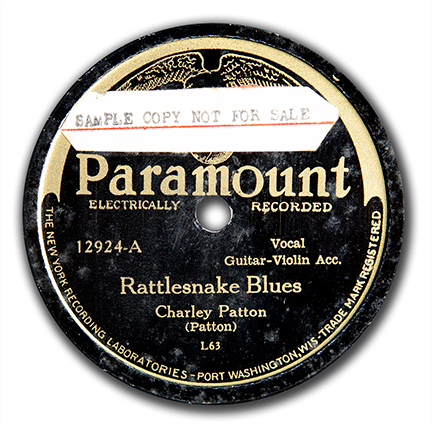 6. Charley Patton "Rattlesnake Blues / Runnin' Wild Blues" PARAMOUNT 12924 • E-ANOTHER CLEAN PATTON!!! And with a PROMO sticker to boot! This is your chance to own these Patton 78s—when they're gone, it will be a long time before you will see any more for sale . . . and chances are they will be whipped! Now is the time if you've ever wanted to own one (or ALL) of them! MB $15,000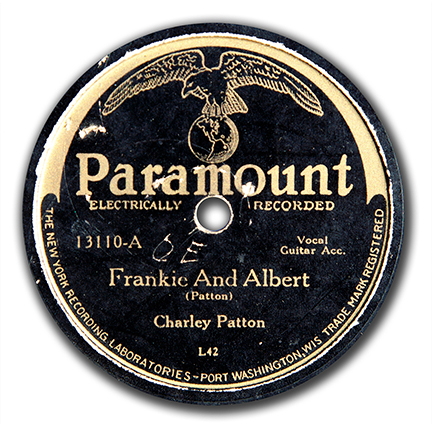 7. Charley Patton "Frankie And Albert / Some These Days I'll Be Gone" PARAMOUNT 13110 • GOne of only TWO KNOWN COPIES (I own the other one). INSANELY RARE 13000 series Paramount. One inch crack and B-side label wear. Check out the other Pattons in the regular section of this auction. MB $10,000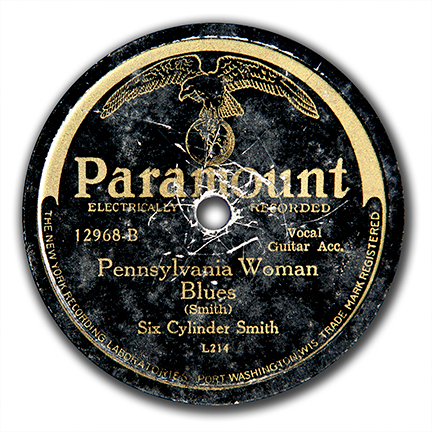 8. Six Cylinder Smith "Pennsylvania Woman Blues / Oh, Oh Lonesome Blues" PARAMOUNT 12968 • V MAYBE three known copies!!! Masterpiece!!! Some think this is Blind Joe Taggart taking a break from Gospel to do a couple mean Blues songs—whomever it is, he plays as well as Blind Joe Taggart and it's a FANTASTIC record! MB $5,000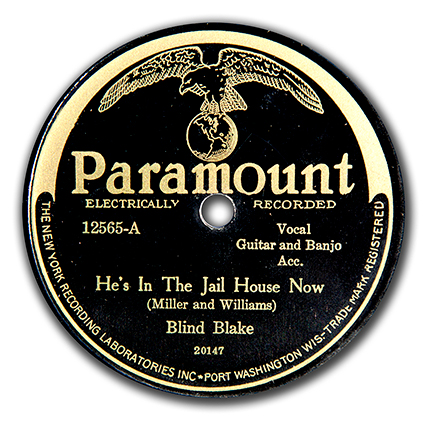 19. Blind Blake — "He's In The Jail House Now / Southern Rag" PARAMOUNT 12565 • E+ Stunning copy of all time Blake classic two-sider! Lots of V or so Blakes out there, but just TRY to find E+ copies!MB $1,000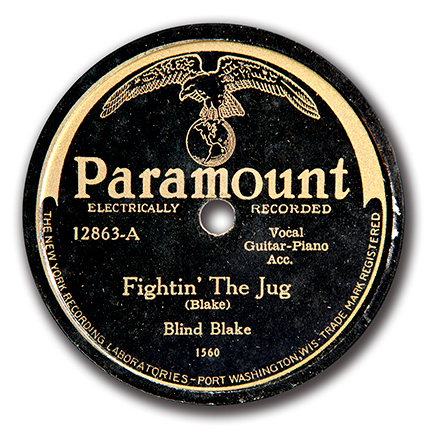 21. Blind Blake With CHARLIE SPAND — "Fightin' The Jug / Hastings Street" PARAMOUNT 12863 • E Masterpiece with Piano and Guitar compli-menting each other better than most any other record of the genre! MB $500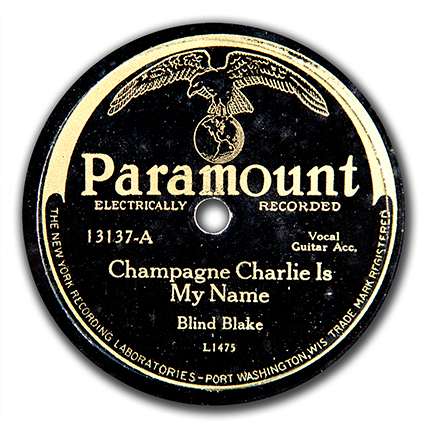 23. Blind Blake — "Champagne Charlie Is My Name / Depression's Gone From Me" PARAMOUNT 13137 • E- CLASSIC!!! Covered in the 1970's by LEON REDBONE, this copy plays NEAR PERFECT! MB $500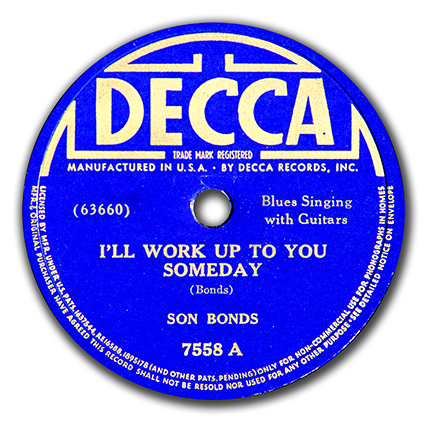 26. Son Bonds With SLEEPY JOHN ESTES — "I'll Work Up To You Someday / Old Bachelor Blues" DECCA 7558 • E GREAT ONE with Guitar backing by Sleepy John Estes!!! MB $300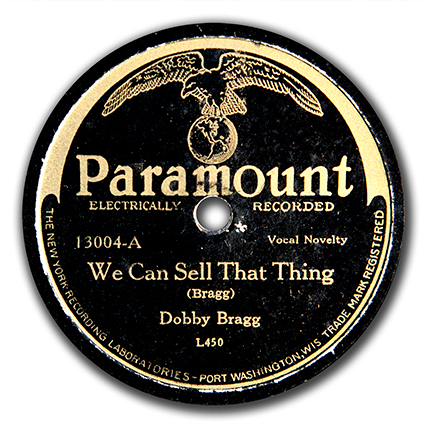 30. Dobby Bragg aka ROOSEVELT SYKES — "We Can Sell That Thing / 3-6 And 9" PARAMOUNT 13004 V RARE 13000 Paramount! MB $200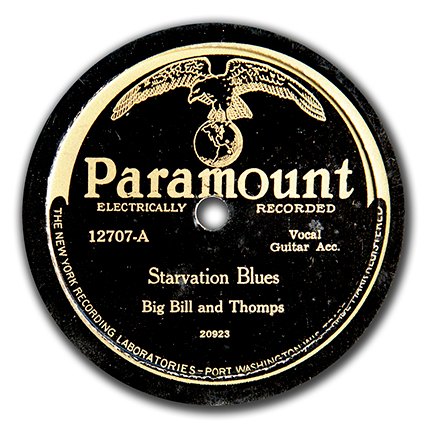 31. Big Bill And Thomps (Big Bill Broonzy) — "Starvation Blues/Down In The Basement Blues" PARAMOUNT 12707 V+ Classic early Big Bill Broonzy MB $200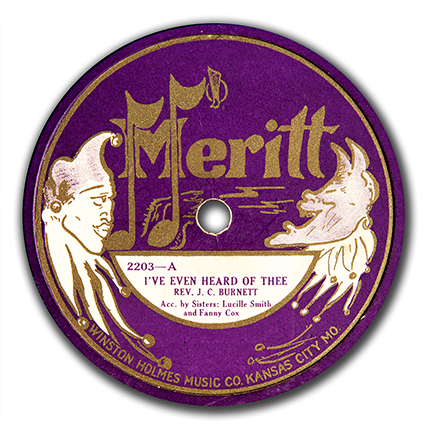 37. Rev. J. C. Burnett — "I've Even Heard Of Thee / The Downfall Of Nebuchadnezzar" MERITT 2203 • V+ RARE!!! You just never see this rare St. Louis label for sale! MB $300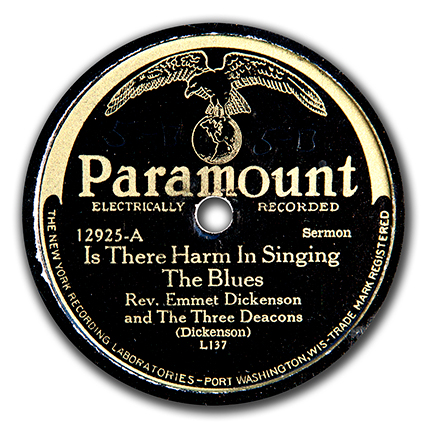 38. Rev. Emmet Dickenson And The Three Deacons — "Is There Harm In Singing The Blues/Sermon On Tight Like That" PARAMOUNT 12925 V GREAT TWO-SIDER MB $100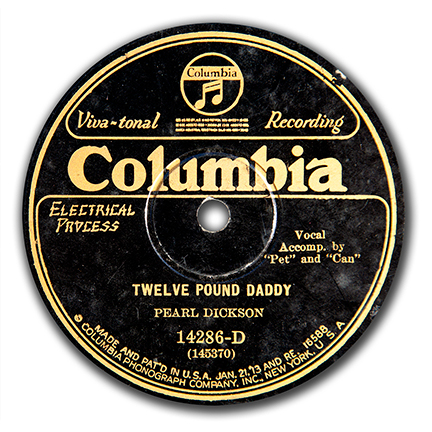 39. Pearl Dickson With Pet And Can — "Twelve Pound Daddy/Little Rock Blues" COLUMBIA 14286 E- Great Guitar backup to great Female singer! One of those guitars is THE legendary Hacksaw Harney! MB $200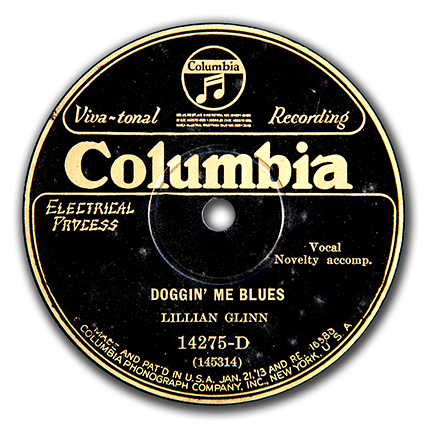 44. Lillian Glinn — "Doggin' Me Blues/Brown Skin Blues" COLUMBIA 14275 E+ MB $150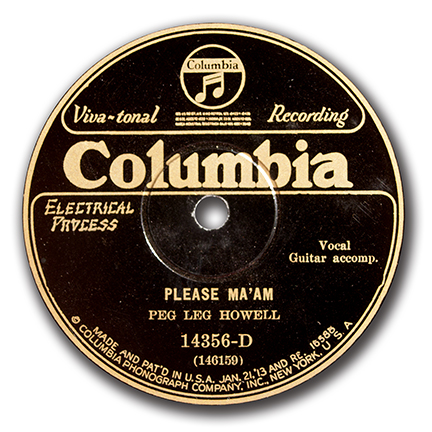 53. Peg Leg Howell — "Please Ma'am /Fairy Blues" COLUMBIA 14356 E/E+ TOUGH ONE MB $400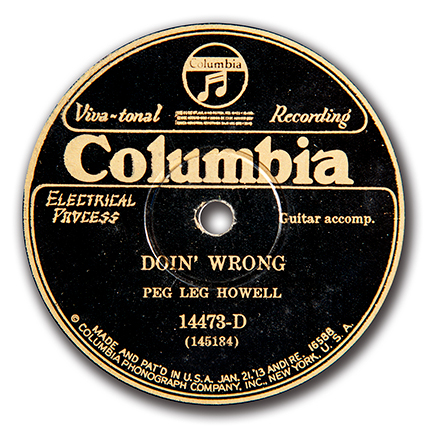 54. Peg Leg Howell — "Doin' Wrong / Skin Game Blues" COLUMBIA 14473 • E+ All time classic and this copy is brand new! MB $500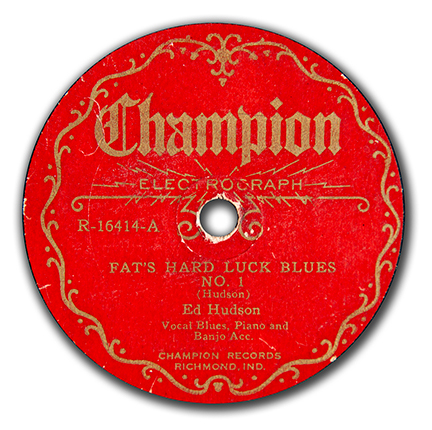 55. Ed Hudson — "Fat's Hard Luck Blues No. 1 / No. 2" CHAMPION 16414 • V RARE AND PLAYS GREAT!!! Fabulous Mandolin with Guitar and Piano. MB $500
63. Bill Moore — "Ragtime Crazy / One Way Gal" PARAMOUNT 12648 • V+ John Lee Hooker's uncle who taught him to play—RARE! MB $500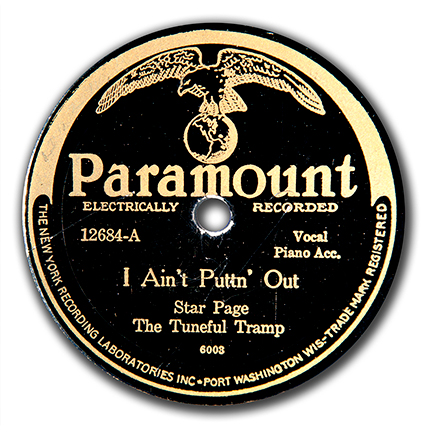 64. Star Page—The Tuneful Tramp — "I Ain't Puttn' Out/Georgia Blues" PARAMOUNT 12684 V+ RARE AND UNIQUE!!! MB $200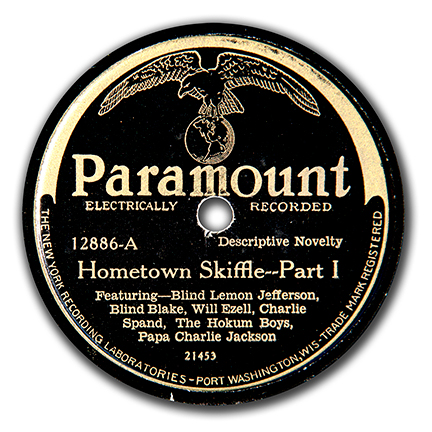 65. The Paramount All Stars — "Hometown Skiffle--Part I/Part II" PARAMOUNT 12886 V to V+ With Blind Blake, Will Ezell, Charlie Spand, The Hockum Boys, Papa Charlie Jackson and Blind Blake! Blind Lemon Jefferson is also listed on the label, but he had died before this session. Since Paramount wanted to cash in on him one last time, BLAKE imitates LEMON! All star classic nonetheless! MB $100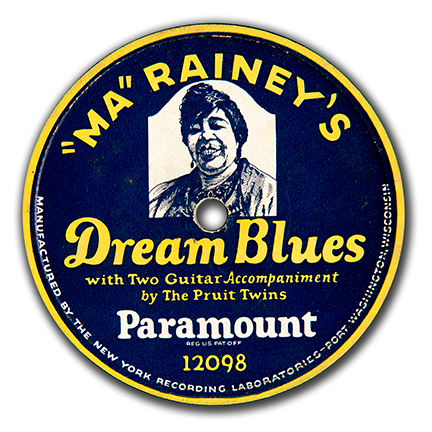 71. Ma Rainey — "Dream Blues/Lost Wandering Blues" PARAMOUNT 12098 V+ MB $100
75. Bessie Mae Smith And Wesley Wallace — "St. Louis Daddy/Farewell Baby Blues" PARAMOUNT 12922 V to V+ RARE MB $100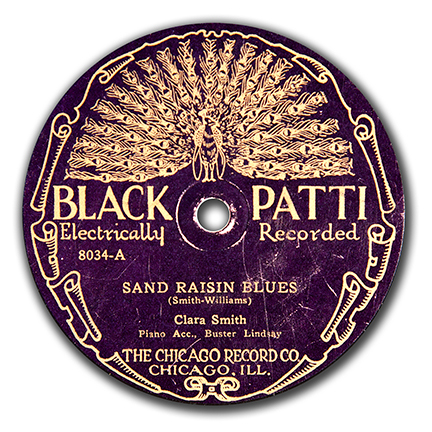 76. Clara Smith — "Sand Raisin Blues/Wandering Boy Blues" BLACK PATTI 8034 V With crack to the label—only known copy??? MB $200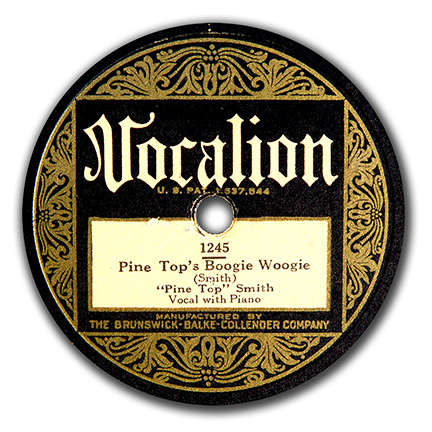 80. "Pine Top" Smith — "Pine Top's Boogie Woogie/Pine Top Blues" VOCALION 1245 E Classic MB $100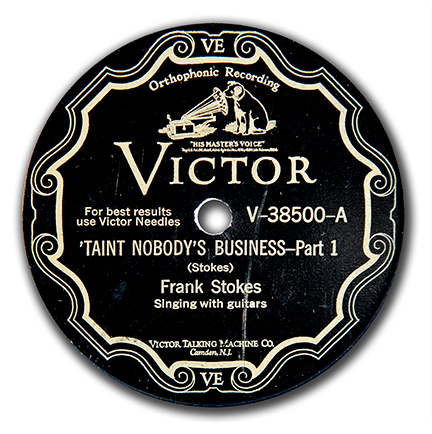 85. Frank Stokes — " 'Taint Nobody's Business_Part 1 / Part 2" VICTOR 38500 • E With tiny internal crack. MB $1,000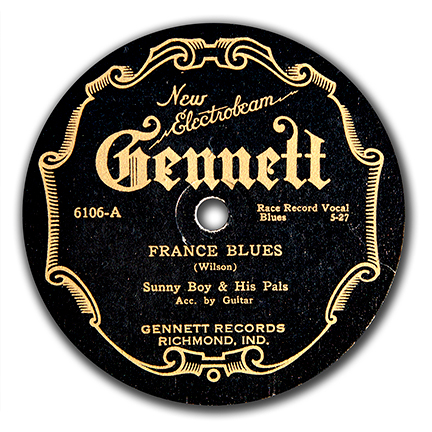 87. Sunny Boy & His Pals — "France Blues / Don't You Leave Me Here"GENNETT 6106 • V+ Decent playing copy of all time classic! AKA Papa Harvey Hull.MB $1,000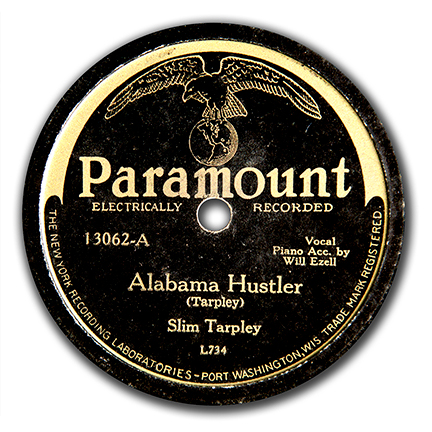 89. Slim Tarpley — "Alabama Hustler/Try Some Of That" PARAMOUNT 13062 E- Tough 13000 Paramount MB $500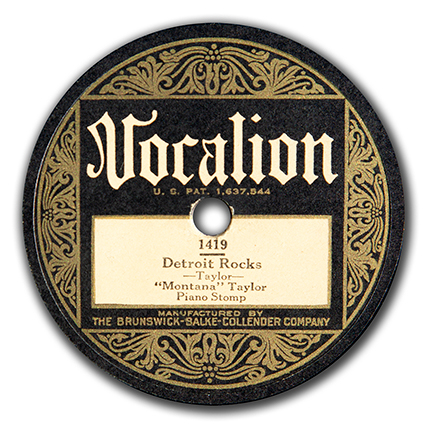 91. "Montana" Taylor — "Detroit Rocks/Indiana Avenue Stomp" VOCALION 1419 E PIANO BLUES Classic MB $300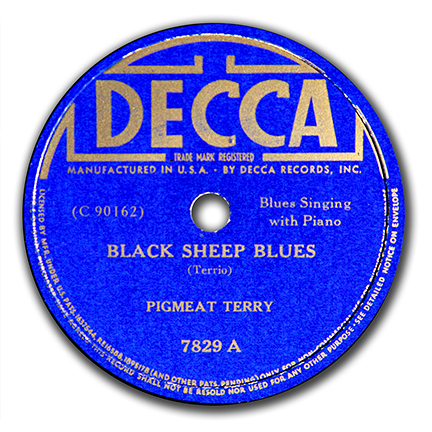 94. Pigmeat Terry — "Black Sheep Blues/Moaning The Blues" DECCA 7829 E MB $100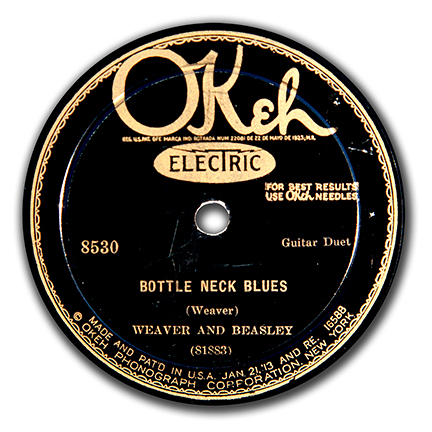 97. Weaver And Beasley — "Bottle Neck Blues/St. Louis Blues" OKEH 8530 E- With one inch lam crack on A-side MB $200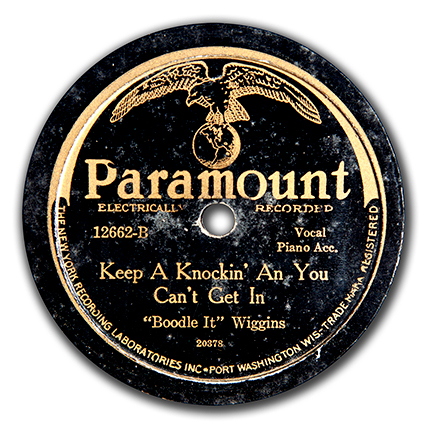 98. "Boodle It" Wiggins — "Keep A Knockin' An You Can't Get In/Evil Woman Blues" PARAMOUNT 12662 E+ With 1/4 inch TINY crack on the outer edge. This is the original of the song made famous by LITTLE RICHARD in the late 1950's as "Keep A-Knockin'." MB $300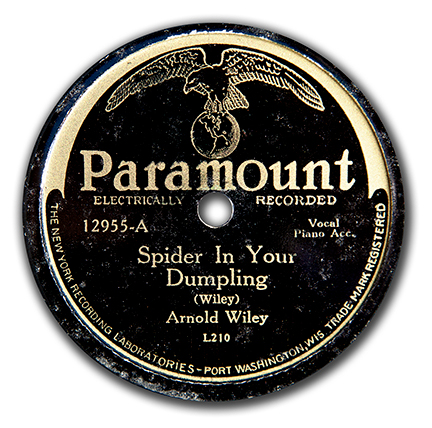 101. Arnold Wiley — "Spider In Your Dumpling/Jumping Blues" PARAMOUNT 12955 E Tough one!!! MB $500
Pete Whelan Pre-War Blues 78's Auction #3 complete-list:
Good luck, everybody!
John Tefteller

Next Month's Auction:
R&B Vocal Groups 45's!!