Ralph DeLuca's Pre-War Blues 78's collection, (Auction #4,) Highlights!
Closes Tuesday, August 30, 2022 at 7:00 pm PT
This is auction #4 (of at least five) of the record collection of Ralph DeLuca.
Mr. DeLuca is most known for his legendary collection of rare movie posters, but for 15 years he actively, and aggressively, collected rare Blues 78's, mostly Pre-War.
He plunged into collecting rare Blues 78's hot and heavy and went for the best whenever and wherever he could find them. He bought smart and paid big to get what he wanted!
Mr. DeLuca has moved into the art world, no longer collecting 78's, as he finds it easier to buy rare art than rare records. That should tell you something!
There should be something for each and every Blues collector reading this auction. There are titles here not seen for sale in decades . . . and some may never be seen again.
This is your chance to get some LEGENDARY rarities and just plain GREAT records for your collection. Be prepared though — the great stuff is going to go for a lot of money!
E+ is the highest grade used. This is the old-time 78 grading system and I am very strict.
The next Ralph DeLuca auction will be in several monthsand contains another 100 or so goodies.
The previous DeLuca auction realized over $400,000 in sales so be prepared to bid aggressively or go without!!
Good luck to all!



Printed (PDF) version of Ralph DeLuca's Pre-War Blues 78's auction #4, low-res (18 mb)

Printed (PDF) version of Ralph DeLuca's Pre-War Blues 78's auction #4, high-res (29 mb)

How to bid on my Monthly Auctions

DeLuca Pre-War Blues 78's consignment auction #4, complete-list
1. Robert Johnson — "Sweet Home Chicago / Walkin' Blues" VOCALION 03601 • V+/E ALL TIME CLASSIC! Covered by everyone else since 1937! A-side has had some play but plenty left. B-side is REALLY nice! MB $5,000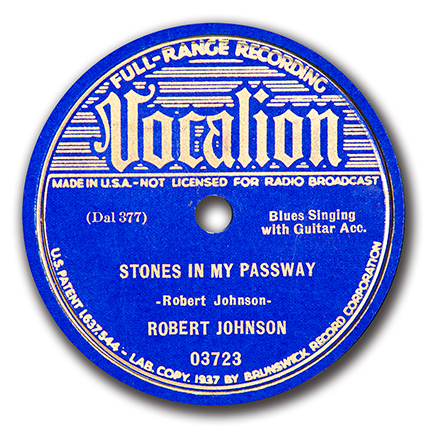 2. Robert Johnson — "Stones In My Passway / I'm A Steady Rollin' Man" VOCALION 03723 • E GORGEOUS COPY of one of his tougher records to find. MB $8,000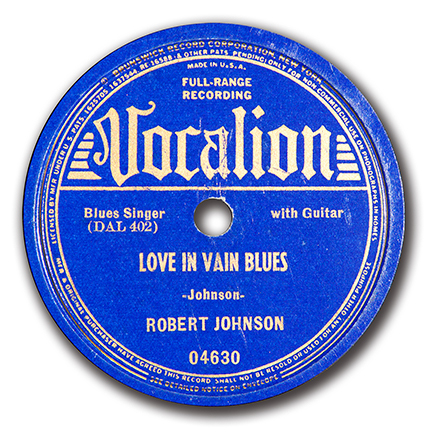 3. Robert Johnson — "Love In Vain Blues / Preachin' Blues" VOCALION 04630 • V+ Next to "Cross Roads Blues" this is Johnson's rarest and most desirable title! Two all star performances! Decent copy. MB $8,000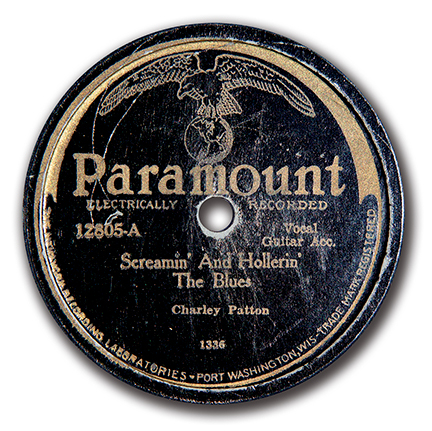 4. Charley Patton — "Screamin' And Hollerin' The Blues / Mississippi Boweavil Blues" PARAMOUNT 12805 • G All time Patton classic! Yeah, it's rough, but you can still hear it! Original Patton 78's are getting near impossible to find these days . . . and they are not getting any cheaper as more and more people want to own one, even if it's just a beat artifact, to "Hang on the wall." MB $3,000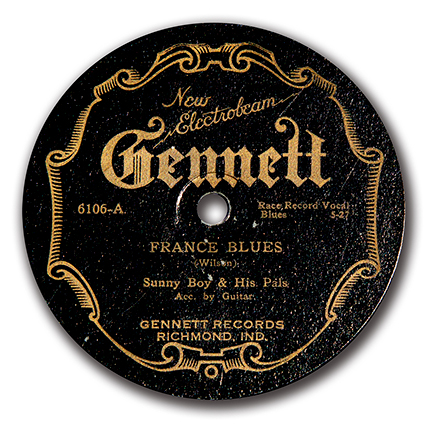 5. Sunny Boy & His Pals — "France Blues / Don't You Leave Me Here" GENNETT 6106 • V Masterpiece! Released a year earlier on BLACK PATTI (which is just about impossible to find), so this is the only "affordable" way to get it. MB $2,000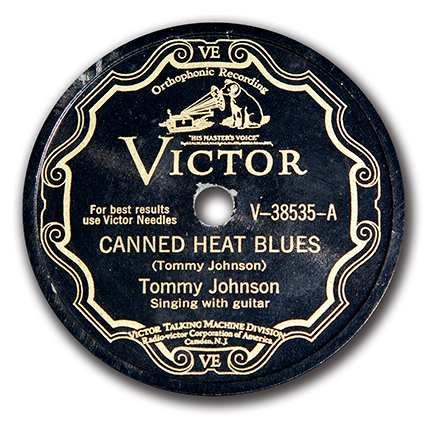 6. Tommy Johnson — "Canned Heat Blues / Big Fat Mama Blues" VICTOR 38535 • E- TALK ABOUT A MONSTER BLUES MASTERPIECE! This one has it all! Nice copy and what a record!!! MB $6,000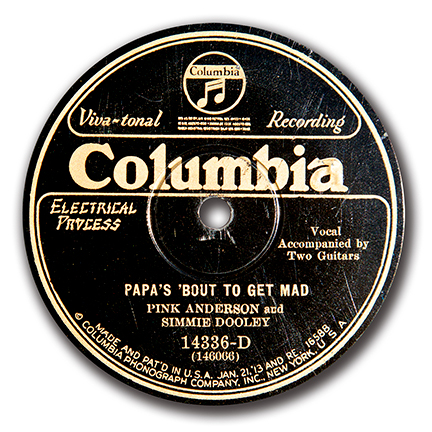 8. Pink Anderson And Simmie Dooley — "Papa's 'Bout To Get Mad/Gonna Tip Out Tonight" COLUMBIA 14336 E+ You don't see this anymore! STUNNING COPY! MB $800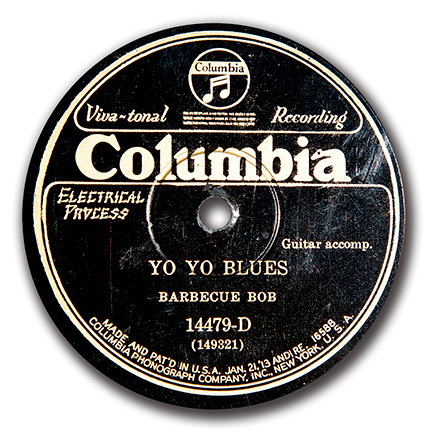 12. Barbecue Bob — "Yo Yo Blues / Trouble Done Bore Me Down" COLUMBIA 14479 • E Beautiful copy! Lots of Barbecue Bob out there, but super clean ones are TOUGH!!! MB $500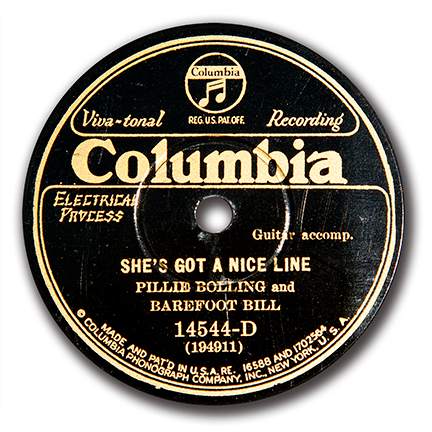 13. Pillie Bolling And Barefoot Bill — "She's Got A Nice Line / I Don't Like That" COLUMBIA 14544 • E+ RARE AND FANTASTIC!! MB $1,500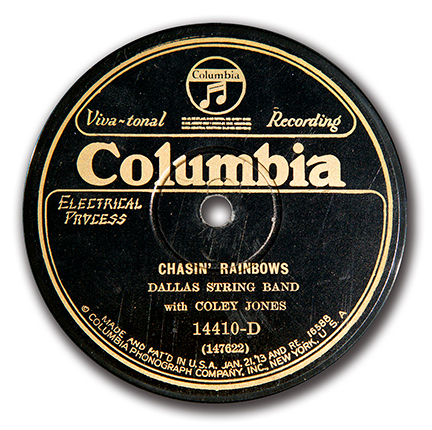 20. Dallas String Band With Coley Jones — "Chasin' Rainbows / I Used To Call Her Baby" COLUMBIA 14410 • E String Band Masterpiece!! MB $750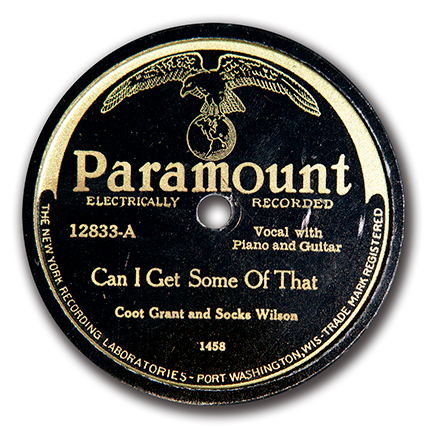 28. Coot Grant And Socks Wilson — "Can I Get Some Of That/Uncle Joe" PARAMOUNT 12833 E+ STUNNING COPY MB $500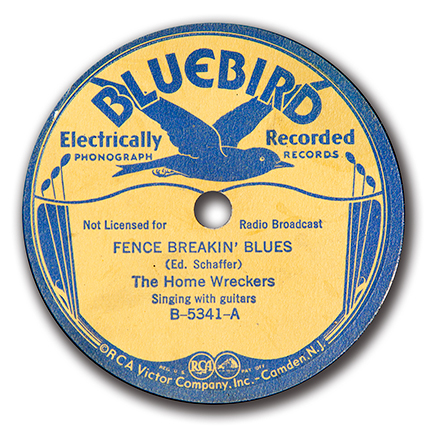 33. The Home Wreckers — "Fence Breakin' Blues / Home Wreckin' Blues" BLUEBIRD 5341 • E- FABULOUS!!! One of my all time favorite Pre-War Blues records! Originally Victor as The Shreveport Home Wreckers. MB $500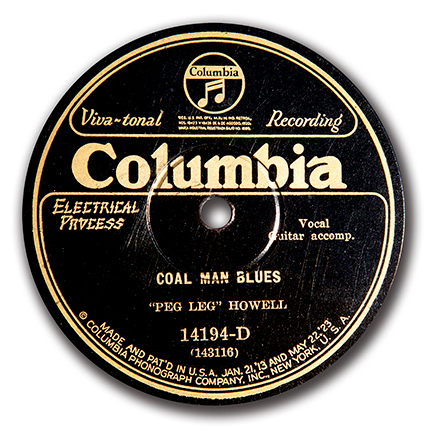 35. " "Peg Leg" Howell — "Coal Man Blues /Tishimingo Blues" COLUMBIA • 14194 E Small one inch lam crack on B-side MB $500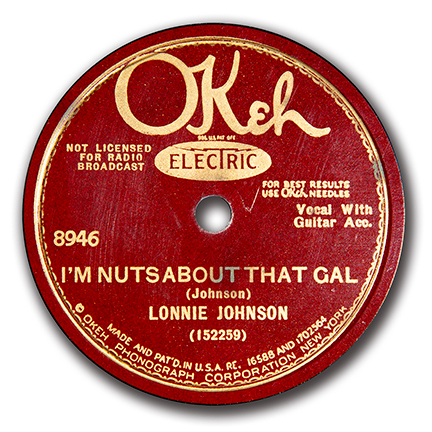 46. Lonnie Johnson — "I'm Nuts About That Gal/Rackateers Blues" OKEH 8946 E+ MB $500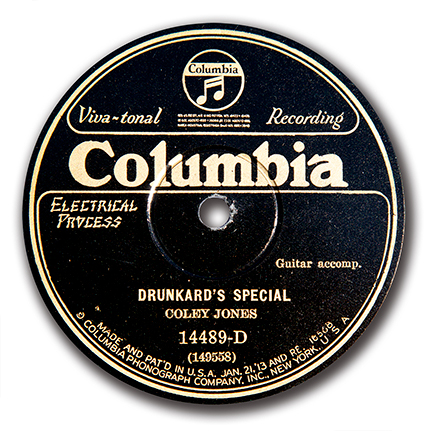 47. Coley Jones — "Drunkard's Special/The Elder He's My Man" COLUMBIA 14489 E+ MB $500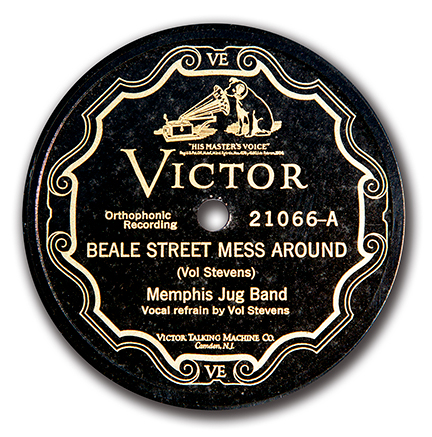 48. Memphis Jug Band — "Beale Street Mess Around / I'll See You In The Spring, When The Birds Begin To Sing" VICTOR 21066 • E+ MB $500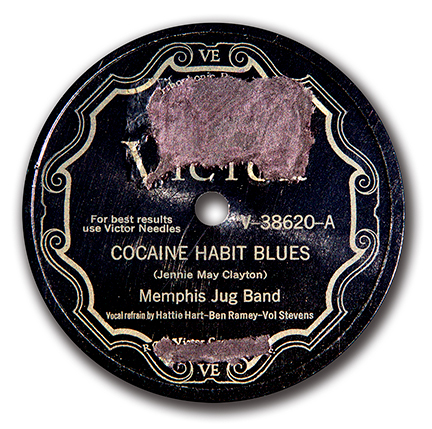 51. Memphis Jug Band — "Cocaine Habit Blues / It Won't Act Right" VICTOR 38620 • E/E+ All time CLASSIC!!! With label tears as shown MB $1,000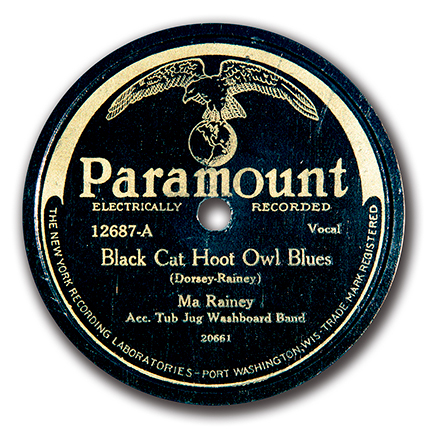 59. Ma Rainey With Her Tub Jug Washboard Band — "Black Cat Hoot Owl Blues/Victim Of The Blues" PARAMOUNT 12687 E+ MB $400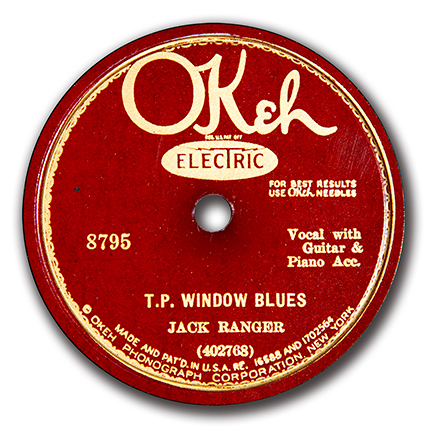 60. Jack Ranger — "T. P. Window Blues/Thieving Blues" OKEH 8795 E+ RARE MB $500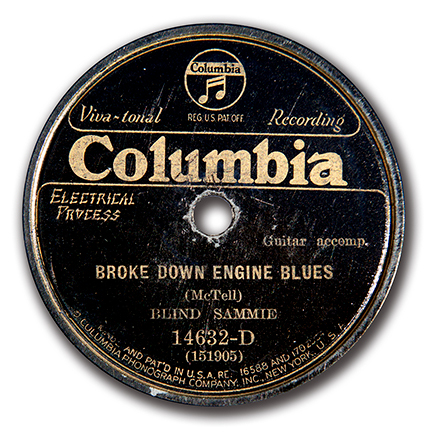 67. Blind Sammie aka BLIND WILLIE MCTELL — "Broke Down Engine Blues / Southern Can Is Mine" COLUMBIA 14632 V+ MB $500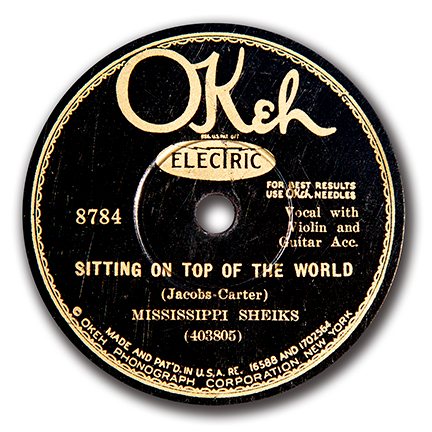 70. Mississippi Sheiks — "Sitting On Top Of The World / Lonely One In This Town" OKEH 8784 • E GORGEOUS COPY and super hard to find clean! Big hit, so lots around, but most copies are V+ or less due to how popular this was. MB $500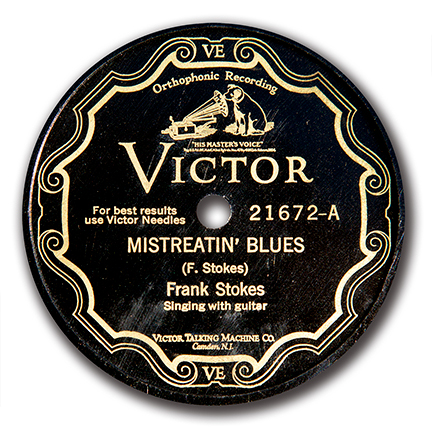 76. Frank Stokes — "Mistreatin' Blues / It Won't Be Long Now" VICTOR 21672 • E+STUNNING COPY MB $2,000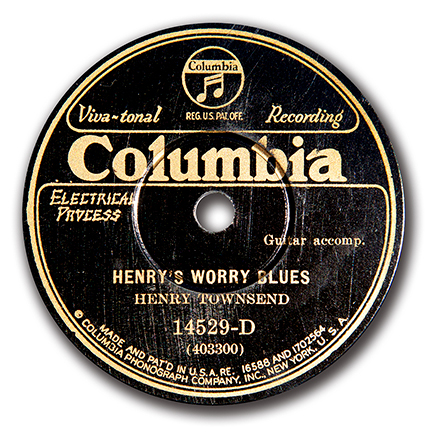 77. Henry Townsend — "Henry's Worry Blues /Long Ago Blues" COLUMBIA 14529 E/E- MB $500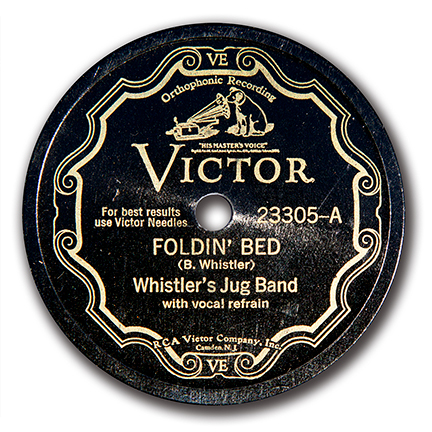 80. Whistler's Jug Band — "Foldin' Bed /Hold That Tiger" VICTOR 23305 • E RARE JUG BAND RECORD!!! And when you own it, you can watch the film that was made of them playing it! MB $2,000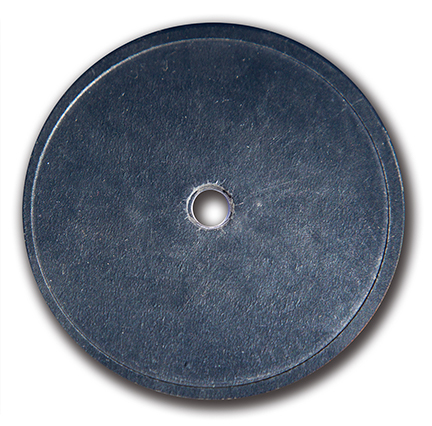 82. Robert Wilkins — "Police Sargent Blues /Nashville Stonewall Blues" BRUNSWICK 7168 • E- ABSOLUTE MASTERPIECE!!! One of my top favorite Pre-War Blues records of all time and SUPER RARE!! Both labels are faded out, but it plays fantastic! MB $3,000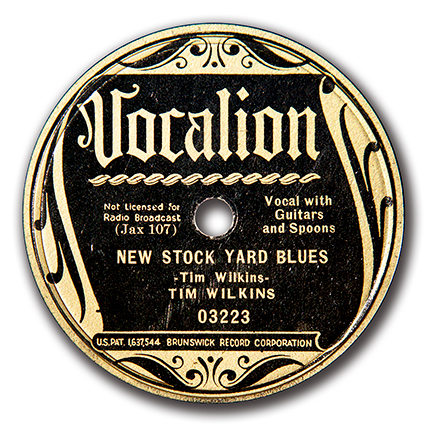 84. Tim Wilkins aka ROBERT WILKINS — "New Stock Yard Blues / Dirty Deal Blues" VOCALION 03223 • V+SUPER RARE—ABOUT FIVE KNOWN COPIES MB $2,000

DeLuca Pre-War Blues 78's consignment auction #4, complete-list

Good luck, everybody!
John Tefteller
Next Month's Auction:
The Jim Coulter Collection Of
Sun and Memphis Label 78 RPM records!!