Original 1950's Rockabilly / Boppers / Hot Rock & Roll 45's Auction highlights!

Closes Tuesday, May 24, 2022 at 7:00 pm PT
My May 24th, 2022 Rockabilly / Hot Rock & Roll 45's auction, complete list

Printed (PDF) version Rockabilly / Hot Rock & Roll 45's auction-high-res (35 mb)
Printed (PDF) version Rockabilly / Hot Rock & Roll 45's auction (21mb)

How to bid on my Monthly Auctions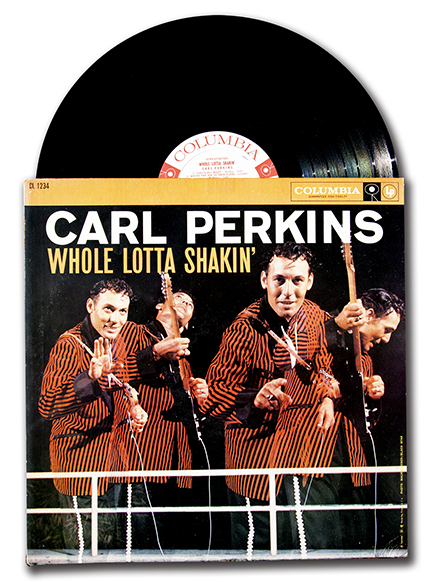 1. Carl Perkins — "Whole Lotta Shakin' " COLUMBIA CL 1234 • M-/NICE VG+ WHITE LABEL PROMO COPY! From the personal collection of a 90+ year old COLUMBIA promotion man! Very SCARCE LP—especially as a PROMO COPY! MB $300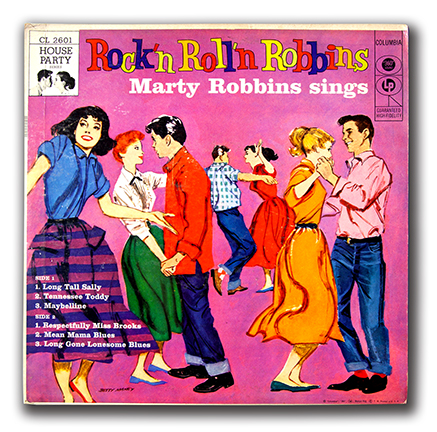 2. Marty Robbins — "Rock'n Roll'n Robbins 10" LP" COLUMBIA CL 2601 • M-/M- SUPER SCARCE 10" LP with all of Marty's best Rockabilly songs! ABSOLUTELY GORGEOUS COPY from Old Store Stock. MB $300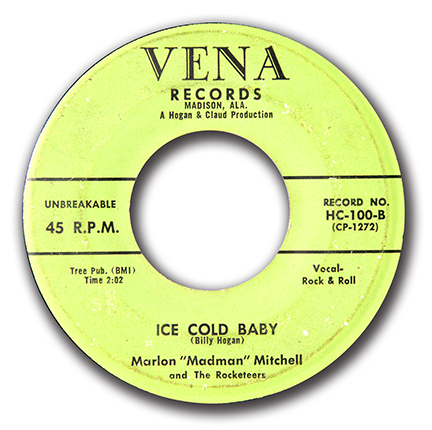 3. Marlon "Madman" Mitchell and The Rocketeers — "Ice Cold Baby / Bermuda Shorts" VENA 100 • VG MONSTER RARITY from Madison, Alabama! Fabulous PRIMITIVE ROCKABILLY! First time I have ever seen or had a copy! Looks VG but plays much, much BETTER! Find a better one, if you can! MB $2,000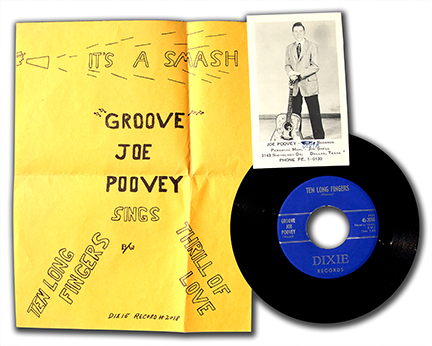 4. Groove Joe Poovey — "Ten Long Fingers / Thrill Of Love" DIXIE 2108 • M- STUNNING COPY OF ALL TIME ROCKABILLY CLASSIC RARITY . . . and this one comes with A SPECIAL PROMO PHOTO and PROMOTIONAL FLYER sent only to radio stations. I have never seen this before! MB $750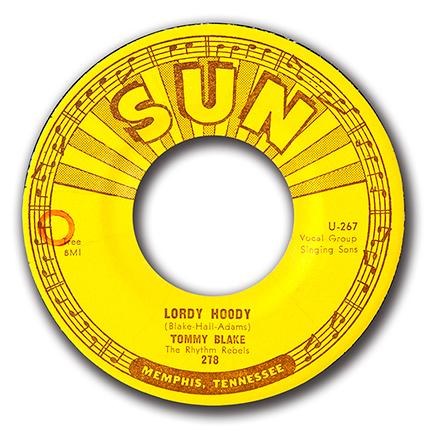 14. Tommy Blake & The Rhythm Rebels — "Lordy Hoody/Flat Foot Sam" SUN 278 M- SUN CLASSIC MB $50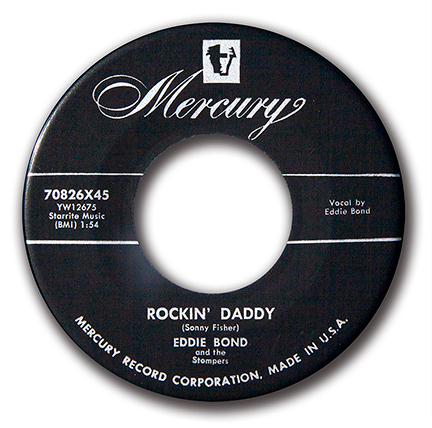 16. Eddie Bond And The Stompers — "Rockin' Daddy/I've Got A Woman" MERCURY 70826 M- CLASSIC TWO-SIDER MB $50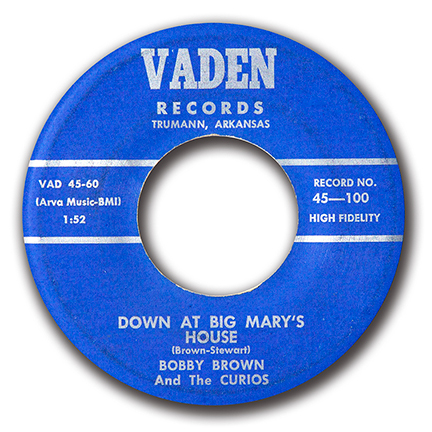 23. Bobby Brown And The Curios — "Down At Big Mary's House/I Get The Blues (At Midnight)" VADEN 100 VG Fabulous MB $50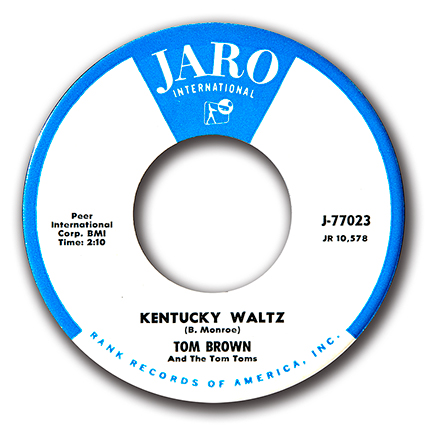 26. Tom Brown And The Tom Toms — "Kentucky Waltz/Tomahawk" JARO 77023 M- DEFINITELY NOT A WALTZ MB $75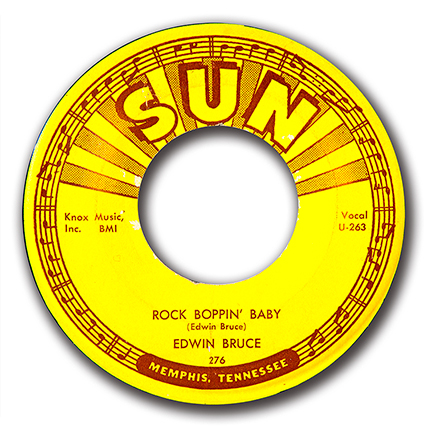 27. Edwin Bruce — "Rock Boppin' Baby/More Than Yesterday" SUN 276 MINT CLASSIC MB $50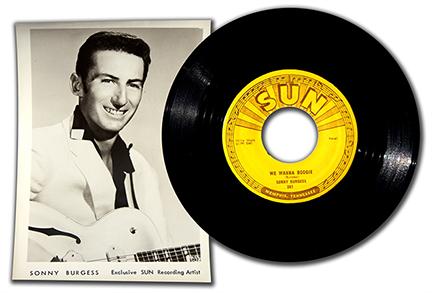 30. Sonny Burgess — "We Wanna Boogie / Red Headed Woman" SUN 247 VG+/M With ORIGINAL PROMO PHOTO as sent to Radio Stations—RARE! MB $250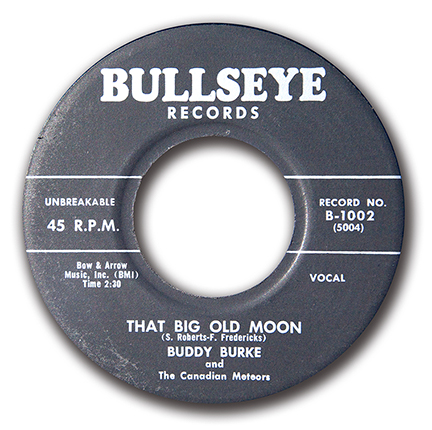 31. Buddy Burke And The Canadian Meteors — "That Big Old Moon/Street Of Sorrows" BULLSEYE 1002 M- MB $100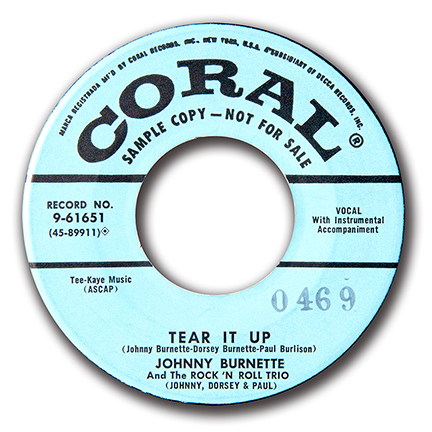 33. Johnny Burnette And The Rock `N Roll Trio — "Tear It Up/You're Undecided" CORAL 61651 NICE VG+ POWDER BLUE LABEL PROMO with radio station file # on both labels MB $75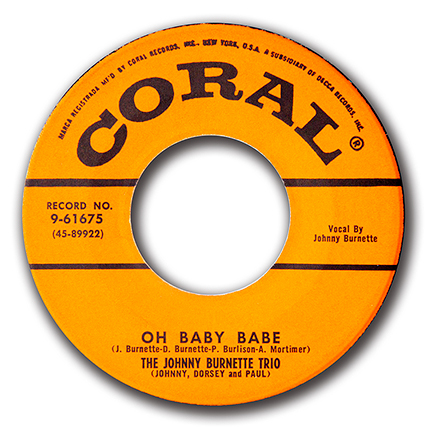 34. The Johnny Burnette Trio — "Oh Baby Babe/Midnight Train" CORAL 61675 NICE VG+ MB $75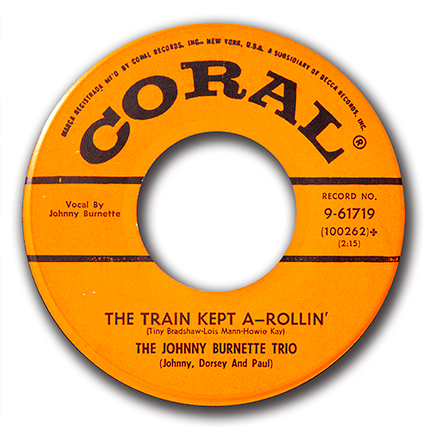 35. The Johnny Burnette Trio — "The Train Kept A–Rollin'/Honey Hush" CORAL 61719 NICE VG+ MB $75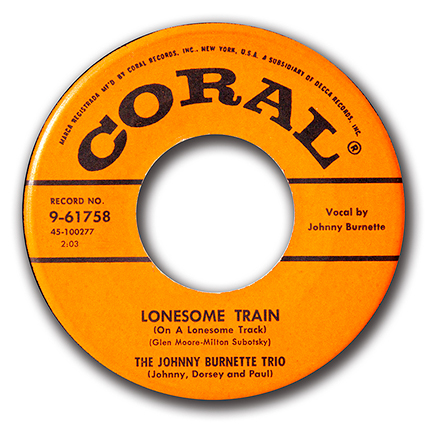 36. The Johnny Burnette Trio — "Lonesome Train (On A Lonesome Track)/I Just Found Out" CORAL 61758 NICE VG+ MB $75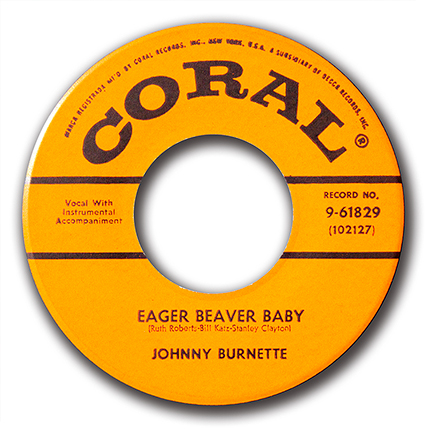 37. Johnny Burnette — "Eager Beaver Baby/Touch Me" CORAL 61829 MINT OLD STORE STOCK MB $200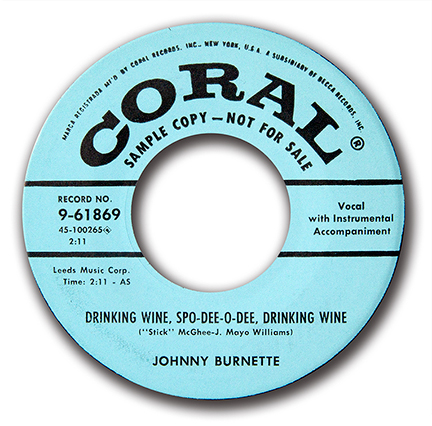 38. Johnny Burnette — "Drinking Wine, Spo-Dee-O-Dee, Drinking Wine/Butter-Fingers" CORAL 61869 M- POWDER BLUE LABEL PROMO MB $150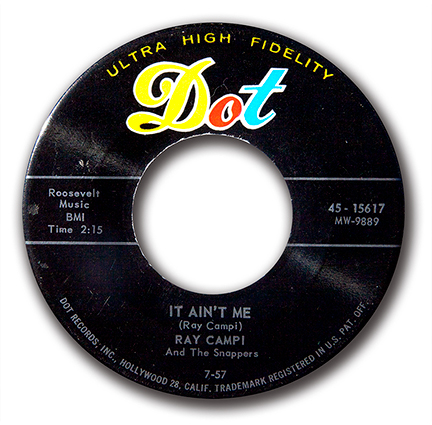 40. Ray Campi And The Snappers — "It Ain't Me/Give That Love To Me" DOT 15617 M- MB $50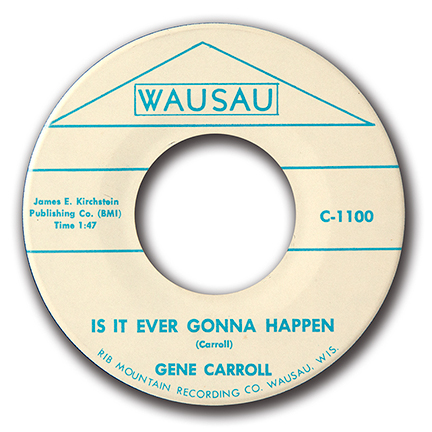 41. Gene Carroll — "Is It Ever Gonna Happen/Holly" WAUSAU 1100 NICE VG+ NICE ONE!!! Sounds like JERRY LEE LEWIS MB $50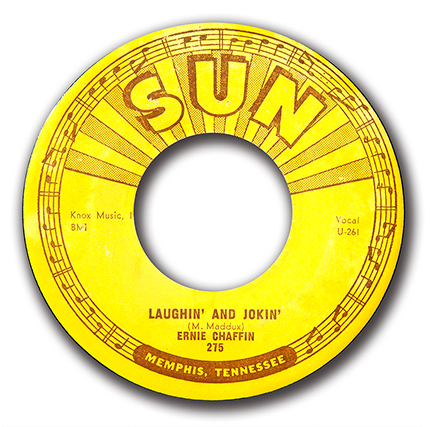 47. Ernie Chaffin — "Laughin' And Jokin'/I'm Lonesome" SUN 275 M- MB $50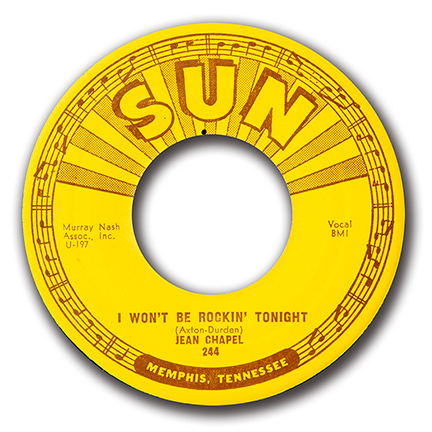 49. Jean Chapel — "I Won't Be Rockin' Tonight/Welcome To The Club" SUN 244 M- MB $50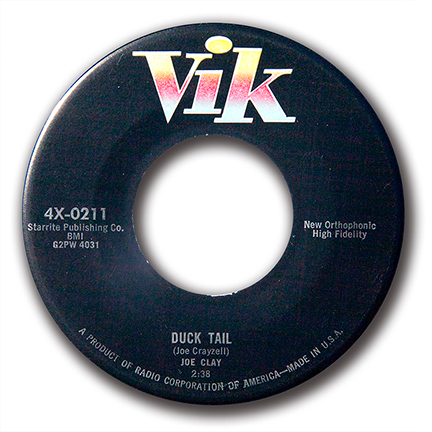 53. Joe Clay — "Duck Tail/Sixteen Chicks" VIK 0211 M- GREAT, CLASSIC TWO-SIDER MB $100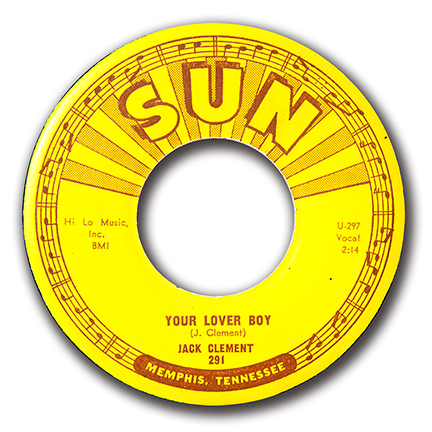 54. Jack Clement — "Your Lover Boy/Ten Years" SUN 291 M- MB $50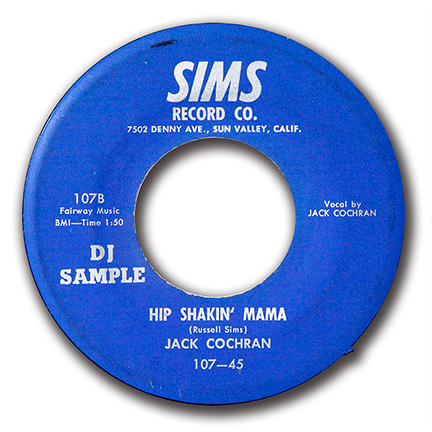 59. Jack Cochran — "Hip Shakin' Mama/Riverside Jump" SIMS 107 VG+ PROMO COPY, CLASSIC TWO-SIDER MB $75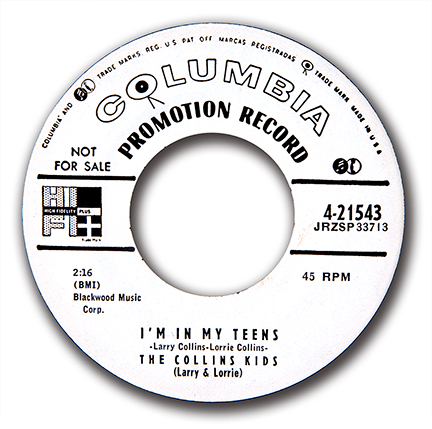 61. The Collins Kids — "I'm In My Teens/They're Still In Love" COLUMBIA 21543 M- WHITE LABEL PROMO MB $50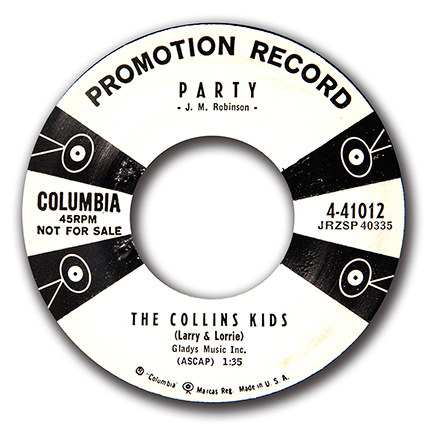 62. The Collins Kids — "Party/Heartbeat" COLUMBIA 41012 M- WHITE LABEL PROMO MB $50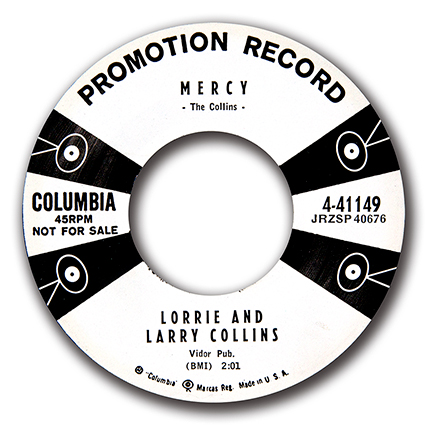 63. Larry And Lorrie Collins — "Mercy/Sweet Talk" COLUMBIA 41149 M- WHITE LABEL PROMO MB $50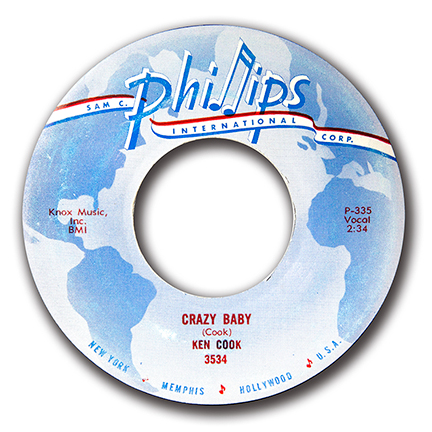 65. Ken Cook aka ROY ORBISON — "Crazy Baby/I Was A Fool" PHILLIPS INTERNATIONAL 3534 M- TOUGH ONE! And YES, it is indeed ROY ORBISION! MB $75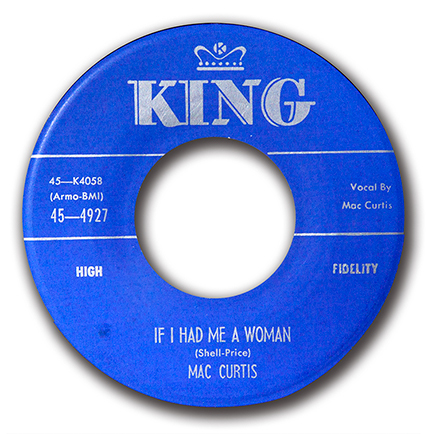 67. Mac Curtis — "If I Had Me A Woman/Just So You Call Me" KING 4927 M- ALL TIME CLASSIC MB $100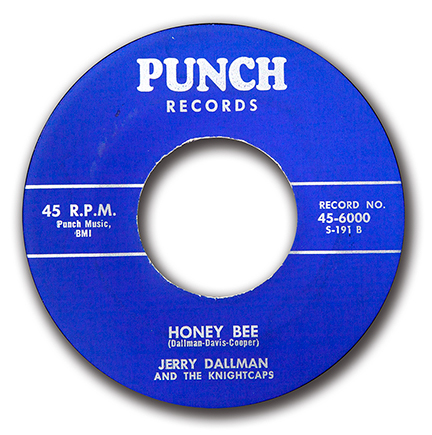 68. Jerry Dallman And The Knightcaps — "Honey Bee/The Bug" PUNCH 6000 MINT Small tape on B-side label only MB $50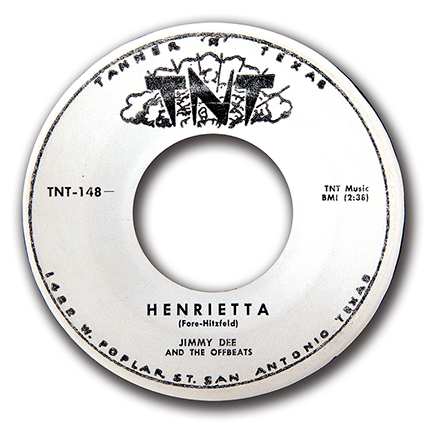 70. Jimmy Dee And The Offbeats — "Henrietta/Don't Cry No More" T N T 148 NICE VG+ First Label, True First Pression before NATIONWIDE RELEASE ON DOT MB $75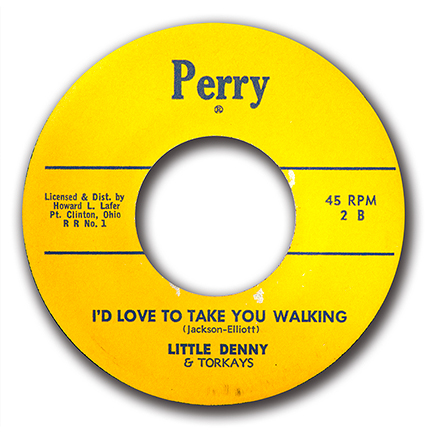 73. Little Denny & Torkays — "I'd Love To Take You Walking/She's Everybody's Darling" PERRY 2 MINT MB $50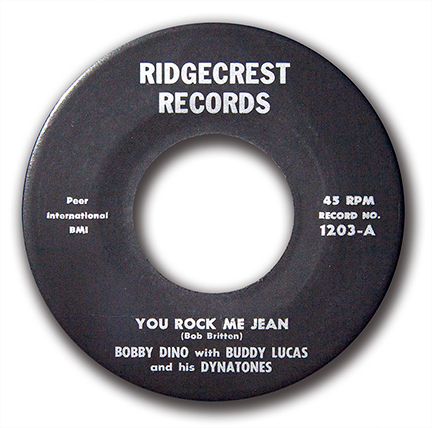 75. Bobby Dino With Buddy Lucas And His Dynatones — "You Rock Me Jean/You Walked Away From Love" RIDGECREST 1203 MINT MB $75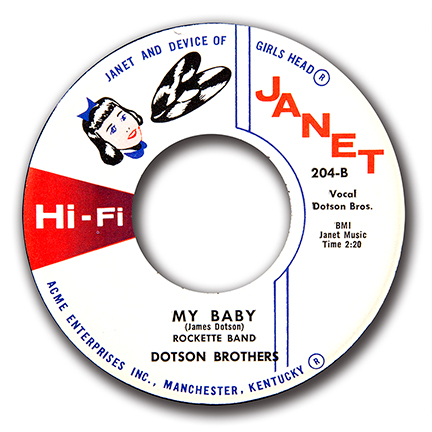 76. The Dotson Brothers — "My Baby/Guess Why "And I've Quit My Crying Over You" " JANET 204 MINT NICE ONE WITH TWO BREAKS MB $50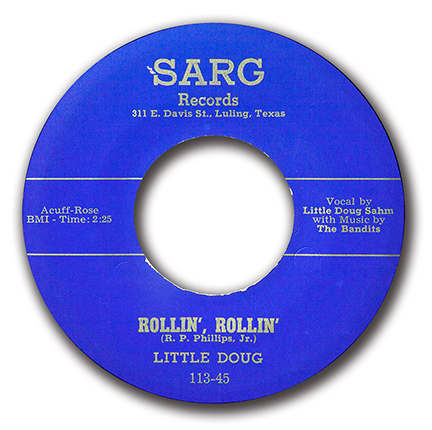 77. Little Doug — "Rollin', Rollin'/A Real American Joe" SARG 113 MINT DOUG SAHM'S FIRST RECORD—LONG, LONG BEFORE THE SIR DOUGLAS QUINTET MB $75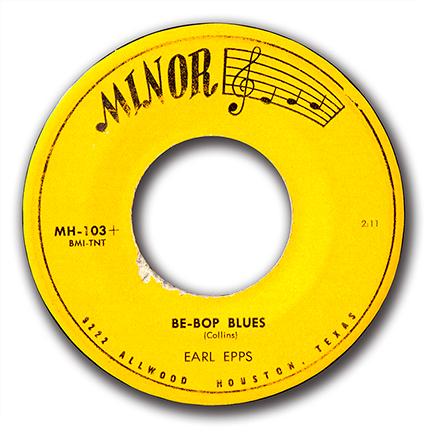 86. Earl Epps — "Be-Bop Blues / There's Two Of Us Waiting"MINOR 103 • VG PLAYS FANTASTIC AND VERY TOUGH TO FIND!!! MB $100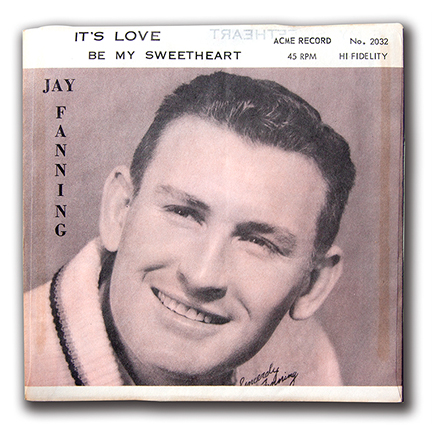 89. Jay Fanning — "It's Love/Be My Sweetheart" ACME 2032 M-/M WITH PICTURE SLEEVE—RARE MB $100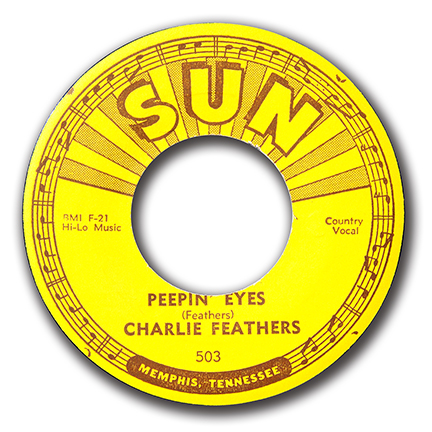 90. Charlie Feathers — "Peepin' Eyes / I've Been Deceived" SUN 503 • MINT This one came out on SUN and FLIP at the same time. The FLIP is easier to find, but both are very desirable! THIS ONE IS FROM OLD STORE STOCK! MB $500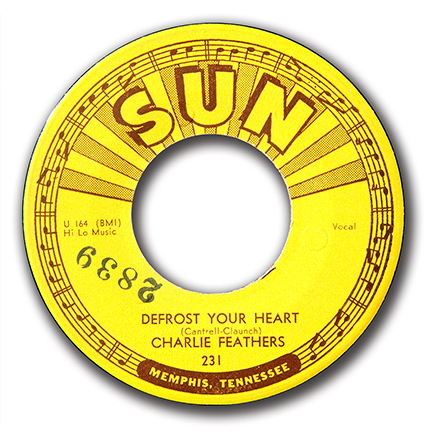 91. Charlie Feathers — "Defrost Your Heart / A Wedding Gown Of White" SUN 231 • NICE VG With radio station file number on the label as shown. This one plays M- and is really, really scarce!!!! All time classic Charlie Feathers!!! MB $1,000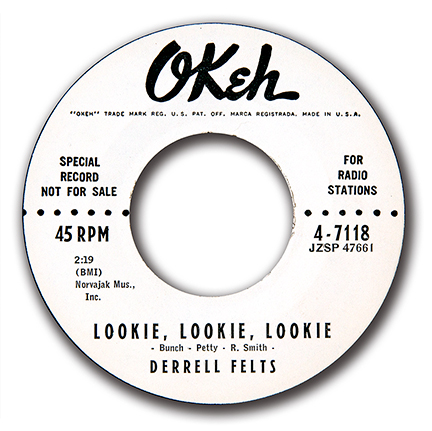 92. Derrell Felts — "Lookie, Lookie, Lookie/It's A Great Big Day" OKEH 7118 M- WHITE LABEL PROMO MB $50
94. Sonny Fisher — "Rockin' And A Rollin' / I Can't Lose"STARDAY 207 • M- Classic Sonny Fisher sides in great shapeMB $200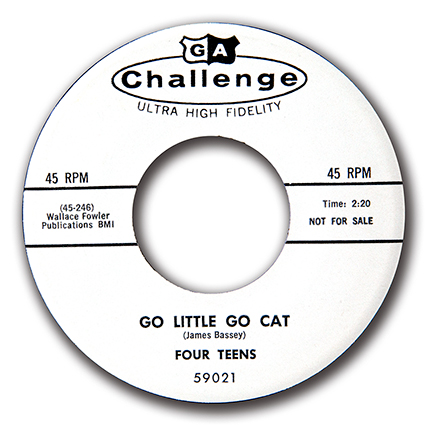 100. Four Teens — "Go Little Go Cat/Spark Plug" CHALLENGE 59021 MINT WHITE LABEL PROMO, great two-sider MB $50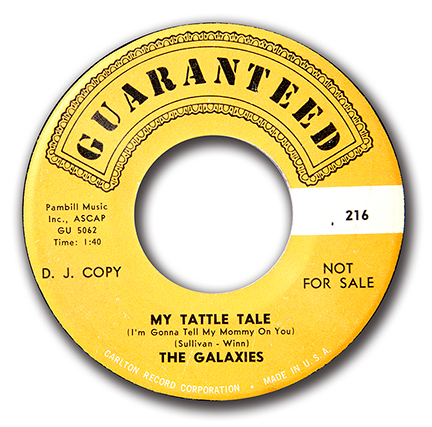 102. The Galaxies — "My Tattle Tale/Love Has Its Ways" GUARANTEED 216 M- PROMO COPY with EDDIE COCHRAN MB $50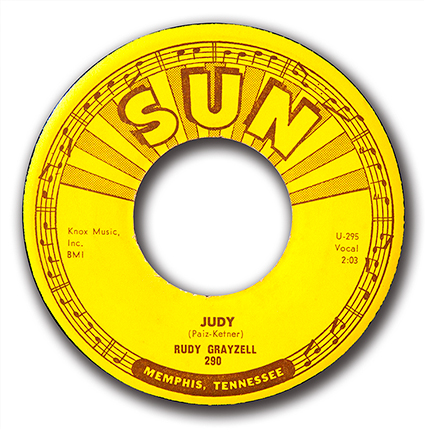 107. Rudy Grayzell — "Judy/I Think Of You" SUN 290 MINT MB $50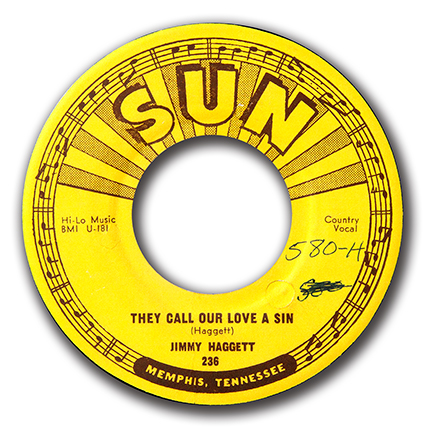 108. Jimmy Haggett — "They Call Our Love A Sin / No More, No More" SUN 236 • VG+/M- Gorgeous copy of SUPER RARE SUN 45! Radio station file number written on the label as shown. ALMOST NEVER FOR SALE, I have never had one before! MB $2,000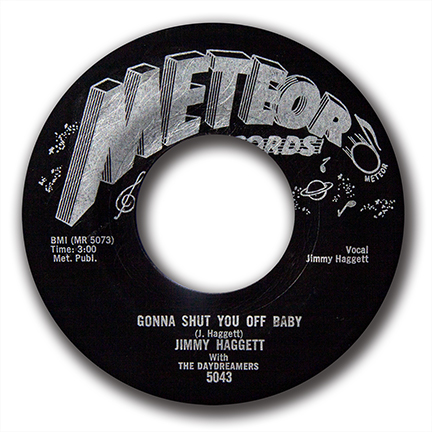 109. Jimmy Haggett With The Daydreamers — "Gonna Shut You Off Baby / Tell Her True" METEOR 5043 • MINT RARE!!! Not as rare as the SUN, but still quite hard to find MB $500
112. John Hampton And His Band — "Honey Hush /Shadow Blues" UNITED 210 • MINT CLASSIC TWO-SIDER MB $150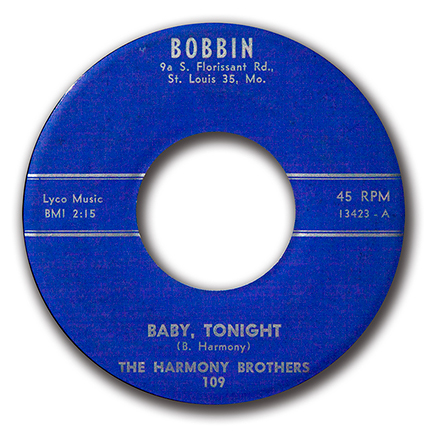 115. The Harmony Brothers — "Baby, Tonight/You Don't Care" BOBBIN 109 M- MB $50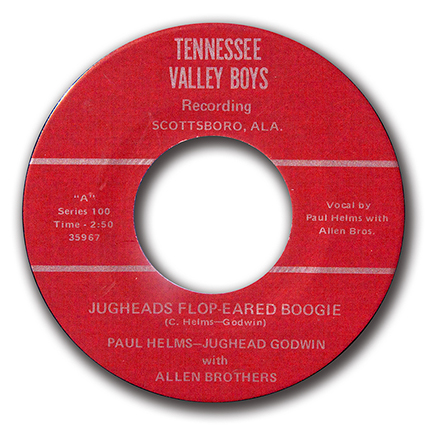 120. Paul Helms—Jughead Godwin With The Allen Brothers — "Jugheads Flop-Eared Boogie/Tax Happy State" Tennessee Valley Boys Recording VG Plays M- MB $75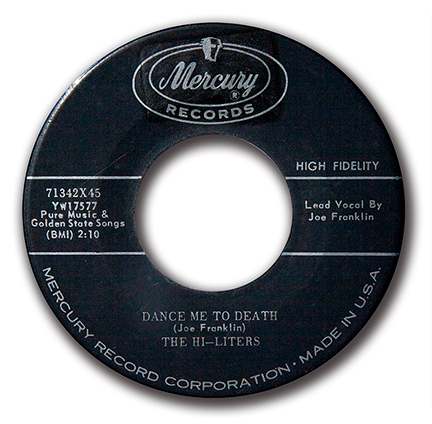 122. The Hi-Liters — "Dance Me To Death/Cha Cha Rock" MERCURY 71342 M- GREAT! MB $50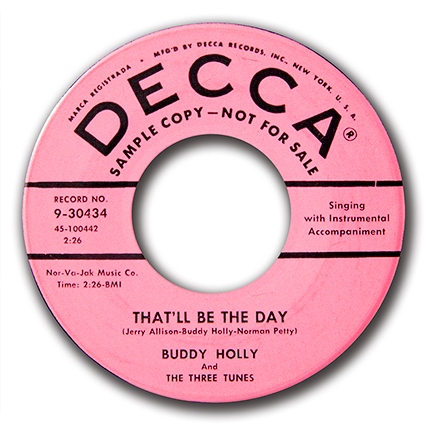 125. Buddy Holly And The Three Tunes — "That'll Be The Day / Rock Around With Ollie Vee" DECCA 30434 • M- PINK LABEL PROMO—original version, before the HIT version MB $200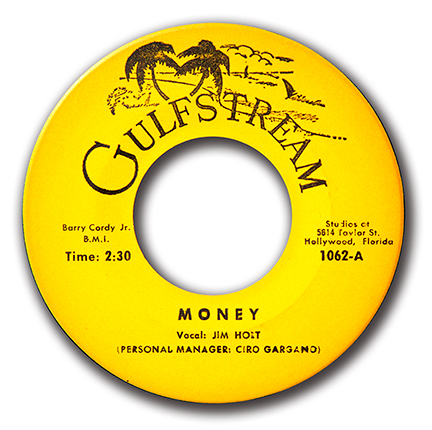 127. Jim Holt — "Money/Melody D' Amour" GULFSTREAM 1062 M- Rare and very nice ELVIS PRESLEY SOUND MB $100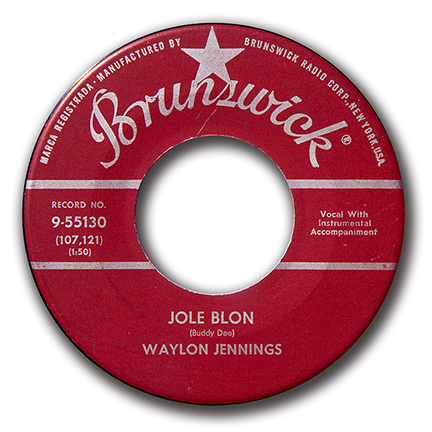 140. Waylon Jennings — "Jole Blon/When Sin Stops" BRUNSWICK 55130 NICE VG+ WITH BUDDY HOLLY MB $50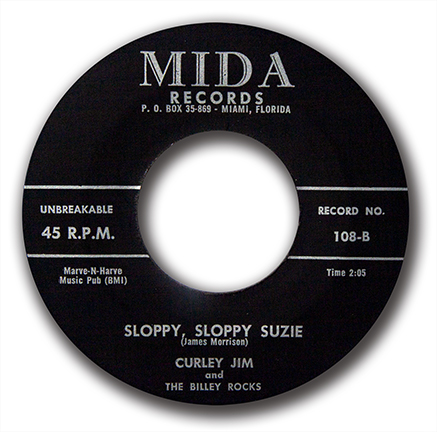 145. Curley Jim And The Billy Rocks — "Sloppy, Sloppy Suzie / Didn't I Tell You?" MIDA 108 • M- RARE AND GREAT WITH LONG GUITAR BREAK MB $400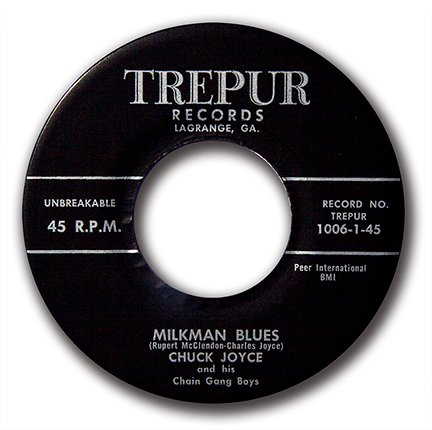 147. Chuck Joyce And His Chain Gang Boys — "Milkman Blues/Why Can't We Live Together" TREPUR 1006 M- Slight heat damage on the edge with NO effect on play MB $100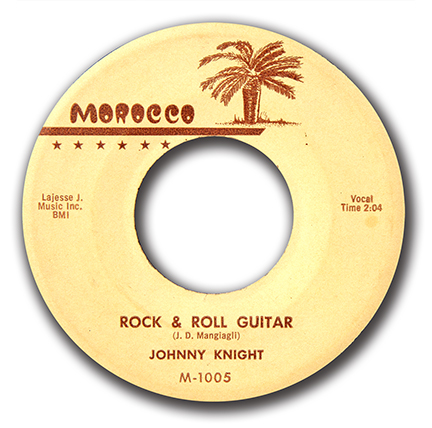 153. Johnny Knight — "Rock & Roll Guitar / Snake Shake" MOROCCO 1005 • M- FABULOUS TWO-SIDER MB $400
155. Buddy Knox With The Orchids / Jim Bowen With The Orchids — "Party Doll / I'm Stickin' With You" TRIPLE-D • NO # VG Original First Label before BOTH SIDES INDIVIDUALLY BECAME MONSTER HITS on the ROULETTE label MB $100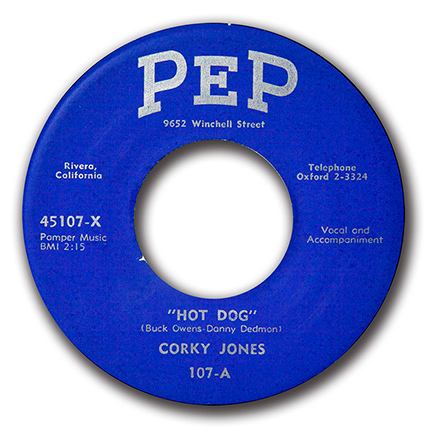 156. Corky Jones — "Hot Dog / Rhythm And Booze" PEP 107 • MINT BUCK OWENS! ALL TIME CLASSIC! And if you look further in this auction, you will find two more versions of this by Buck, under Owens (#215 and #216).MB $300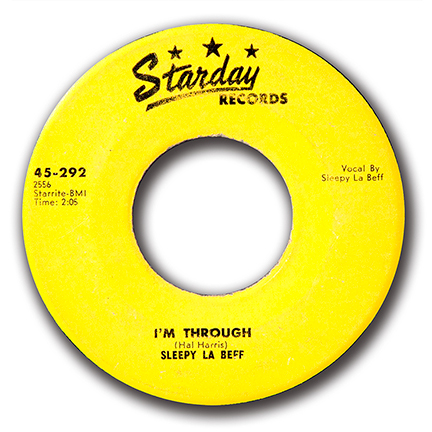 157. Sleepy La Beff — "I'm Through / All Alone" STARDAY 292 • VG PLAYS M- CLASSIC TWO-SIDER MB $200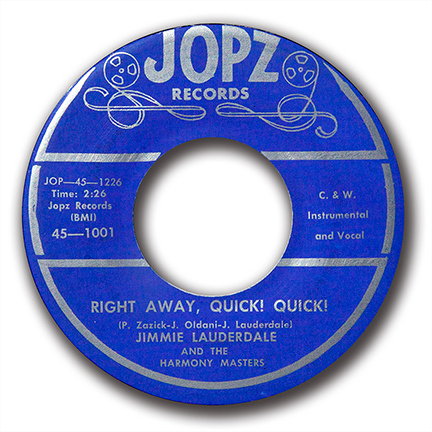 158. Jimmie Lauderdale And The Harmony Masters — "Right Away, Quick! Quick!/The Flame Of Love" JOPZ 1001 MINT BOPPER MB $50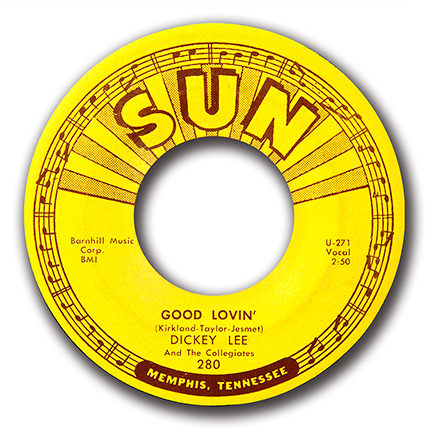 163. Dickey Lee And The Collegiates — "Good Lovin'/Memories Never Grow Old" SUN 280 M- CLASSIC MB $50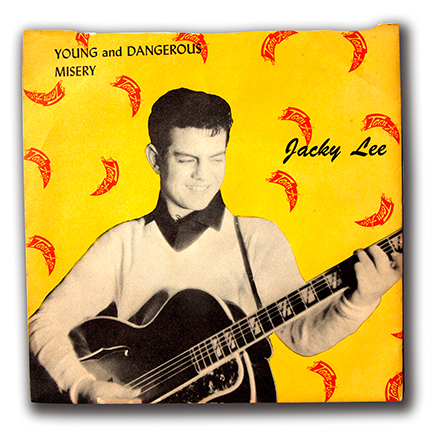 165. Jacky Lee — "Young And Dangerous/Misery" TEENAGER 101 M-/M- WITH PICTURE SLEEVE—RARE MB $50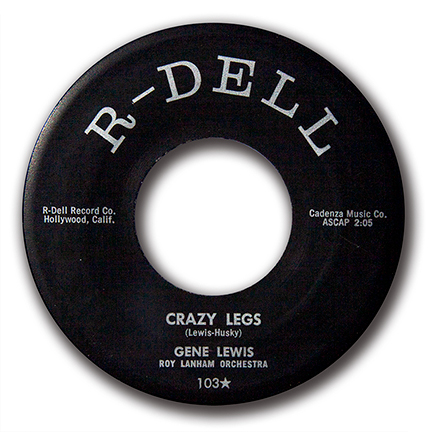 167. Gene Lewis — "Crazy Legs/S'posin' You Were Mine" R-DELL 103 M- NICE ONE MB $75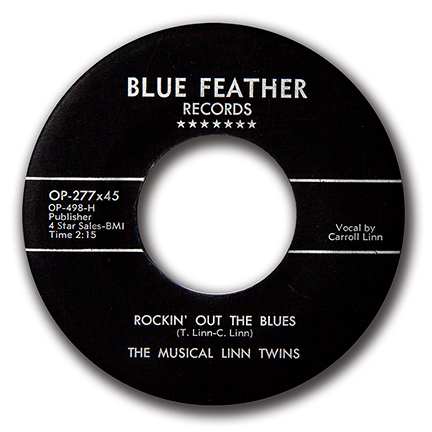 170. The Musical Linn Twins — "Rockin' Out The Blues/Indian Rock" BLUE FEATHER 277 MINT WILD AND CRAZY BREATHLESS VOCALS MB $200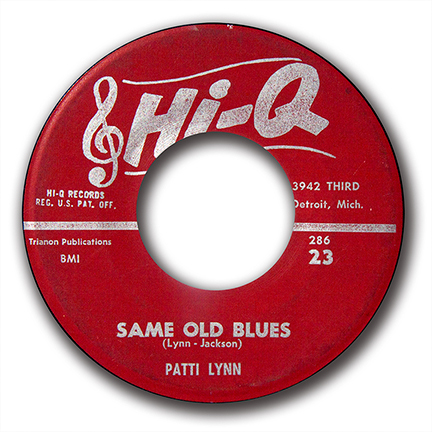 175. Patti Lynn — "Same Old Blues/One Faded Rose" HI-Q 23 VG Plays FABULOUS—NICE FEMALE ROCKER MB $100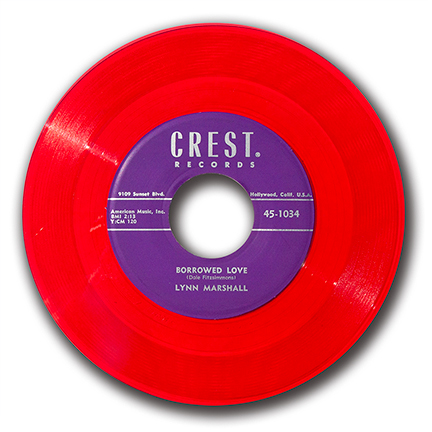 180. Lynn Marshall With EDDIE COCHRAN — "Borrowed Love/You'll Find Out" CREST 1034 M- RED VINYL MB $75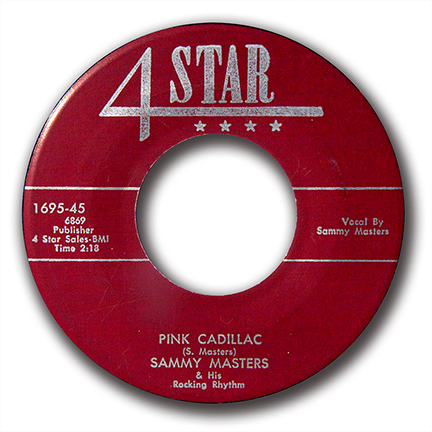 185. Sammy Masters & His Rocking Rhythm — "Pink Cadillac/Some Like It Hot" 4 STAR 1695 M- All Time Classic MB $50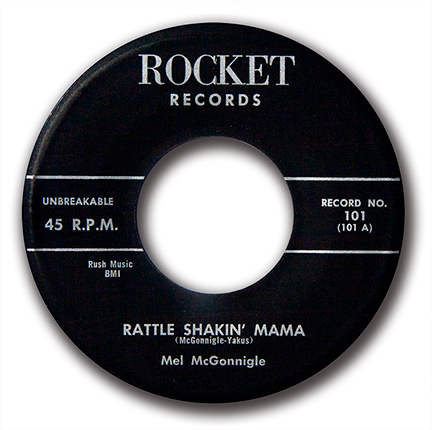 191. Mel McGonnigle — "Rattle Shakin' Mama /Cheryl Baby" ROCKET 101 • MINT FABULOUS MB $300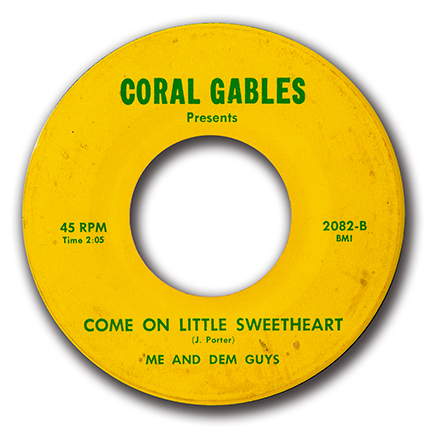 192. Me And Dem Guys — "Come On Little Sweetheart/Black Cloud" CORAL GABLES 2082 M- WILD ONE MB $50
199. The Miller Sisters — "Ten Cats Down / Finders Keepers" SUN 255 • M/M- ULTRA RARE PHOTO PROMOTIONAL ONLY INSERT!!! You will look for decades before you see another one, if ever! ATTENTION SUN LABEL COLLECTORS!!! MB $1,500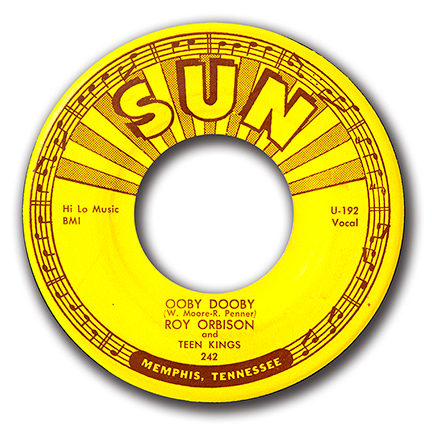 211. Roy Orbison And Teen Kings — "Ooby Dooby/Go! Go! Go!" SUN 242 M- CLASSIC MB $50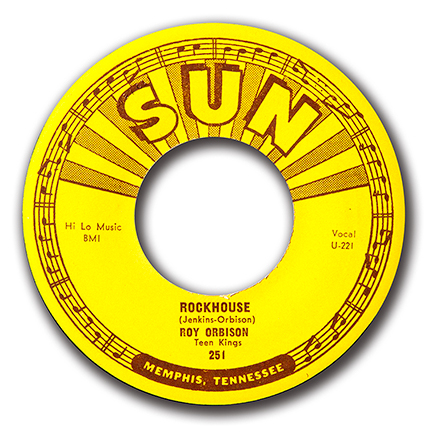 212. Roy Orbison Teen Kings — "Rockhouse/You're My Baby" SUN 251 M- MB $50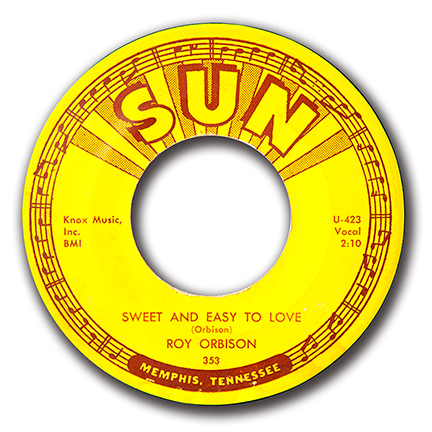 213. Roy Orbison — "Sweet And Easy To Love/Devil Doll" SUN 353 M- Rarest Orbison release on SUN, stain on B-side label MB $100
215. Buck Owens — "Hot Dog/Sweethearts In Heaven" NEW STAR 6418 M- GREAT ONE!!! Even more "Rockin' " than the PEP version earlier in this auction under CORKY JONES (#156) MB $150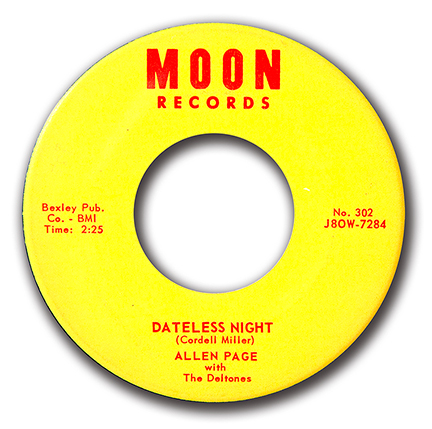 217. Allen Page With The Deltones — "Dateless Night/I Wish You Were Wishing" MOON 302 MINT OLD STORE STOCK MB $100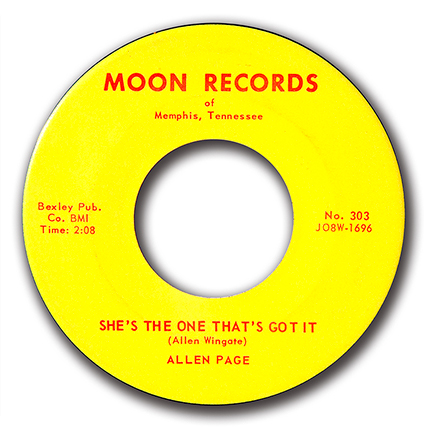 218. Allen Page — "She's The One That's Got It/Sugar Tree" MOON 303 M- MB $100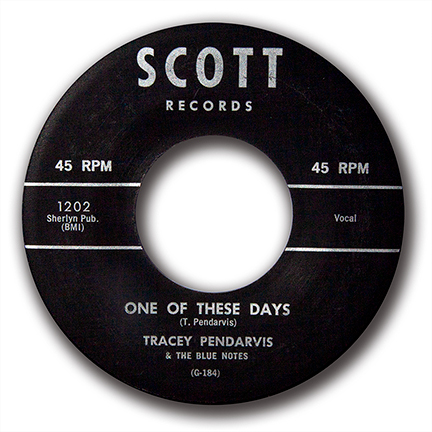 219. Tracey Pendarvis & The Blue Notes — "One Of These Days/It Don't Pay" SCOTT 1202 M- MB $50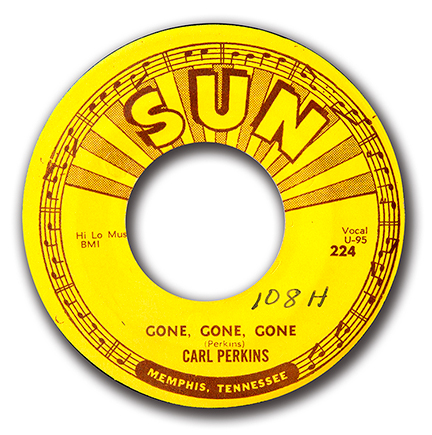 220. Carl Perkins — "Gone, Gone, Gone/Let The Juke Box Keep On Playing" SUN 224 M- Radio station file number on the label—stunning copy of his very first SUN MB $100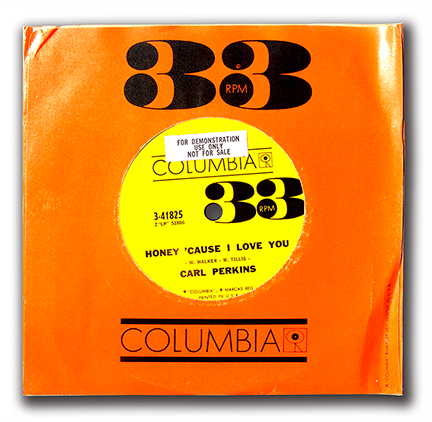 229. Carl Perkins — "Honey 'Cause I Love You/Just For You" COLUMBIA 3-41825 M- RARE 7" 33 1/3 RPM—Part of a failed experiment MB $50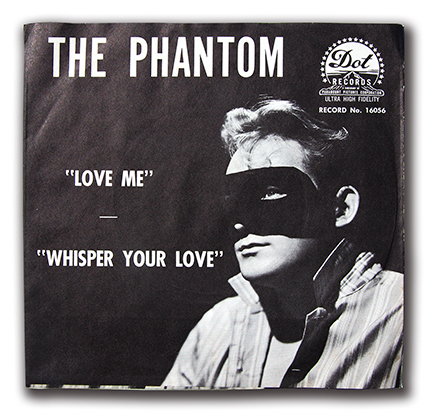 231. The Phantom — "Love Me / Whisper Your Love"DOT 16056 • M-/M- WITH PICTURE SLEEVE—MASTERPIECE! GORGEOUS ORIGINAL! MB $500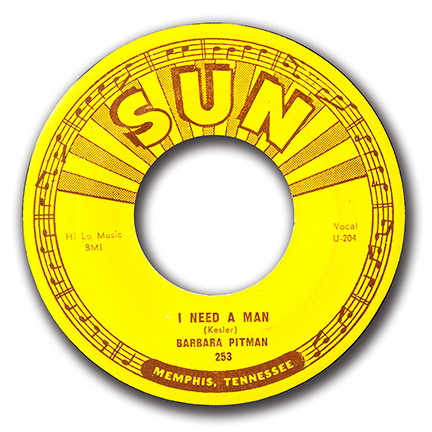 232. Barbara Pitman — "I Need A Man/No Matter Who's To Blame" SUN 253 MINT CLASSIC AND FABULOUS FEMALE ROCKABILLY MB $150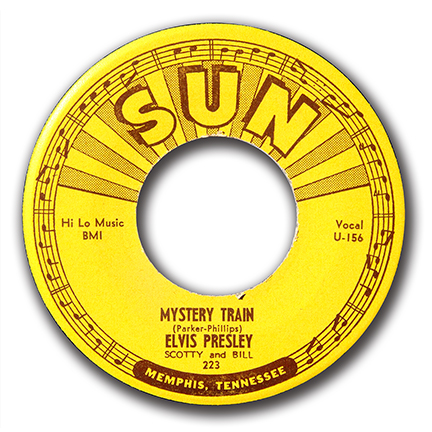 233. Elvis Presley — "Mystery Train / I Forgot To Remember To Forget" SUN 223 • M/M- OLD STORE STOCK original from the collection of a 90+ year old promoter. MB $750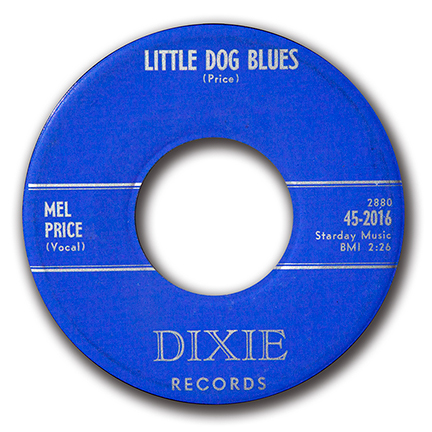 234. Mel Price — "Little Dog Blues/Until" DIXIE 2016 VG+ MB $100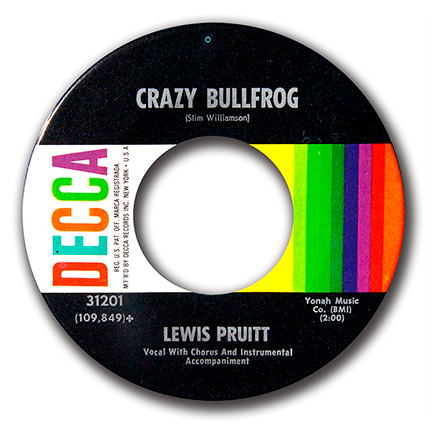 237. Lewis Pruitt — "Crazy Bullfrog/The Hand That Held The Hand" DECCA 31201 M- GREAT ONE! MB $100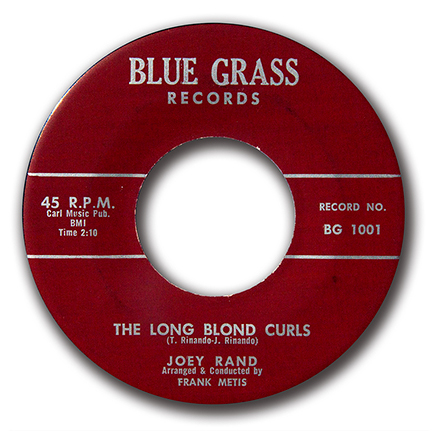 240. Joey Rand — "The Long Blond Curls / Heaven Is Where You Are" BLUE GRASS 1001 M- RARE MB $300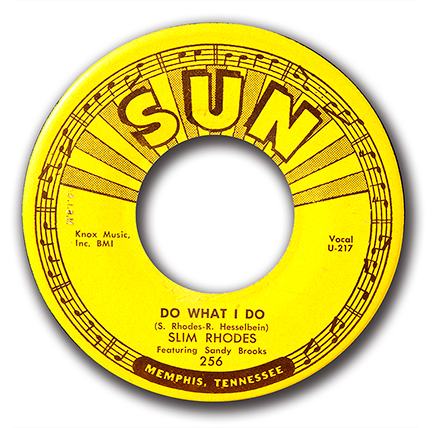 245. Slim Rhodes — "Do What I Do/Take And Give" SUN 256 M- CLASSIC!MB $50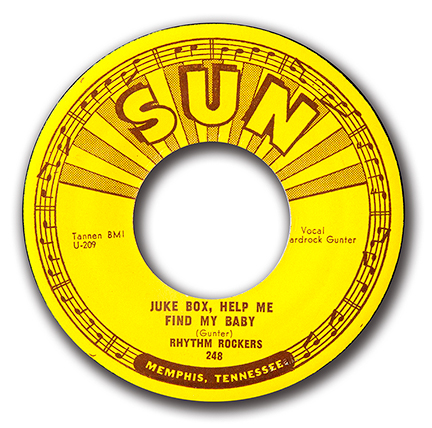 247. Rhythm Rockers — "Juke Box, Help Me Find My Baby/Fiddle Bop" SUN 248 M- CLASSIC MB $50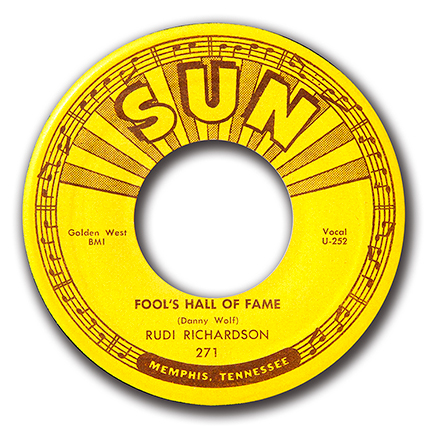 248. Rudi Richardson — "Fool's Hall Of Fame/Why Should I Cry" SUN 271 M- MB $50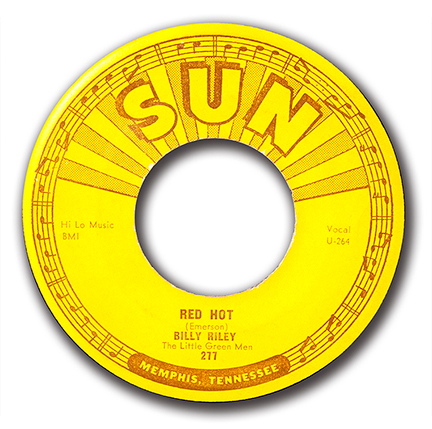 249. Billy Riley And The Little Green Men — "Red Hot/Pearly Lee" SUN 277 M- CLASSIC MB $50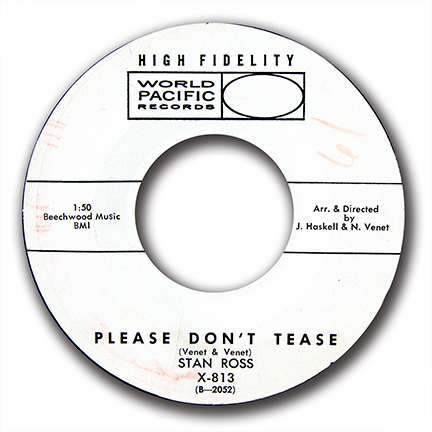 253. Stan Ross — "Please Don't Tease/Once Again" WORLD PACIFIC 813 MINT WHITE LABEL PROMO MB $50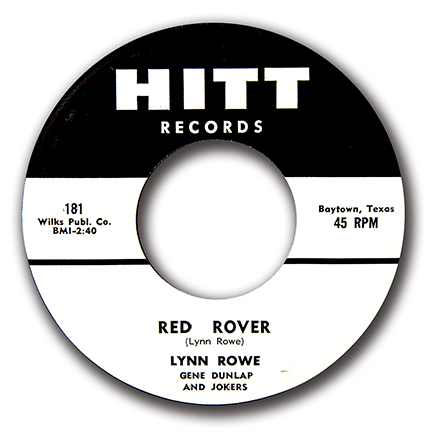 254. Lynn Rowe — "Red Rover/Last Date" HITT 181 M- MB $100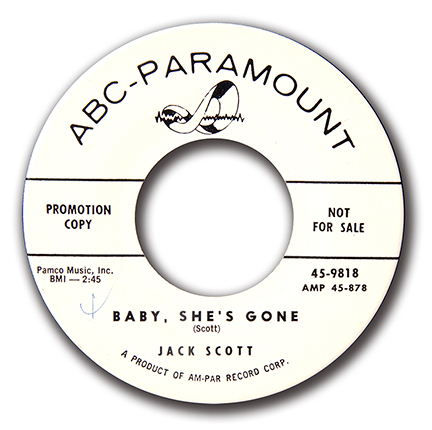 258. Jack Scott — "Baby, She's Gone/You Can Bet Your Bottom Dollar" ABC-PARAMOUNT 9818 M- WHITE LABEL PROMO with tiny xol MB $100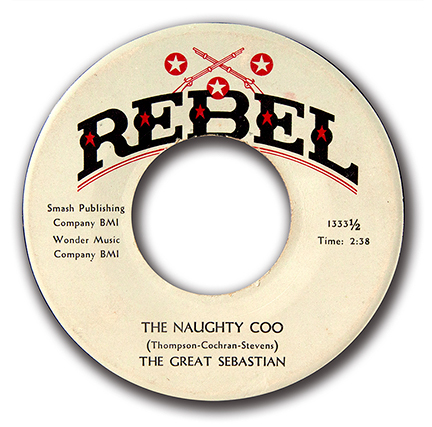 260. The Great Sebastian — "The Naughty Coo/SAME" REBEL 1333 1/2 VG WAYNE COCHRAN—Plays great!!! Rare MB $50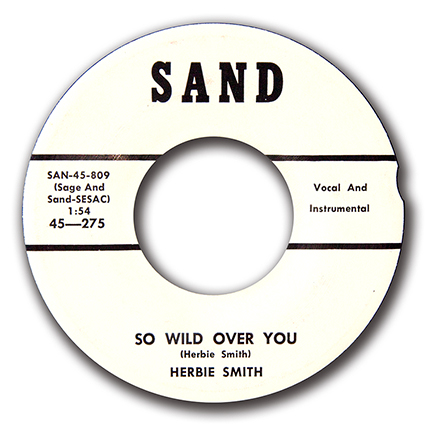 266. Herbie Smith — "So Wild Over You/So Darlin' " SAND 275 VG+ Small tol on B-side, RARE MB $50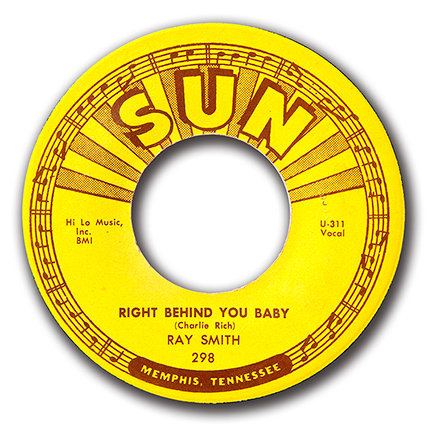 267. Ray Smith — "Right Behind You Baby/So Young" SUN 298 NICE VG+ MB $50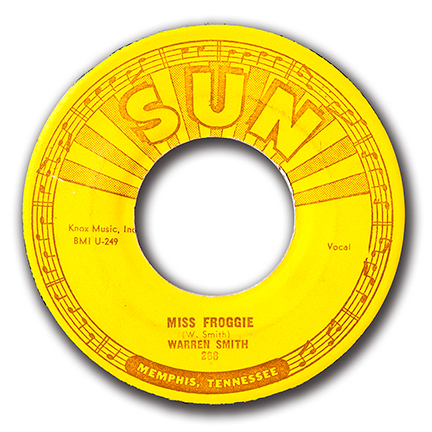 270. Warren Smith — "Miss Froggie/So Long, I'm Gone" SUN 268 M- Classic MB $50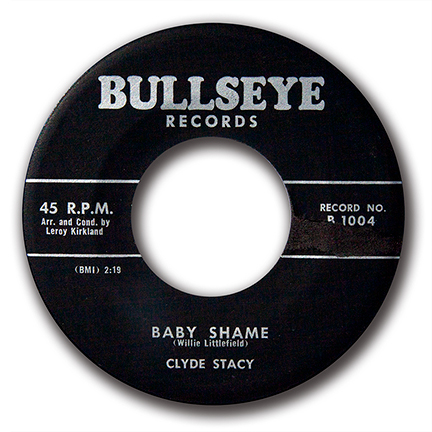 273. Clyde Stacy — "Baby Shame/Nobody's Darlin' " BULLSEYE 1004 M- Small tear on A-side label MB $50
277. Johnny Stewart — "Rockin' Anna/Lorraine" VITA 169 M- Yes, this is the same John Stewart that later sang with the Kingston Trio and then had a huge rock hit in the 1970's with "Gold." This is his first record. MB $100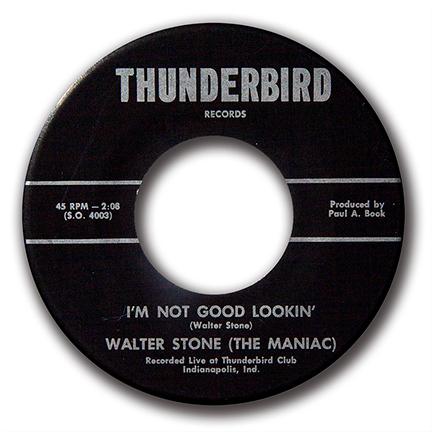 278. Walter Stone (The Maniac) — "I'm Not Good Lookin'/Mother-In-Law" THUN-DERBIRD no # M- WILD, CRAZY AND PRIMITIVE MB $100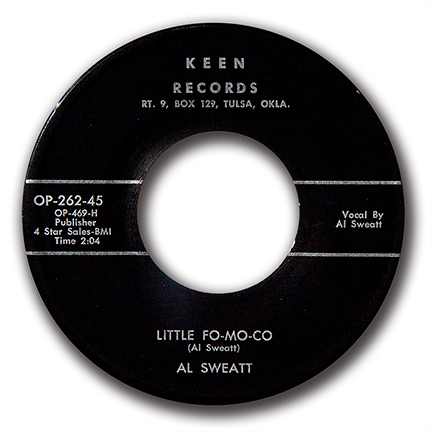 282. Al Sweatt — "Little Fo-Mo-Co/Just Enough Stardust" KEEN 262 M- RARE MB $100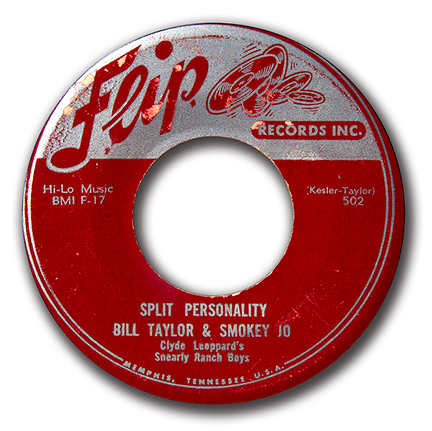 284. Bill Taylor & Smokey Jo — "Split Personality/Lonely Sweetheart" FLIP 502 VG- With small tears on the label. RAREST ONE ON THE LABEL!! Plays great!! MB $100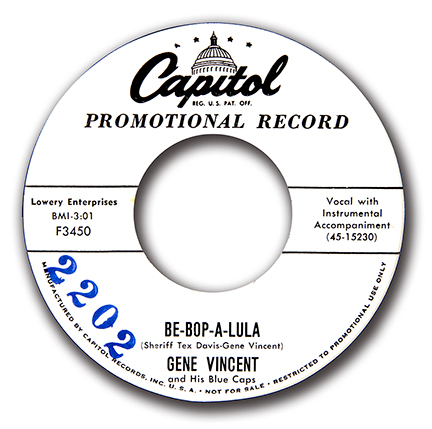 296. Gene Vincent And His Blue Caps — "Be-Bop-A-Lula/Woman Love" CAPITOL 3450 NICE VG WHITE LABEL PROMO with radio station file number on the label MB $50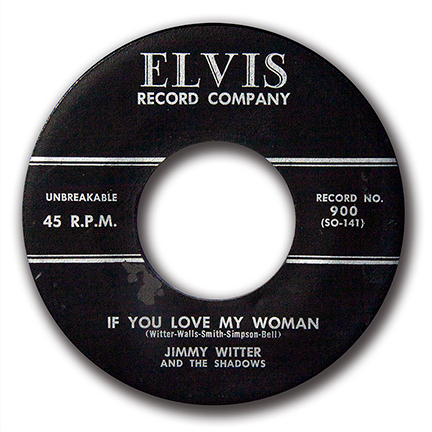 299. Jimmy Witter And The Shadows — "If You Love My Woman / Aaaaahhh!" ELVIS 900 • VG+ MASTERPIECE!!! MB $350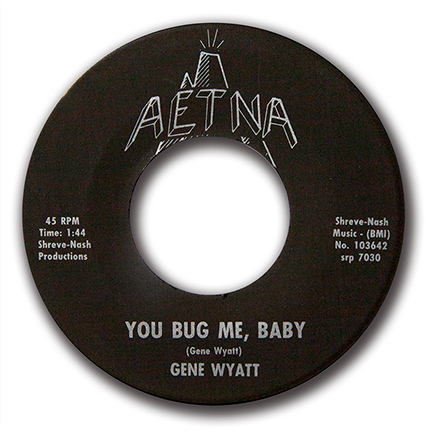 301. Gene Wyatt — "You Bug Me, Baby/Good Try" AETNA 103642 MINT MB $50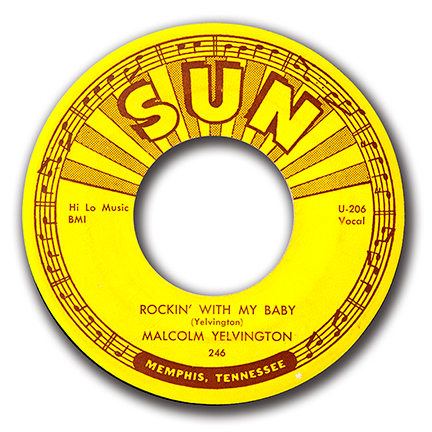 302. Malcolm Yelvington — "Rockin' With My Baby/It's Me Baby" SUN 246 M- MB $100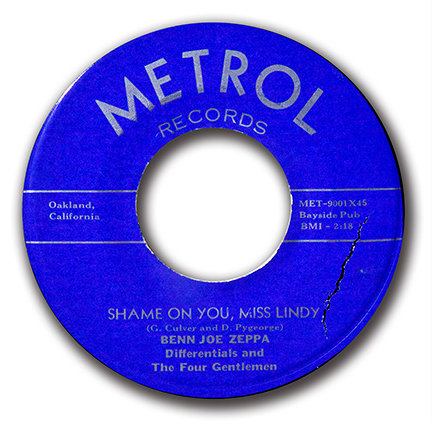 303. Benn Joe Zeppa — "Shame On You, Miss Lindy/Terry Lou" METROL 9001 M- GREAT ROCKER!!! MB $75

My May 24th, 2022 Rockabilly / Hot Rock & Roll 45's auction, complete list


Good luck, everybody!
John Tefteller

Next Month's Auction:
Rock & Roll 45's—Far Out, Man!