Classic and RARE 1950's Rockabilly 45's Auction highlights!

Closes Tuesday, May 30, 2023 at 7:00 pm PT
My May 30th, 2023 Rockabilly 45's auction, complete list

Printed (PDF) version Rockabilly 45's auction

How to bid on my Monthly Auctions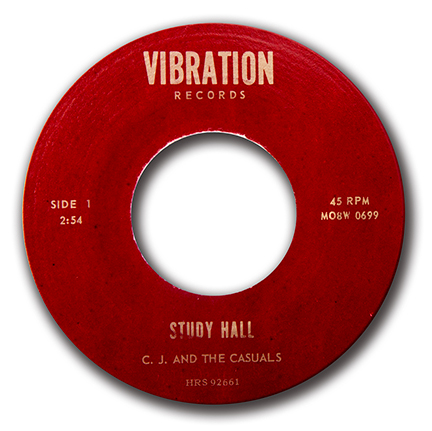 1. C. J. And The Casuals — "Study Hall / Zombie" VIBRATION no # • M-/VG+ MONSTER RECORD!!! Collectors can't decide if it is Rockabilly or Garage. I call it ROCKABILLY because it is from about 1962. B-side is stunning Instrumental that rocks to the max!MB $3,000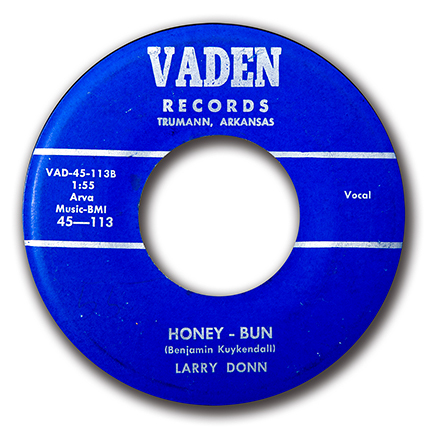 2. Larry Donn — "Honey _ Bun / That's What I Call A Ball" VADEN 113 • VG+/M- STUNNING TWO-SIDER AND SUPER, SUPER RARE!!! From Trumann, Arkansas. First time I've ever had one of these to sell. Absolute legendary record! MB $3,000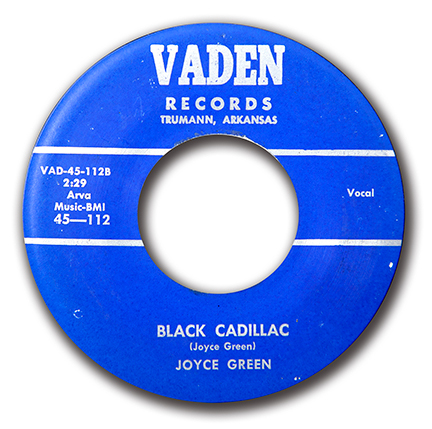 3. Joyce Green — "Black Cadillac / Tomorrow" VADEN 112 • M-This one gets my vote for the single best female Rockabilly ever waxed!!! Super, super rare from Trumann, Arkansas. First time I have ever had one of these. MB $2,000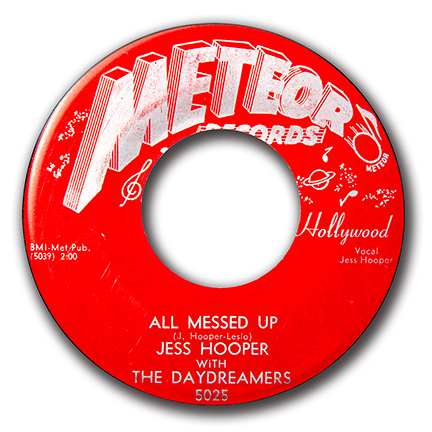 4. Jess Hooper — "All Messed Up / Sleepy Time Blues" METEOR 5025 • M- MASTERPIECE!!! Primitive, raw and just amazing!!! And, almost never for sale these days. I had one 30+ years ago but that's it!!! What a Record! MB $3,500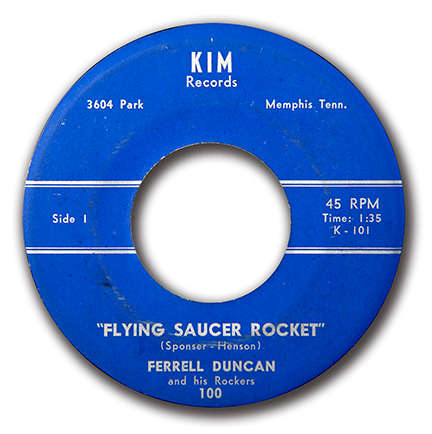 5. Ferrell Duncan And His Rockers — "Flying Saucer Rocket / Little Susie" KIM 100 • M- Stunning Bo Diddley beat Rockabilly from Memphis!!! NEVER, ever had one of these to sell! Top shelf stuff and super, super RARE! MB $2,000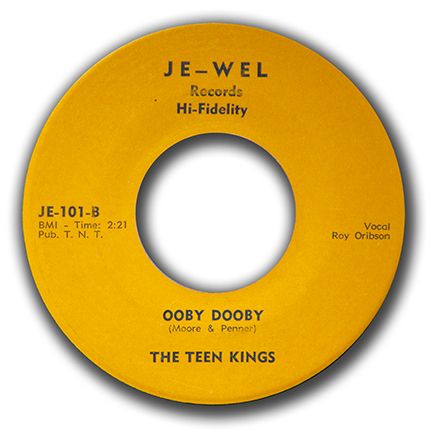 6. The Teen Kings With ROY ORBISON — "Ooby Dooby / Trying To Get You" JE_WEL 101 • M- YES, this is Roy Orbison's FIRST record and this is the very FIRST pressing with his name MISSPELLED on the label as Roy Oribson!!! TOUGH!!! MB $3,000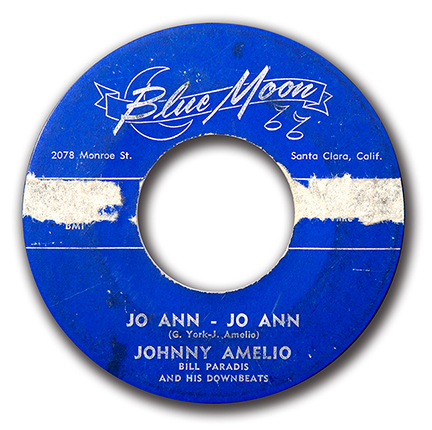 7. Johnny Amelio And His Downbeats — "Jo Ann - Jo Ann/I'll Forever Love You" BLUE MOON 408 G Plays FANTASTIC! With label tears on A-side only. GREAT RECORD, decent, affordable copy—unless you want to pay a GRAND or more for a Mint! MB $75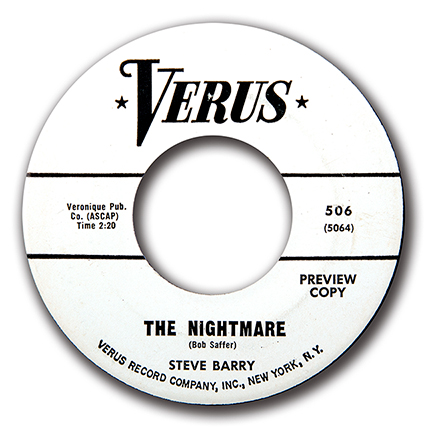 10. Steve Barry — "The Nightmare/Tell Me Your Troubles" VERUS 506 M- WHITE LABEL PROMO MB $100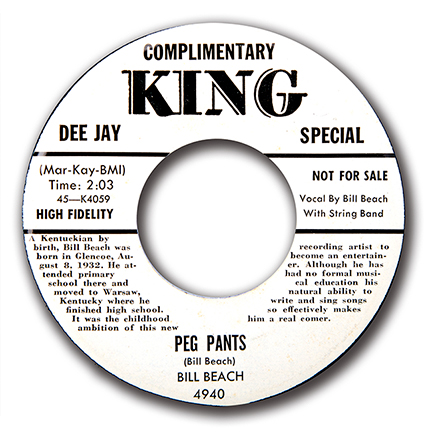 11. Bill Beach — "Peg Pants/You're Gonna Like Me Baby" KING 4940 M- WHITE LABEL PROMO with BIO LABEL—CLASSIC! MB $100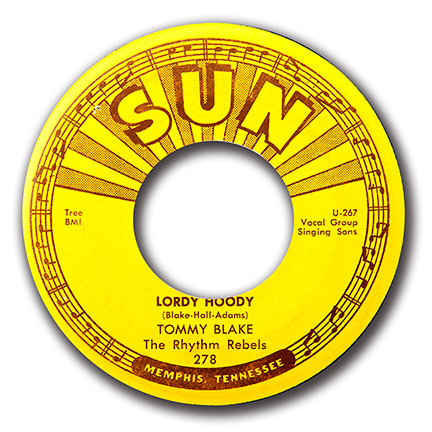 16. Tommy Blake And The Rhythm Rebels — "Lordy Hoody/Flat Foot Sam" SUN 278 M- VINYL pressing MB $75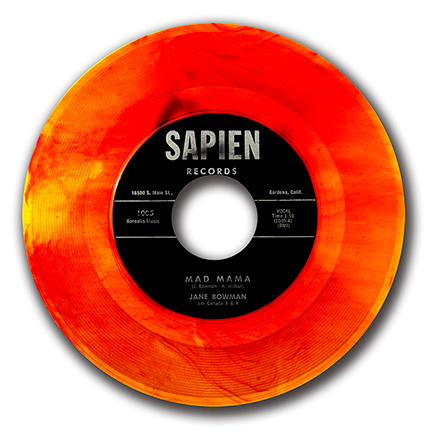 20. Jane Bowman — "Mad Mama/Eternally" SAPIEN 1005 M- RED AND YELLOW SWIRL VINYL!!! Slight storage warp with no effect on play MB $100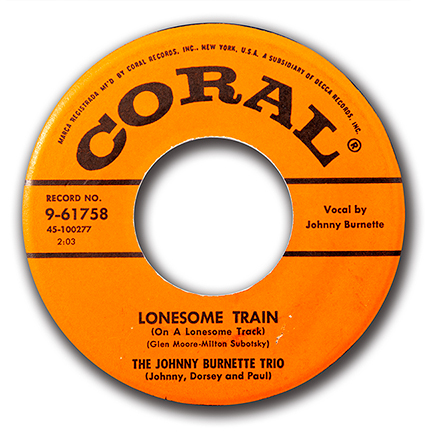 25. The Johnny Burnette Trio — "Lonesome Train (On A Lonesome Track)/I Just Found Out" CORAL 61758 M- MB $100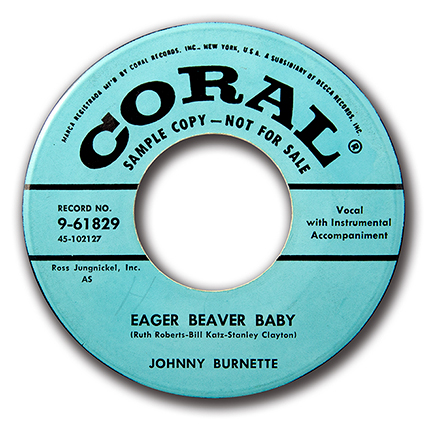 26. Johnny Burnette — "Eager Beaver Baby/Touch Me" CORAL 61829 M- POWDER BLUE LABEL PROMO MB $150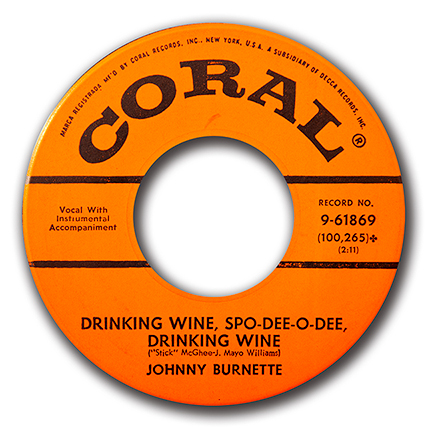 27. Johnny Burnette — "Drinking Wine, Spo-Dee-O-Dee, Drinking Wine/Butterfingers" CORAL 61869 MINT Old store stock NEW copy!!! MB $200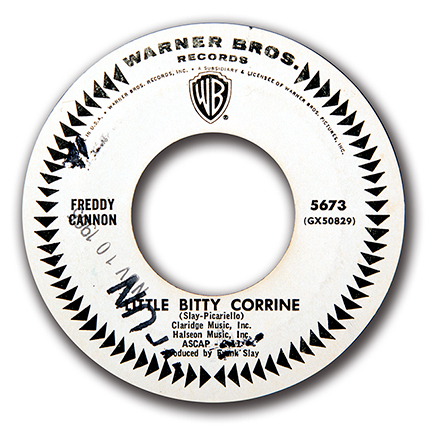 35. Freddy Cannon — "Little Bitty Corrine/She's Something Else" WARNER BROTHERS 5673 M- WHITE LABEL PROMO with wol, HIS BEST RECORD!!! GREAT ROCKER! MB $100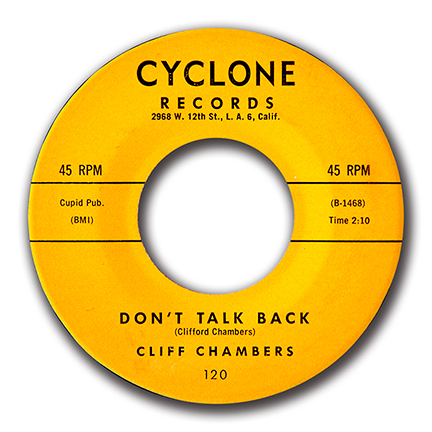 37. Cliff Chambers — "Don't Talk Back/Contract On Love" CYCLONE 120 M- MB $75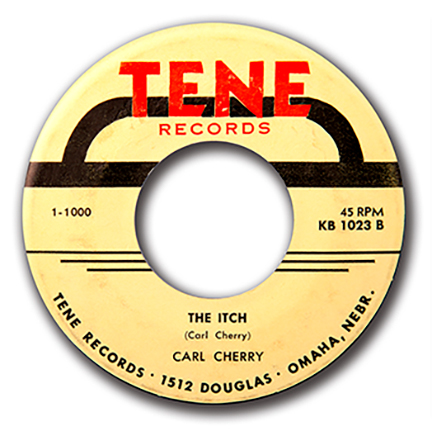 40. Carl Cherry — "The Itch / Baby Doll"TENE 1023 NICE VG+PLAYS MINT_FABULOUS! MB $400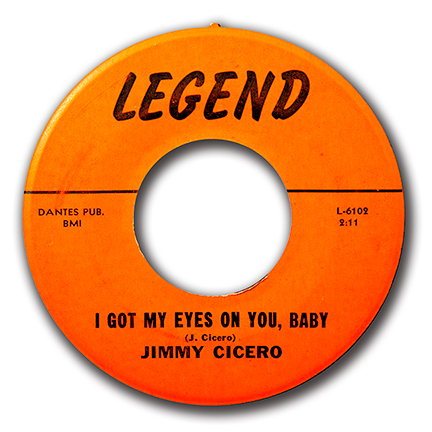 41. Jimmy Cicero — "I Got My Eyes On You, Baby/Sherry" LEGEND No # MINT MB $100
42. C. L. And The Pictures — "Let's Take A Ride/I'm Asking Forgiveness" SABRA 517 M- MB $75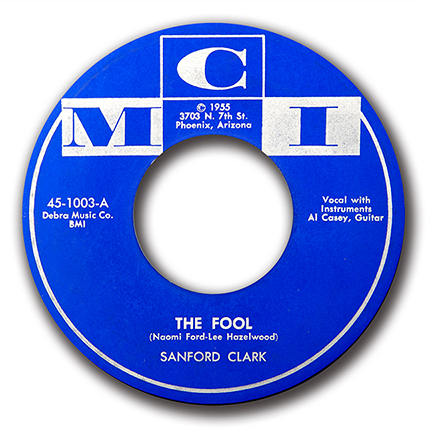 43. Sanford Clark — "The Fool/Lonesome For A Letter" M C I 1003 M- First Label True First Pressing before it became a MEGA-HIT on the DOT LABEL MB $150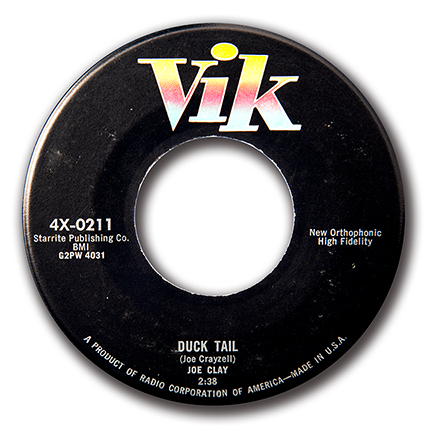 44. Joe Clay — "Duck Tail/Sixteen Chicks" VIK 0211 M- ALL TIME CLASSIC TWO-SIDER MB $100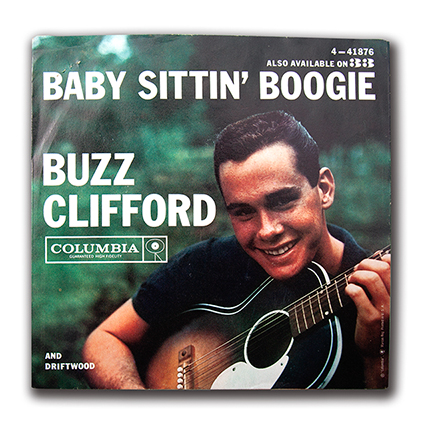 46. Buzz Clifford — "Baby Sittin' Boogie/Driftwood" COLUMBIA 41876 M-/M- WITH PICTURE SLEEVE MB $25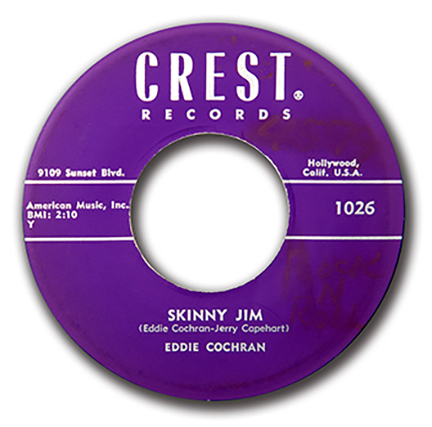 47. Eddie Cochran — "Skinny Jim / Half Loved"CREST 1026 NICE VG+Plays M_HIS FIRST RECORD! MB $500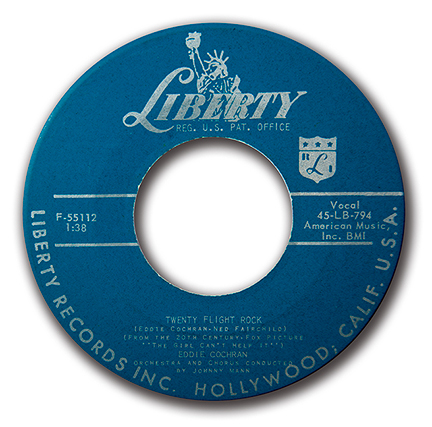 51. Eddie Cochran — "Twenty Flight Rock/Cradle Baby" LIBERTY 55112 MINT TINY PRINT PRESSING MB $250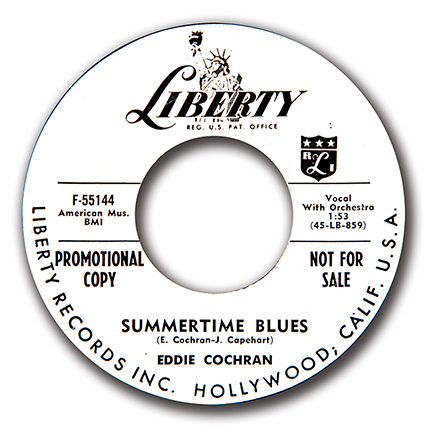 53. Eddie Cochran — "Summertime Blues/Love Again" LIBERTY 55144 MINT WHITE LABEL PROMO of all time classic teenage anthem record! MB $75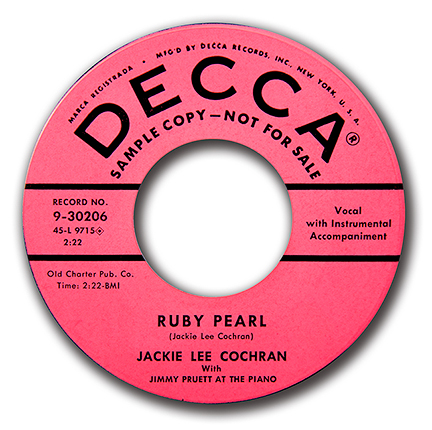 58. Jackie Lee Cochran — "Ruby Pearl/Mama Don't You Think I Know" DECCA 30206 M- PINK LABEL PROMO, all time classic MB $75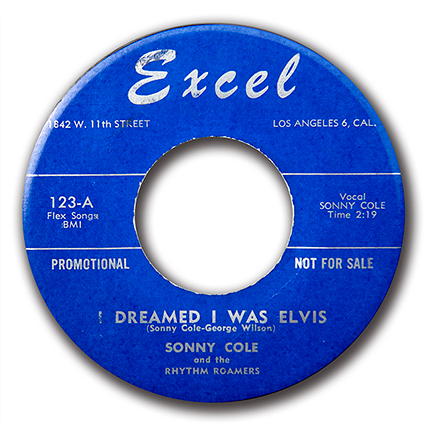 60. Sonny Cole And The Rhythm Roamers — "I Dreamed I Was Elvis/Curfew Cops" EXCEL 123 M- PROMO COPY MB $300
64. Cliff Crofford — "There Ain't Nothin' Happenin' To Me/Another Love Has Ended" TALLY 104 MINT WHITE LABEL PROMO with small #ol on B-side MB $150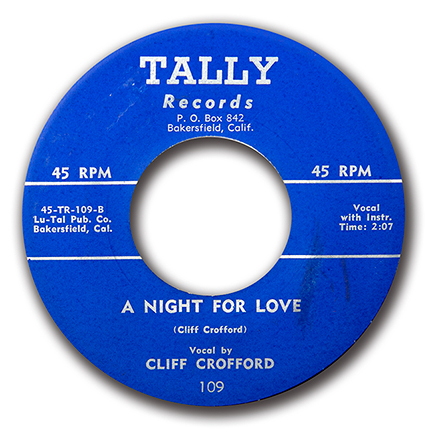 65. Cliff Crofford — "A Night For Love/Teenage Tears" TALLY 109 M- MB $100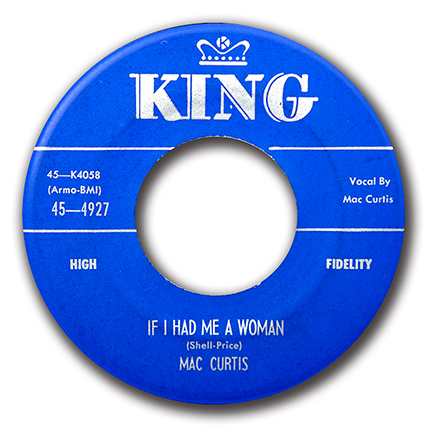 67. Mac Curtis — "If I Had Me A Woman/Just So You Call Me" KING 4927 NICE VG+ ALL TIME CLASSIC MB $50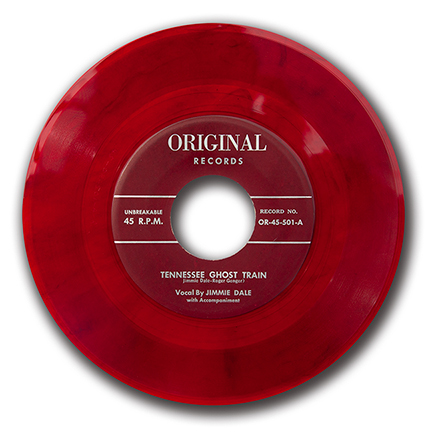 68. Jimmie Dale — "Tennessee Ghost Train/No Money Down" ORIGINAL 501 M- RED VINYL MB $75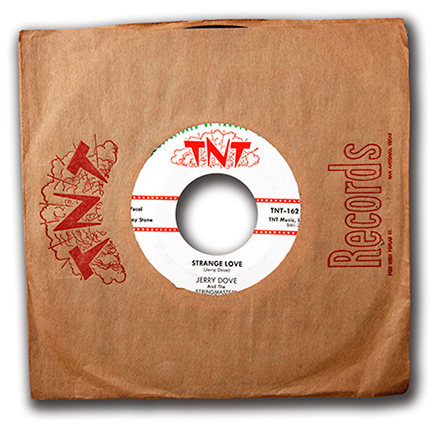 79. Jerry Dove And The Stringmasters — "Strange Love/I Love You Because" T N T 162 M- Comes with super rare T N T company sleeve MB $100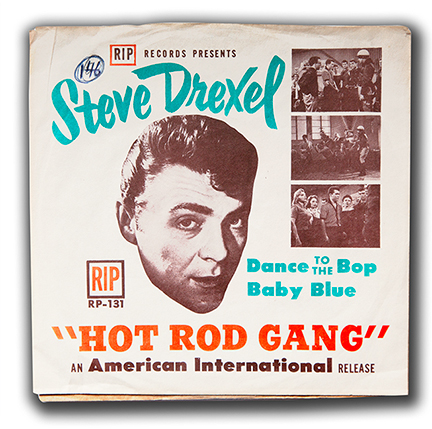 81. Steve Drexel And The Cut-Ups — "Dance To The Bop/Baby Blue" RIP 131 M-/VG+ With super scarce Picture Sleeve, small # on sleeve MB $75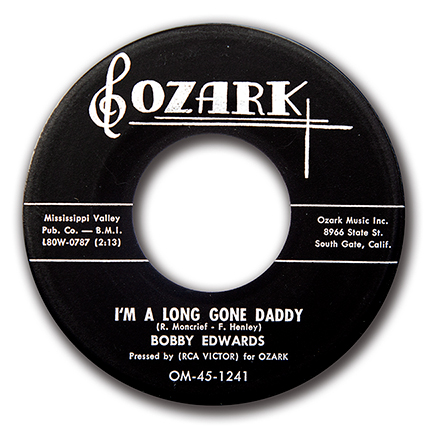 82. Bobby Edwards — "I'm A Long Gone Daddy/Trouble And Blues" OZARK 1241 MINT MB $200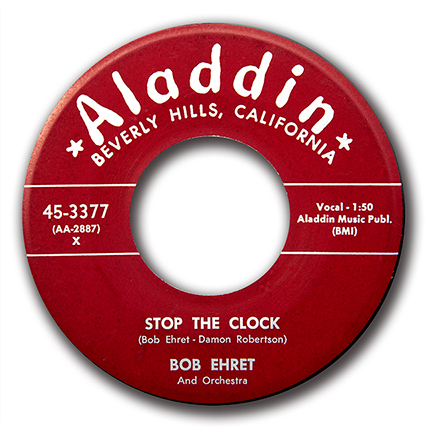 85. Bob Ehret — "Stop The Clock/So Lonely" ALADDIN 3377 M- MB $100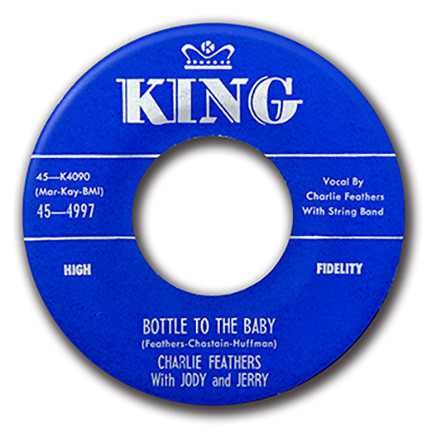 87. Charlie Feathers With Jody And Jerry — "Bottle To The Baby / One Hand Loose"KING 4997 • M- DOUBLE-SIDED MASTERPIECE!!! NO collection is complete without this one!!! MB $1,000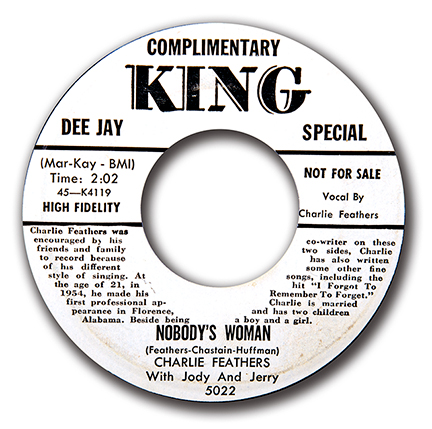 88. Charlie Feathers With Jody And Jerry — "Nobody's Woman/When You Decide" KING 5022 VG+ White label promo with BIO label MB $300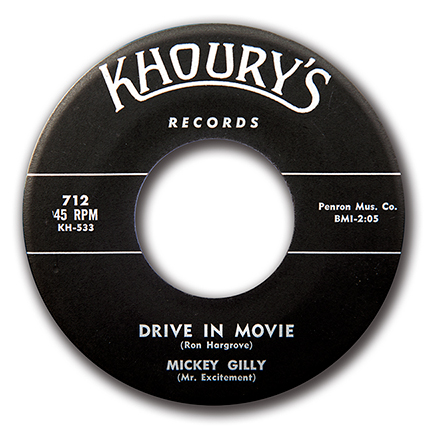 95. Mickey Gilly — "Drive In Movie/Give Me A Chance" KHOURY'S 712 NICE VG+ HIS FIRST RECORD MB $300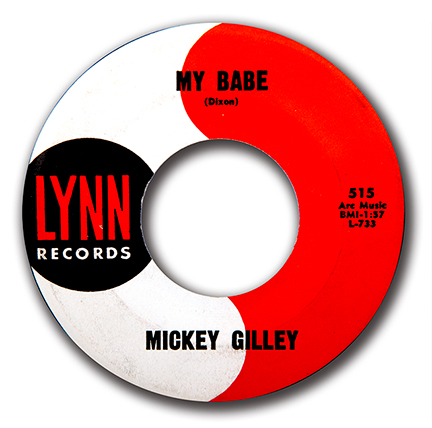 97. Mickey Gilley — "My Babe/Lonely Lonely Nights" LYNN 515 VG+ Small tol and small stain in the vinyl with no effect on play MB $75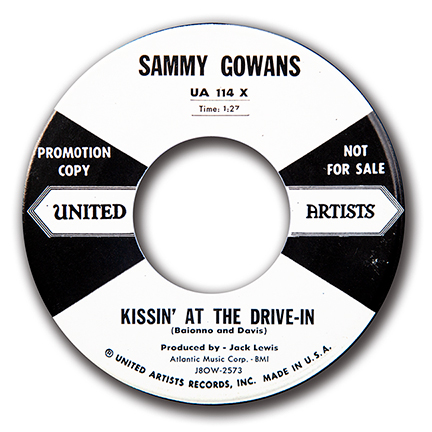 98. Sammy Gowens — "Kissin' At The Drive-In/Rockin' By Myself" UNITED ARTISTS 114 M- WHITE LABEL PROMO MB $50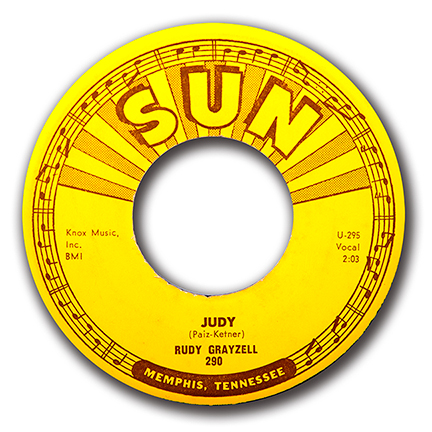 102. Rudy Grayzell — "Judy/I Think Of You" SUN 290 MINT MB $50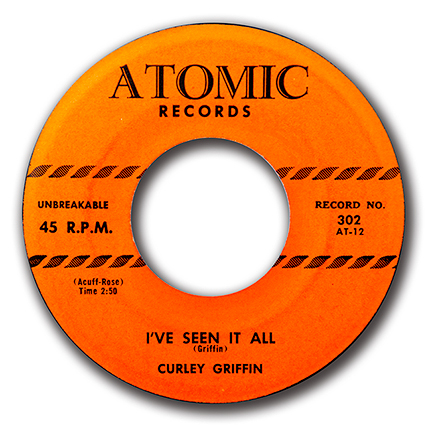 104. Curley Griffin — "I've Seen It All/Magic Of The Moon" ATOMIC 302 M- RARE MB $300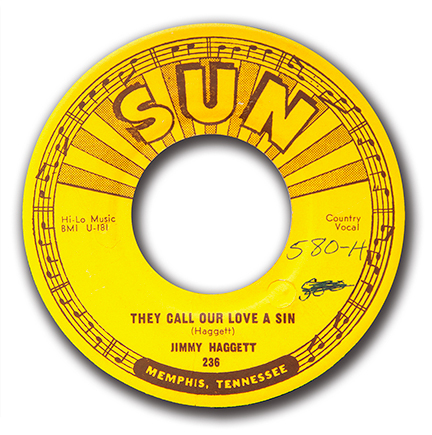 105. Jimmy Haggett — "They Call Our Love A Sin / No More, No More"SUN 236 • VG+/M- GORGEOUS COPY AND SUPER RARE SUN RELEASE, small wol MB $2,000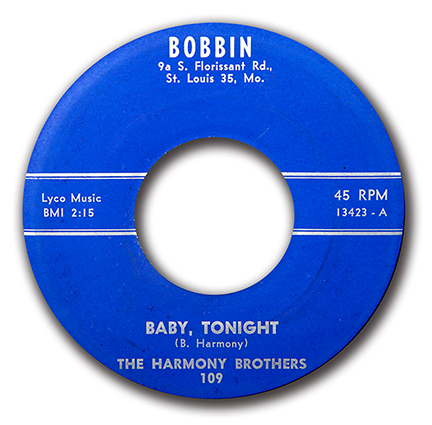 109. The Harmony Brothers — "Baby, Tonight/You Don't Care" BOBBIN 109 MINT MB $100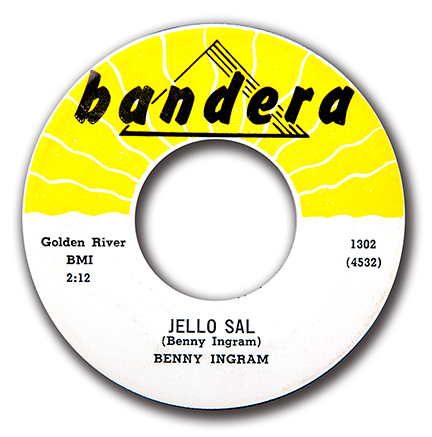 120. Benny Ingram — "Jello Sal/How Can I Keep You Loving Me" BANDARA 1302 M- MASTERPIECE MB $600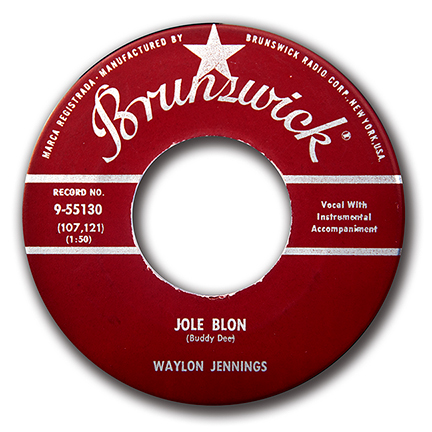 127. Waylon Jennings — "Jole Blon/When Sin Stops" BRUNSWICK 55130 M- MAROON LABEL STOCK COPY—MUCH RARER THAN THE PROMO MB $150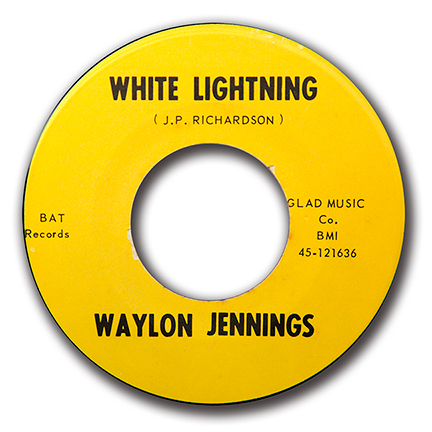 128. Waylon Jennings — "White Lightning/Sally Was A Good Old Girl" BAT 121636 MINT MB $100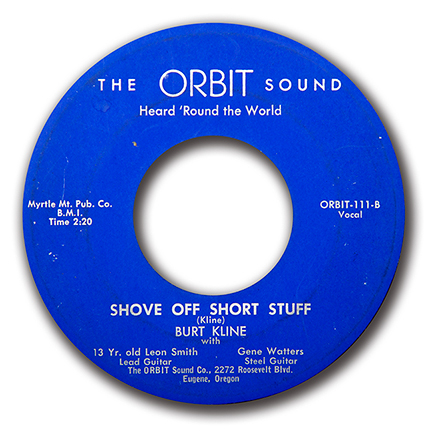 135. Burt Kline — "Shove Off Short Stuff/Gossip, Rumors And Tattle-Tales" ORBIT 111 VG MB $50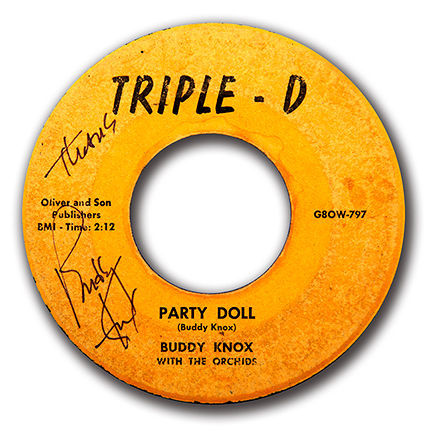 137. Buddy Knox/Jimmy Bowen — "Party Doll/I'm Stickin' With You" TRIPLE - D No # POOR Plays well for the grade and BOTH sides are AUTOGRAPHED by the singers MB $25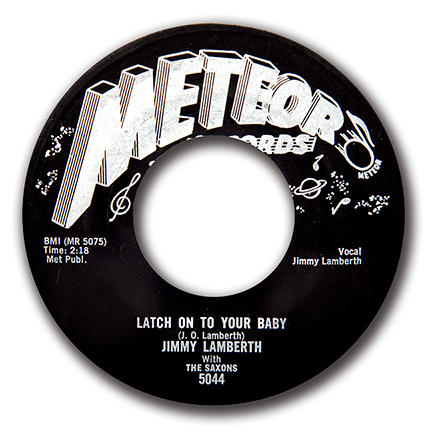 140. Jimmy Lamberth With The Saxons — "Latch On To Your Baby/I'll Pretend" METEOR 5044 NICE VG PLAYS M- MB $300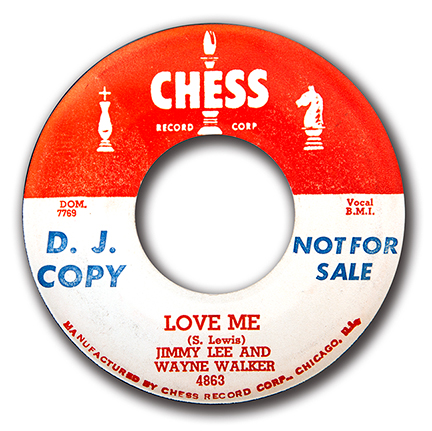 148. Jimmy Lee And Wayne Walker — "Love Me/Lips That Kiss So Sweetly" CHESS 4863 VG+ RED AND WHITE PROMO COPY—RARE! MB $300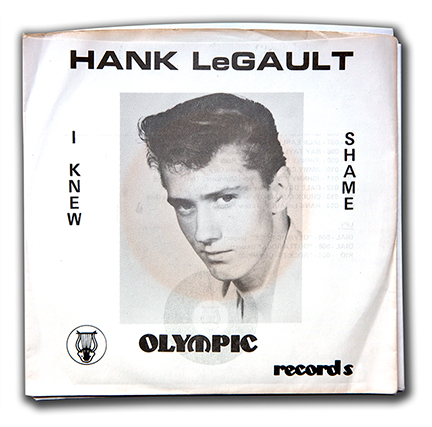 150. Hank LeGault — "I Knew/Shame" OLYMPIC 014 M/M With PICTURE SLEEVE, from 1978 MB $25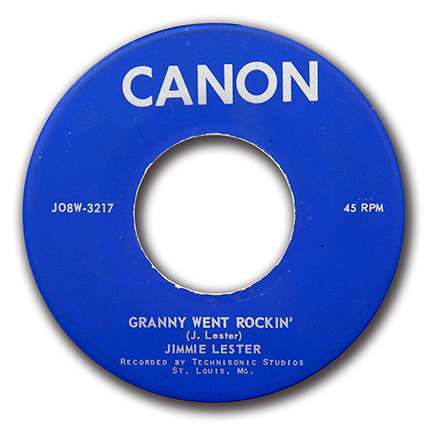 151. Jimmie Lester — "Granny Went Rockin'/Oh! Barbara Jean" CANON No # VG+ MB $200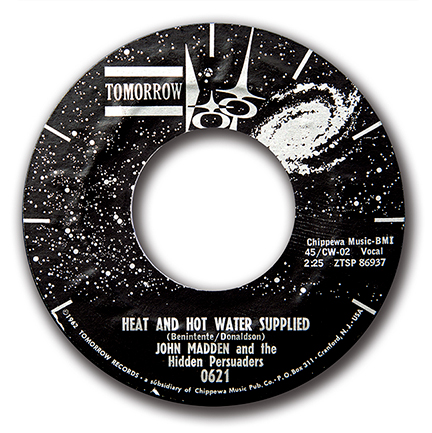 154. John Madden And The Hidden Persuaders — "Heat And Hot Water Supplied/Stockyard Shuffle" TOMORROW 0621 M- MB $100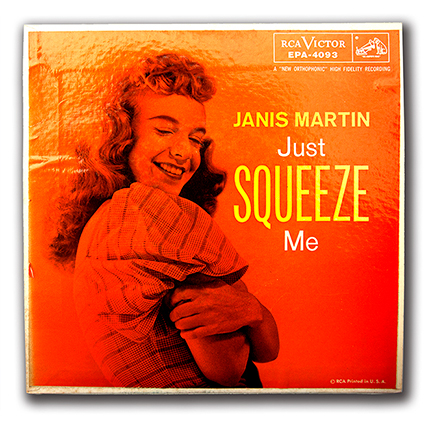 160. Janis Martin — "Just Squeeze Me EP with Cover" RCA VICTOR EPA-4093 M-/M- GORGEOUS COPY OF VERY SCARCE EP MB $300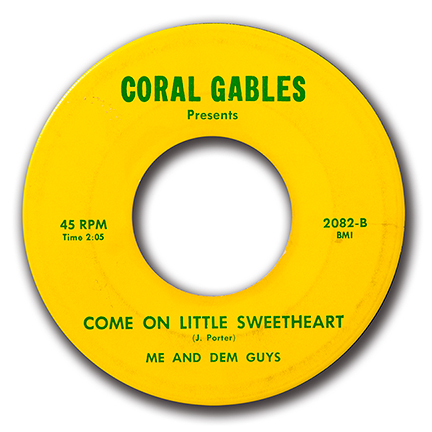 164. Me And Dem Guys — "Come On Little Sweetheart/Black Cloud" CORAL GABLES 2082 VG+ MB $50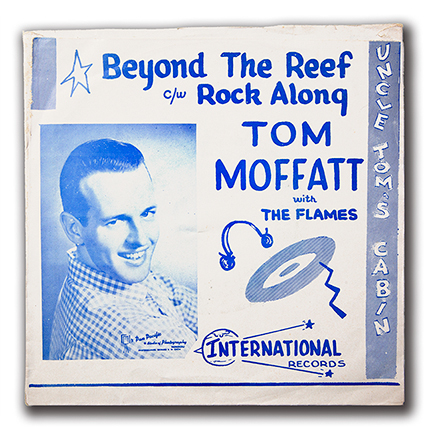 165. Tom Moffatt And The Flames — "Rock Along/Beyond The Reef" INTERNATIONAL 204 M-/M- WITH PICTURE SLEEVE!!! About 15 years ago, I bought Mr. Moffatt's record collection in Hawaii and even HE didn't have a copy of this PICTURE SLEEVE! MB $200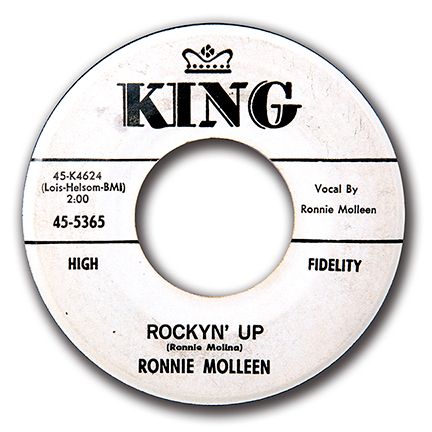 166. Ronnie Molleen — "Rockyn' Up/Fat Mama" KING 5365 VG WHITE LABEL PROMO— CLASSIC MB $50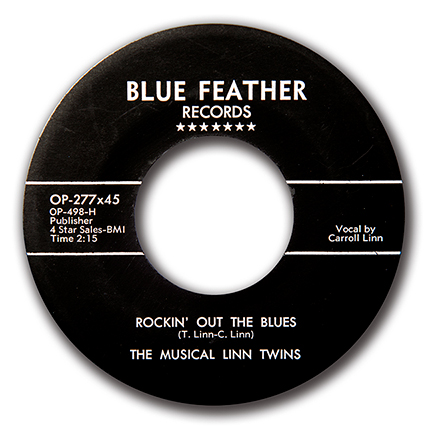 167. The Musical Linn Twins — "Rockin' Out The Blues/Indian Rock" BLUE FEATHER 277 MINT Storage warp but plays okay—WILD, CRAZY, INSANE, NUTTY, STOMPIN' ROCKABILLY! MB $200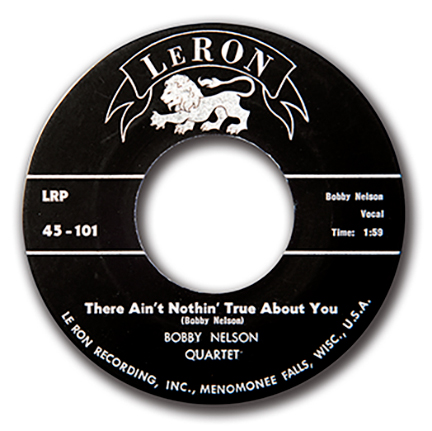 168. Bobby Nelson Quartet — "There Ain't Nothin' True About You / Zapp"LERON 101 • M- GREAT ONE!!! B-side is GOOD INSTRUMENTAL MB $500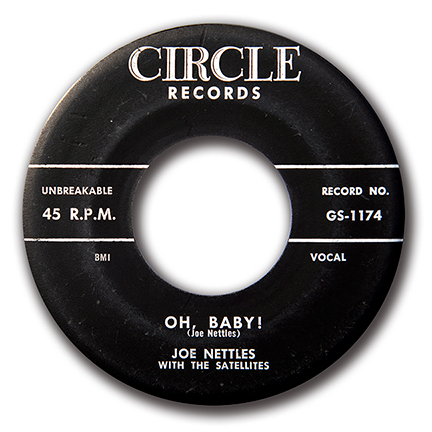 169. Joe Nettles With The Satellites — "Oh, Baby!/Give Us A Chance" CIRCLE 1174 VG PLAYS GREAT MB $50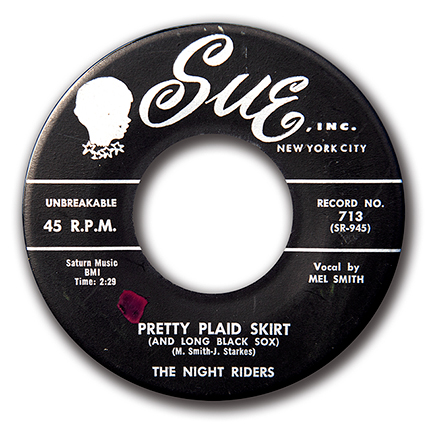 171. The Night Riders — "Pretty Plaid Skirt (And Long Black Sox)/I'll Never Change" SUE 713 VG PLAYS MINT, mark on label to show plug side MB $200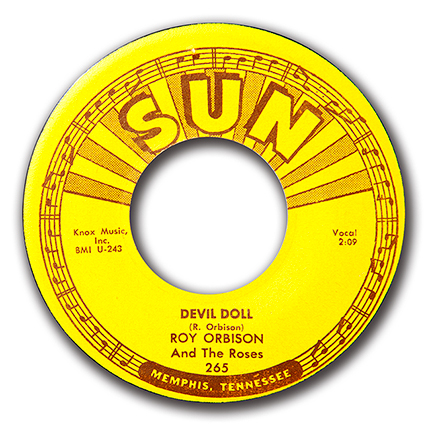 176. Roy Orbison And The Roses — "Devil Doll/Sweet And Easy To Love" SUN 265 MINT MB $100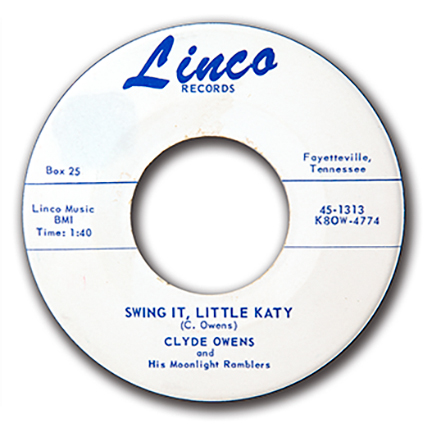 179. Clyde Owens And His Moonlight Ramblers — "Swing It, Little Katy / The Last Bouquet"LINCO 1313 • M- FABULOUS!!! Faded sticker stain on both labels MB $750
182. Jimmy Patton — "Okie's In The Pokie/Lonely Nights" SIMS 117 M- CLASSIC MB $200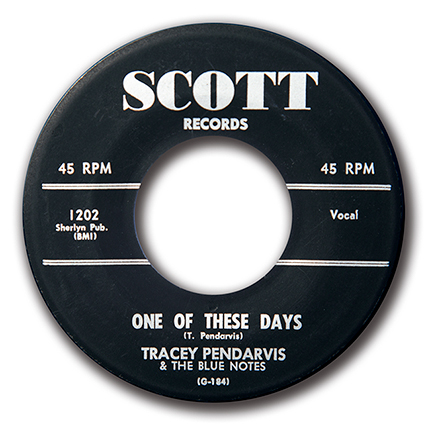 183. Tracey Pendarvis & The Blue Notes — "One Of These Days/It Don't Pay" SCOTT 1202 M- MB $50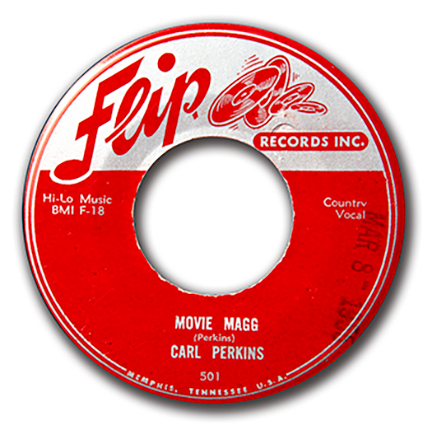 185. Carl Perkins — "Movie Magg / Turn Around" FLIP 501 • NICE VG FIRST RECORD and this is a nice clean playing copy, date of MAR 8 1955 stamped on labelMB $500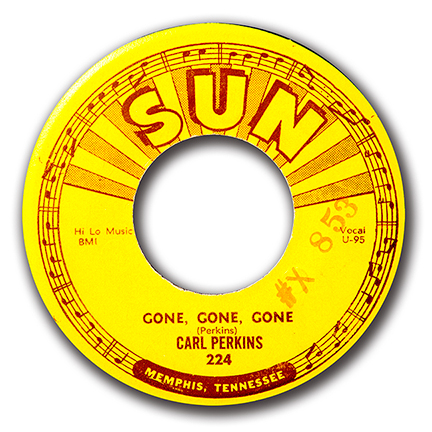 186. Carl Perkins — "Gone, Gone, Gone/Let The Jukebox Keep On Playing" SUN 224 M- From the WMPS, Memphis radio station library #ol MB $200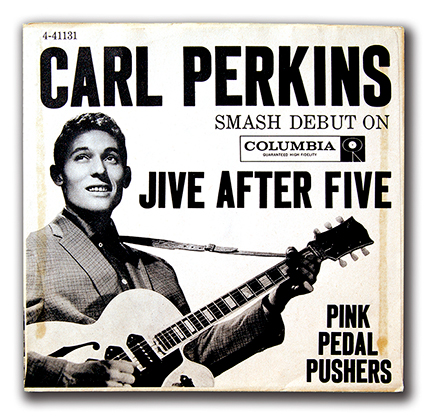 191. Carl Perkins — "Jive After Five/Pink Pedal Pushers" COLUMBIA 41131 M-/M- WITH PICTURE SLEEVE MB $50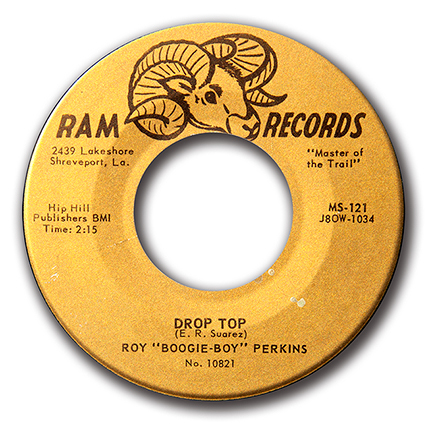 194. Roy "Boogie Boy" Perkins — "Drop Top/What The Mailman Had To Say" RAM RECORDS 121 M- First Label, True First Pressing before it HIT on THE DOT LABEL MB $30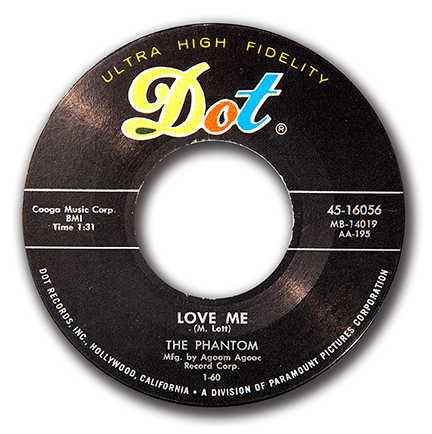 195. The Phantom — "Love Me/Whisper Your Love" DOT 16056 VG PLAYS MINT—AWESOME RECORD MB $50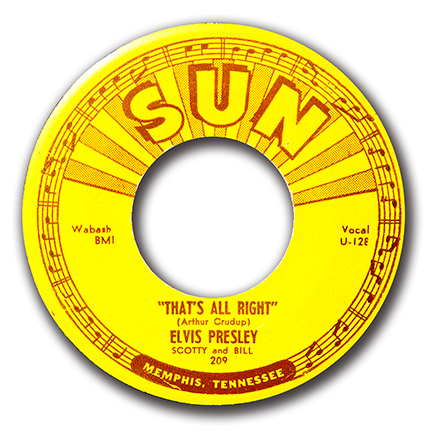 196. Elvis Presley — "That's All Right / Blue Moon Of Kentucky" SUN 209 • M- GORGEOUS COPY with just ONE tiny scuff on the B-side. Push marks are indeed on the labels, just not visible in photo. MB $4,000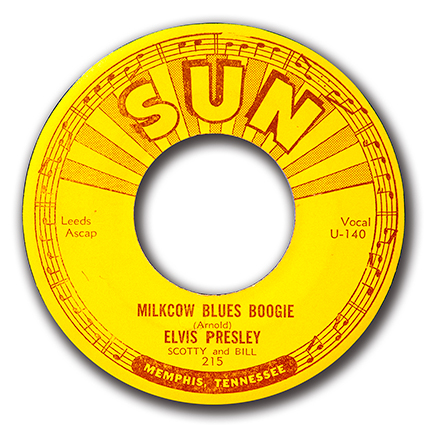 197. Elvis Presley — "Milkcow Blues Boogie / You're A Heartbreaker" SUN 215 • M- STUNNING NEAR PERFECT COPY! Push marks are indeed on the labels, just not visible in photo. MB $4,000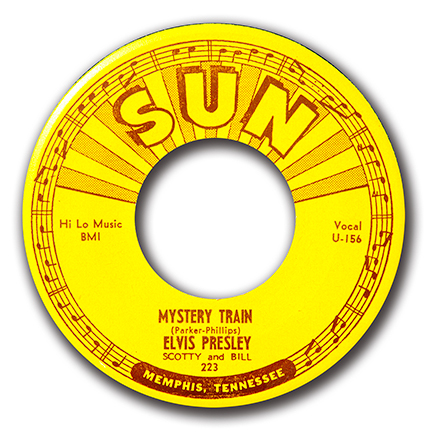 198. Elvis Presley — "Mystery Train /I Forgot To Remember To Forget" SUN 223 • MINT PERFECT COPY!!! You NEVER see them this clean—mirror finish!!! MB $2,000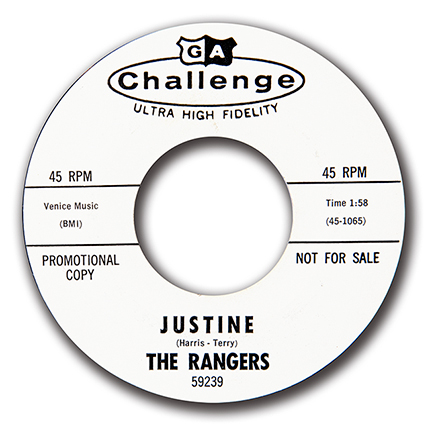 202. The Rangers — "Justine/Reputation" CHALLENGE 59239 M- WHITE LABEL PROMO—Fabulous two-sider! MB $500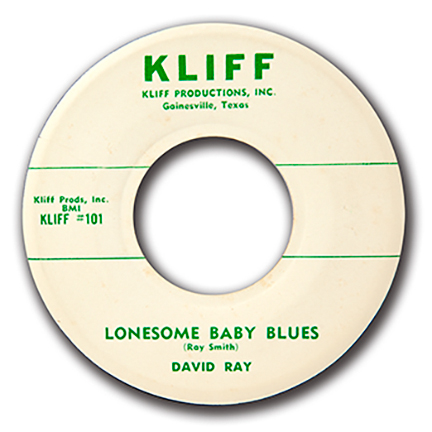 203. David Ray — "Lonesome Baby Blues / I Am A Fool" KLIFF 101 • M-/VG+ MASTERPIECE! Intense Rockabilly from Texas. One of my all time favorites!MB $500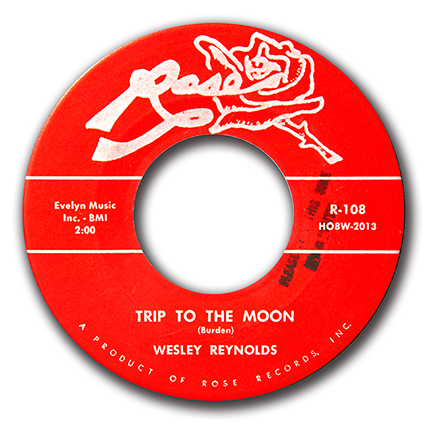 205. Wesley Reynolds — "Trip To The Moon/Don't Say Goodbye" ROSE 108 MINT PROMO STAMP on label MB $150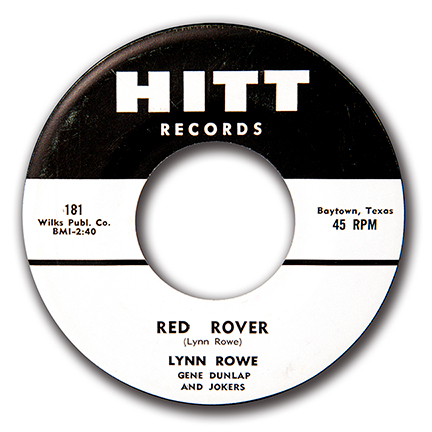 216. Lynn Rowe — "Red Rover/Last Date" HITT 181 M- MB $100
217. Ray Ruff And The Checkmates — "Long Long Pony Tail/Pretty Blue Eyes" SULLY 100 M- MB $100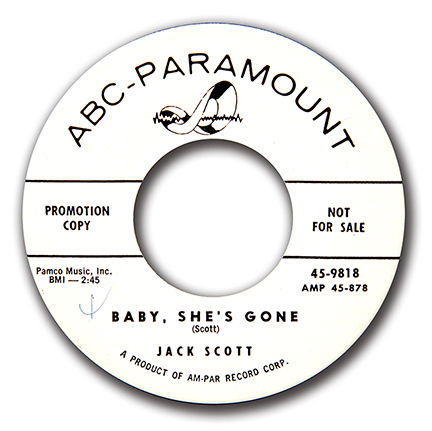 221. Jack Scott — "Baby, She's Gone/You Can Bet Your Bottom Dollar" ABC-PARAMOUNT 9818 M- WHITE LABEL PROMO, tiny xol MB $100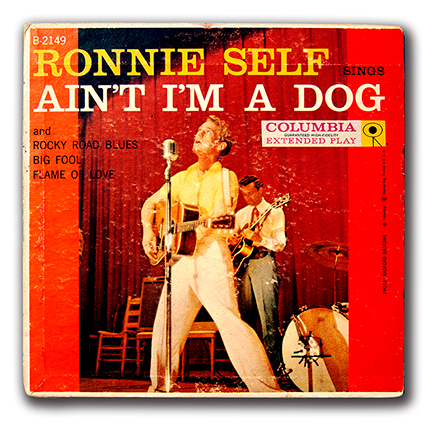 222. Ronnie Self — "Ain't I'm A Dog EP with Cover" COLUMBIA B-2149 VG+/VG+ MB $75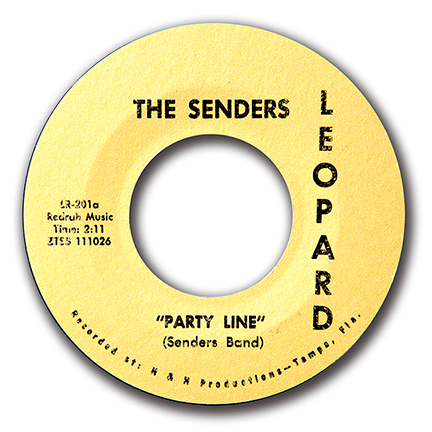 223. The Senders — "Party Line/Love Me Too" LEOPARD 201 M- GREAT MB $400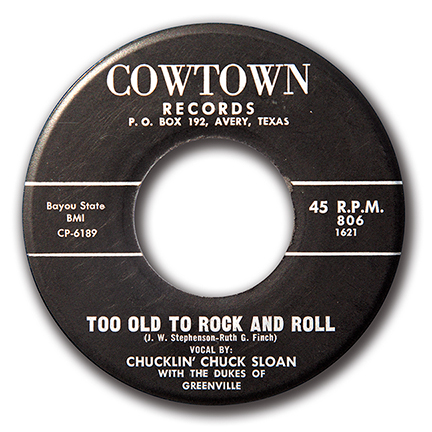 226. Chucklin' Chuck Sloan With The Dukes Of Greenville — "Too Old To Rock And Roll/Brown Haired Sue" COWTOWN 806 M- Nice PRIMITIVE ONE MB $350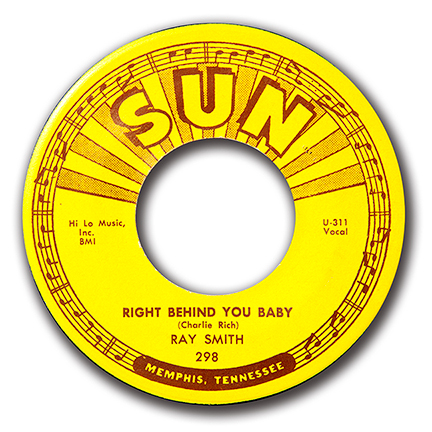 227. Ray Smith — "Right Behind You Baby/So Young" SUN 298 MINT MB $50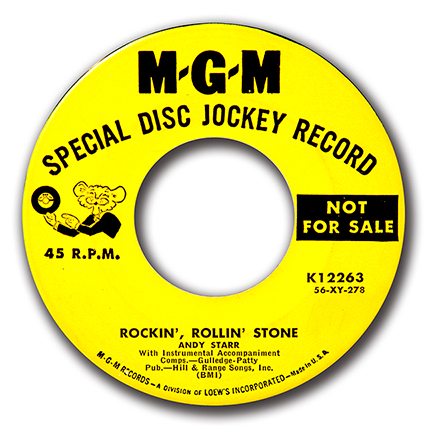 235. Andy Starr — "Rockin', Rollin' Stone/I Wanna Go South" M-G-M 12263 M- YELLOW LABEL PROMO MB $100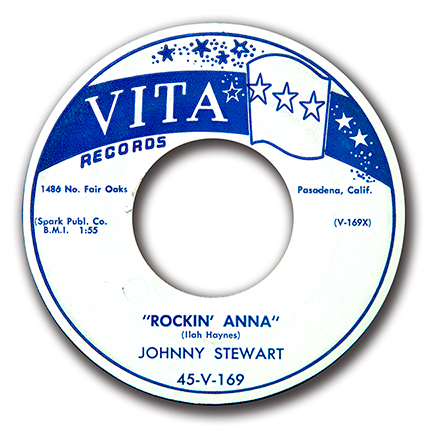 239. Johnny Stewart — "Rockin' Anna/Lorraine" VITA 169 M- HIS FIRST RECORD MB $100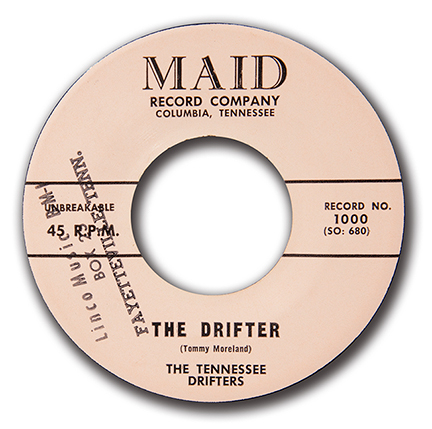 241. The Tennessee Drifters — "The Drifter/Chinese Maid" MAID 1000 MINT Fabulous Chuggin' PRIMITIVE ROCKER, Owner's stamp (Linco Music) on label MB $500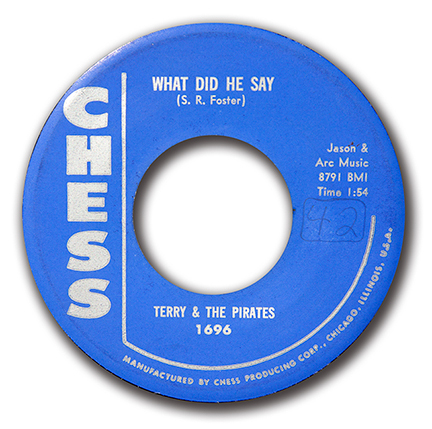 242. Terry & The Pirates — "What Did He Say/Talk About The Girl" CHESS 1696 VG+ Faded #ol on A-side, Really Nice ROCKABILLY AND Super Obscure CHESS RELEASE MB $200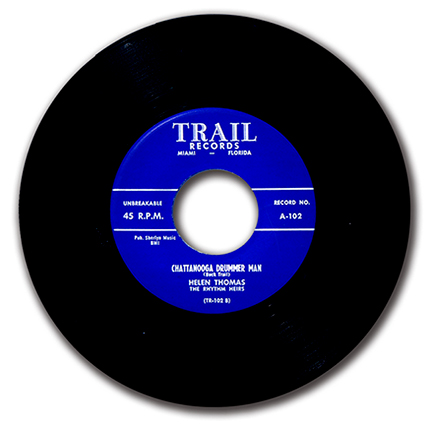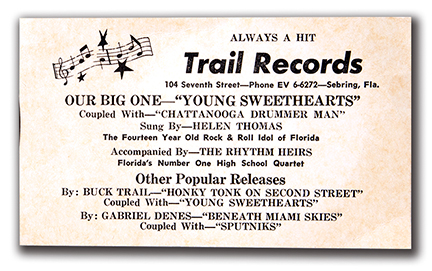 243. Helen Thomas & The Rhythm Heirs — "Chattanooga Drummer Man/Young Sweethearts" TRAIL 102 MINT With great INSERT describing her as "The Fourteen Year Old Rock & Roll Idol of Florida" MB $100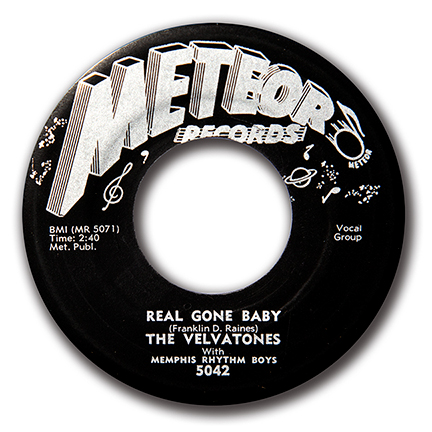 249. The Velvatones — "Real Gone Baby/Feeling Kinda Lonely" METEOR 5042 MINT Sounds like The Andrews Sisters meet Rockabilly!!! Unique record with great Guitar break!!! MB $300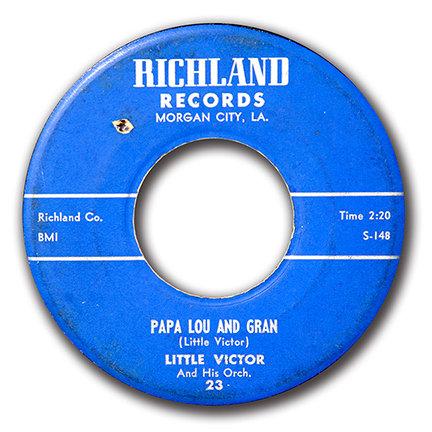 250. Little Victor — "Papa Lou And Gran/What Is Love" RICHLAND 23 VG Stains on B-side label and drill hole in the label, GREAT ROCKER MB $200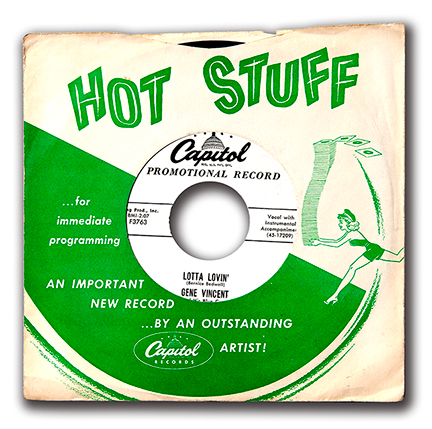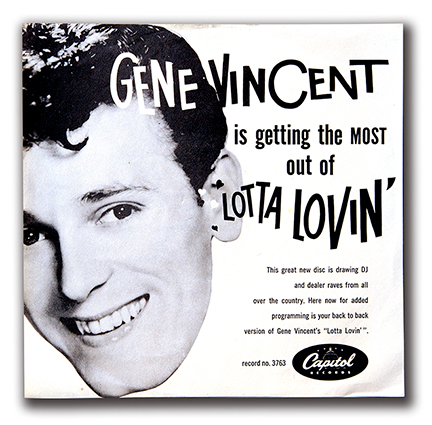 254. Gene Vincent And His Blue Caps — "Lotta Lovin' / Wear My Ring"CAPITOL 3763 • M-/M- With Super Rare PROMO ONLY PHOTO INSERT!!! WHITE LABEL PROMO 45 as well! MB $1,000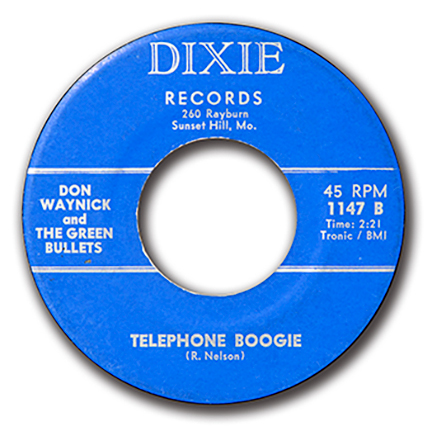 259. Don Waynick And The Green Bullets — "Telephone Boogie / There She Goes"DIXIE 1147 • VGRARE AND PLAYS NEAR MINT MB $350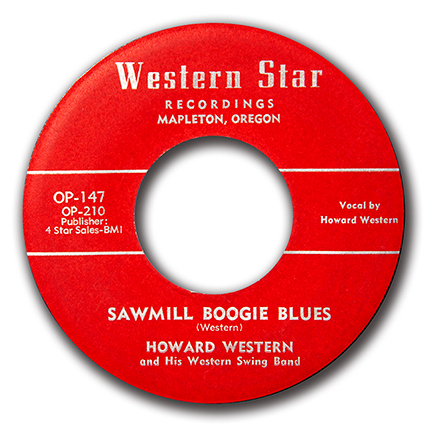 261. Howard Western And His Western Swing Band — "Sawmill Boogie Blues/You're The One That I've Always Loved" WESTERN STAR 147 M- SUPER OBSCURE ONE FROM MAPLETON, OREGON MB $200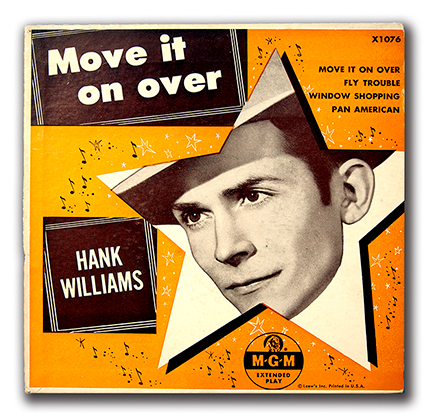 263. Hank Williams — "Move It On Over EP with Cover" M-G-M X 1076 M-/M- GREAT ONE! Listen to "Move It On Over" . . . then listen to Bill Haley's "Rock Around The Clock"—definitely inspired by HANK MB $100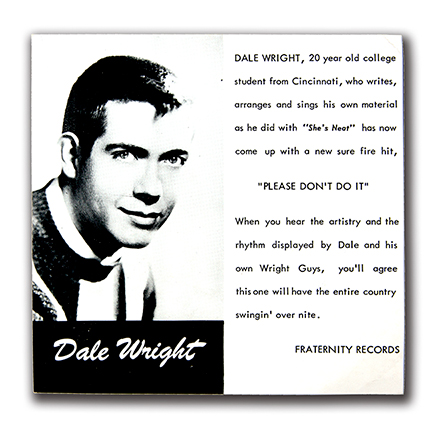 266. Dale Wright And The Wright Guys — "Please Don't Do It/Goody, Goody Good-Bye" FRATERNITY 818 M-/M- WITH SUPER SCARCE PHOTO INSERT MB $75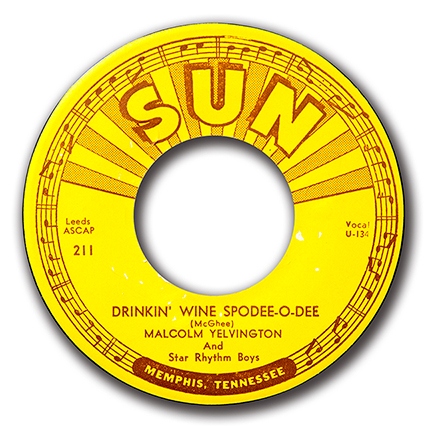 267. Malcolm Yelvington And Star Rhythm Boys — "Drinkin' Wine Spodee-O-Dee/Just Rolling Along" SUN 211 MINT MB $150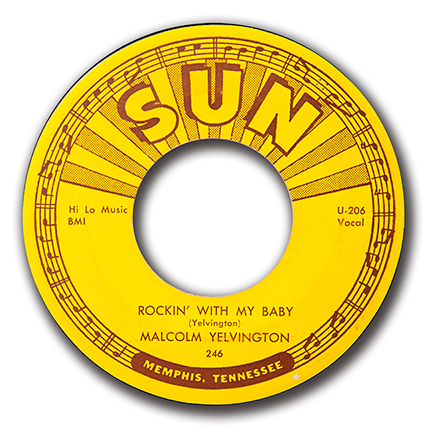 268. Malcolm Yelvington — "Rockin' With My Baby/It's Me Baby" SUN 246 M- MB $100
My May 30th, 2023 Rockabilly 45's auction, complete list


Good luck, everybody!
John Tefteller

Next Month's Auction:
The Jim Coulter Sun and Memphis Label 78 RPM records Auction #2!