Pete Whelan's World-Class Pre-War Blues 78's collection, part 2: HIGHLIGHTS!
Closes Tuesday, August 29, 2023 at 7:00 pm PT
Peter Whelan was a friend of mine for over twenty years. He started collecting records in 1946 and was the founder of the Origin Jazz Librarylabel in 1960 and of 78 Quarterly in 1967—THE magazine for 78 collectors for 35 years!
Pete passed away in January at the age of 93. Last year, he offered to sell me his World Class collection of Jazz and Blues 78's. He stated his price, which would be the most I ever paid for a record collection, but I didn't hesitate to say YES!
It will take a few years and multiple auctions to find new homes for all of Mr. Whelan's records. Some of these gems are staying here, enhancing my already fantastic collection, but some of them are duplicates and/or records I'm not interested in.
Prices for World Class Blues 78's have been climbing steadily for the past 40+ years and recently have been rising VERY dramatically! This is your chance to obtain some legendary records from one of the world's BEST, and most important, collections before their prices shoot up even higher! So bid competitively if you want to win and use my call back system for "must-have" items!
The Jazz records will be sold separately from the Blues collection. Please let me know if you want to receive the Jazz auction ads.
Thank you and good luck to all!
Pete Whelan''s Pre-War Blues 78's collection auction, part 2, COMPLETE LIST

Printed (PDF) version of Pete Whelan's's Pre-War Blues 78's collection auction, part 2

How to bid on my Monthly Auctions

THE KINGS OF PRE-WAR BLUES (Records 1 – 7)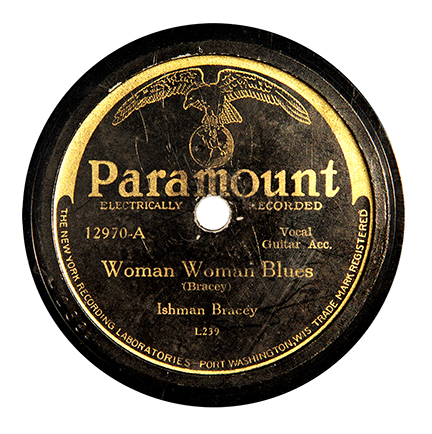 1. Ishman Bracey — "Woman Woman Blues / Suit Case Full Of Blues" PARAMOUNT 12970 • V+ Absolute MASTERPIECE and one of TWO KNOWN copies (plus a one-sided TEST). I have the other copy which is virtually the same condition. PETE WHELAN'S FAVORITE RECORD and until my collection is for sale, which is a LONG time from now, there will never be another one available for sale. MB $10,000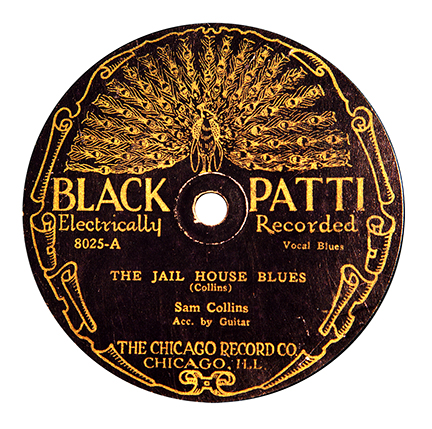 2. Sam Collins — "The Jail House Blues /Riverside Blues" BLACK PATTI 8025 • V ONE OF TWO KNOWN on BLACK PATTI. Nice one with one inch hair crack. The stuff that dreams are made of . . .MB $2,000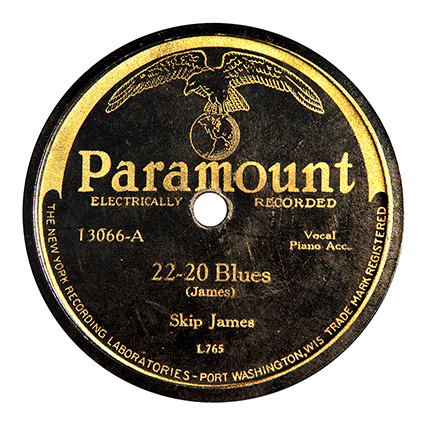 3. Skip James — "22-20 Blues / If You Haven't Any Hay Get On Down The Road" PARAMOUNT 13066 • V+/V- Skip James Paramounts are virtually non-existent. This is the only one for which there are about five or so known copies and this one is "affordable". . . at least when compared to the others. Four years later, in 1935, it was re-issued on CHAMPION and those show up once in a while. MB $3,000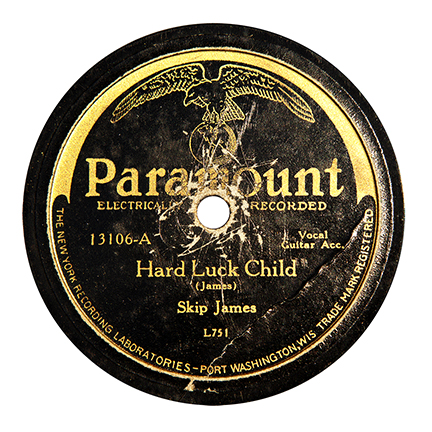 4. Skip James — "Hard Luck Child / 4 O'Clock Blues" PARAMOUNT 13106 • V- Basically a wall hanger with two long cracks andlots of wear. My personal copy is a bit better but has edge bites into the grooves. There are TWO other known copies—one damaged and one nice. This is the ONLY Skip James guitar record that is likely to be on the market for years to come. "Hang it on the wall," as Mr. Patton suggests! MB $1,000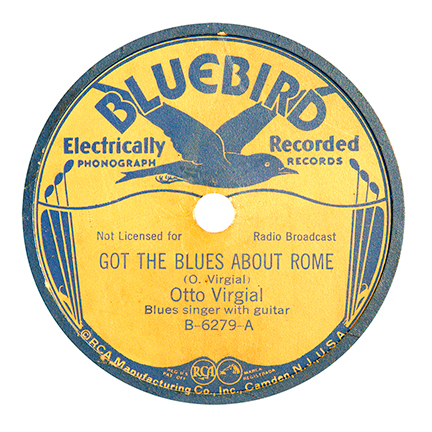 5. Otto Virgial — "Got The Blues About Rome / Seven Year Itch" BLUEBIRD 6279 • V BLUES MASTERPIECE. About five known copies. If you don't know it, go listen to it on YouTube. MB $2,000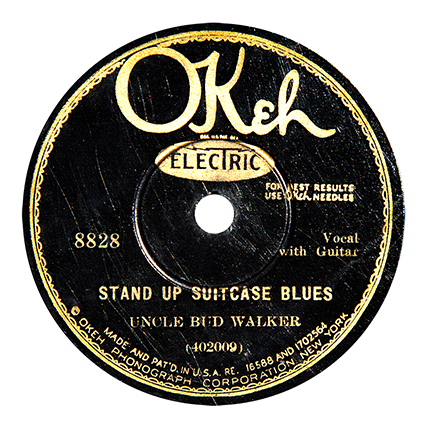 6. Uncle Bud Walker — "Stand Up Suitcase Blues / Look Here Mama Blues" OKEH 8828 • E WHAT A RECORD!!! Super obscure and around FIVE KNOWN COPIES!!! If you don't know it, go hear it on YouTube. MB $3,000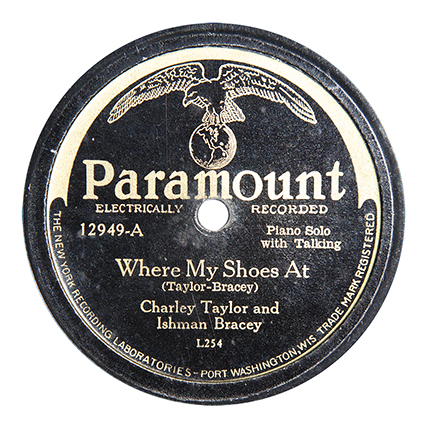 16. Charley Taylor And Ishman Bracey — "Where My Shoes At / Too Damp To Be Wet" PARAMOUNT 12949 • E+/E The "affordable" Bracey on Paramount . . . more of a novelty record than straight Blues—but still scarce and still an original Bracey Paramount! MB $1,000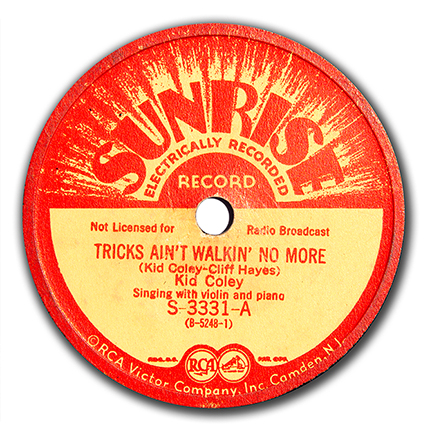 23. Kid Coley — "Tricks Ain't Walkin' No More/Clair And Pearly Blue" SUNRISE 3331 V+/V VERY RARE!!! SUNRISE was a shortlived subsidiary of VICTOR and this is the FIRST AND ONLY BLUES release on the label that I have ever seen. MB $200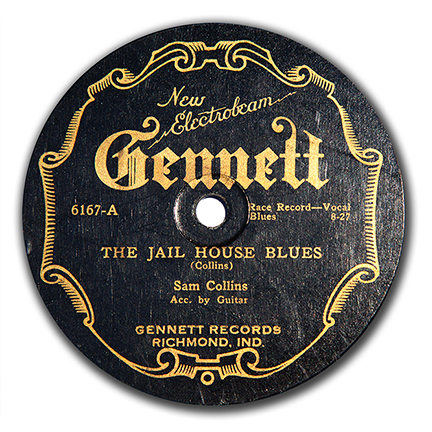 24. Sam Collins — "The Jail House Blues/Riverside Blues" GENNETT 6167 V+ Same as the BLACK PATTI but slightly more affordable on this label MB $500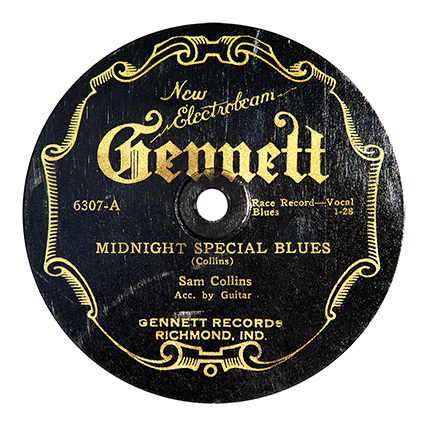 25. Sam Collins — "Midnight Special Blues / Do That Thing" GENNETT 6307 • V+ MASTERPIECE . . . and this is the VERY FIRST VERSION of "MIDNIGHT SPECIAL" — WAY BEFORE LEAD BELLY!!! MB $1,000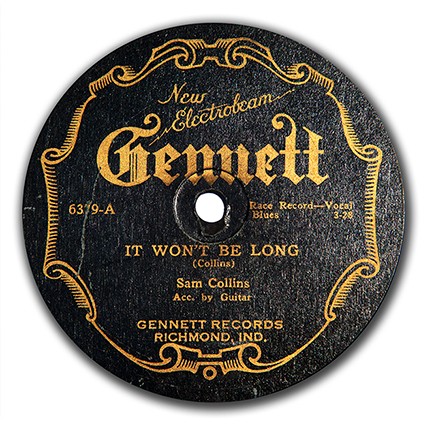 26. Sam Collins — "It Won't Be Long/Hesitation Blues" GENNETT 6379 V+ MB $500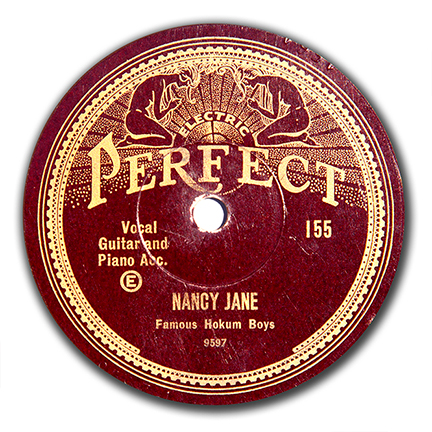 32. Famous Hokum Boys — "Nancy Jane/Do That Thing" PERFECT 155 V+ MB $100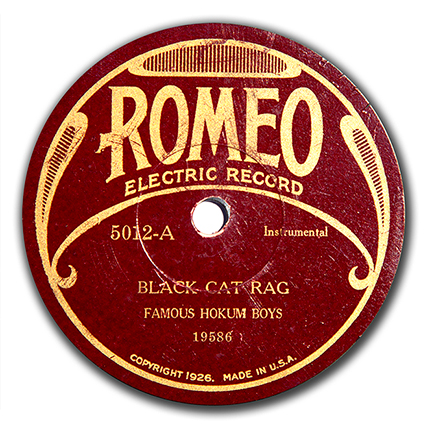 33. Famous Hokum Boys — "Black Cat Rag/Saturday Night Rub" ROMEO 5012 E- MB $300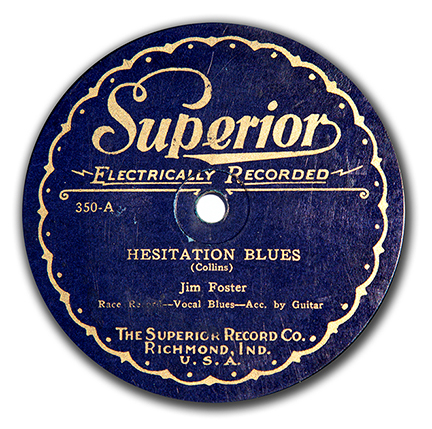 36. Jim Foster aka SAM COLLINS — "Hesitation Blues/Devil In The Lions Den" SUPERIOR 350 V With one inch hair crack MB $300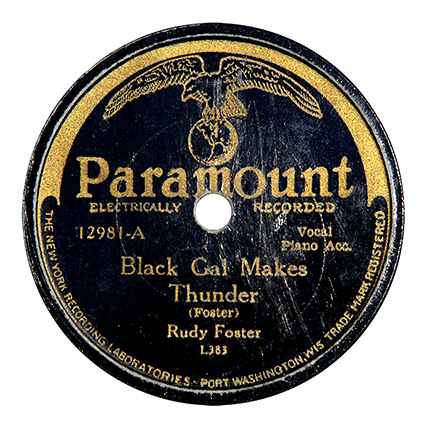 37. Rudy Foster — "Black Gal Makes Thunder / Corn Trimmer Blues" PARAMOUNT 12981 • V- ONE OF TWO KNOWN COPIES and both are worn. This has been hailed as one of the greatest PIANO Blues records of all time!!! INSANELY RARE AND GREAT! MB $1,000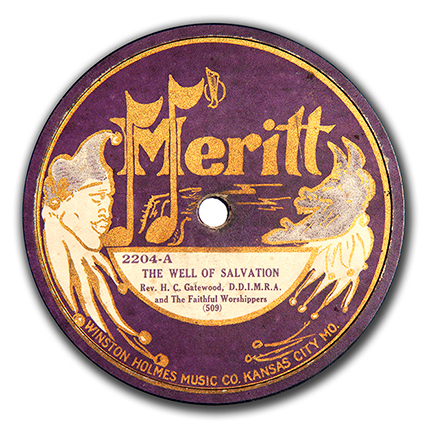 38. Rev. H. C. Gatewood And The Faithful Worshippers — "The Well Of Salvation/Regeneration" MERITT 2204 V- RARE!!! MB $100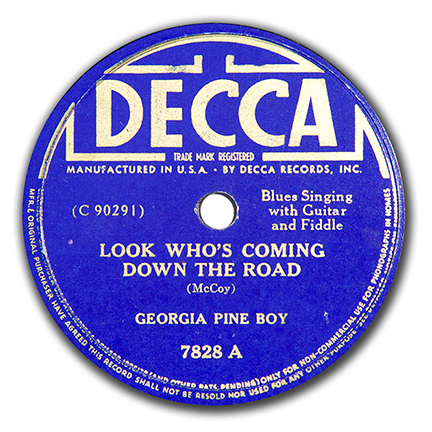 39. Georgia Pine Boy — "Look Who's Coming Down The Road / The World Is A Hard Place To Live" DECCA 7828 • E ABSOLUTELY STUNNING RECORD!!! A direct copy of Tommy Johnson's "Maggie Campbell Blues" by Kansas Joe McCoy. MB $500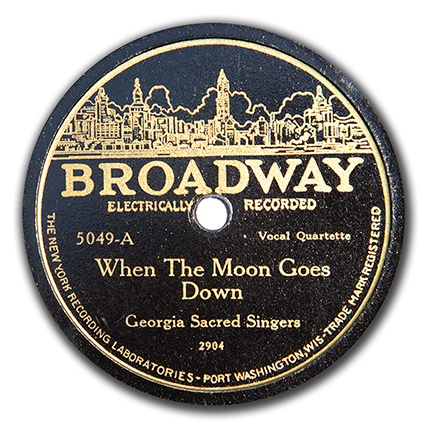 40. Georgia Sacred Singers — "When The Moon Goes Down/Moanin' In The Land Will Soon Be Over" BROADWAY 5049 E- MB $200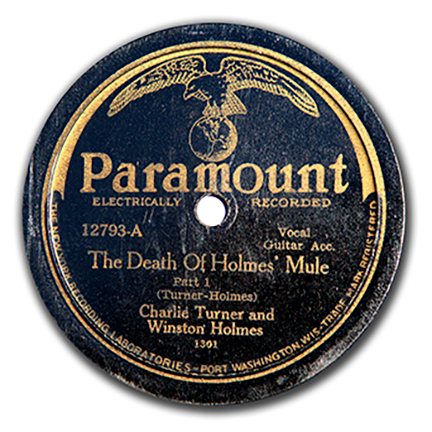 44. Charlie Turner And Winston Holmes — "The Death Of Holmes' Mule Part 1/Part 2" PARAMOUNT 12793 V+ MB $300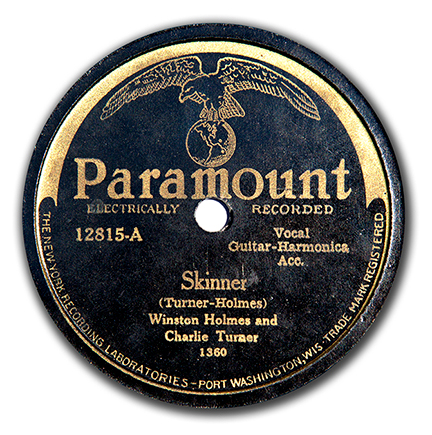 45. Winston Holmes And Charlie Turner — "Skinner/Kansas City Dog Walk" PARAMOUNT 12815 E MB $500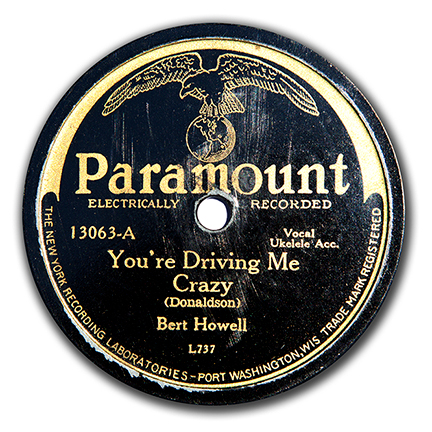 46. Bert Howell — "You're Driving Me Crazy/I'll Be Smiling When You're Near Me" PARAMOUNT 13063 V+ With edge chip but not into grooves, VOCAL WITH UKELELE—VERY RARE 13000 PARAMOUNT MB $300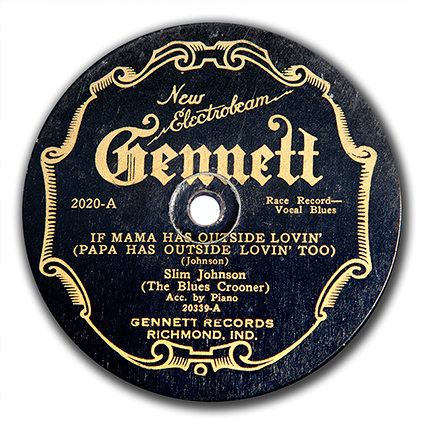 52. Slim Johnson (The Blues Crooner)/Sidney Williams — "If Mama Has Outside Lovin' (Papa Has Outside Lovin' Too)/Mississippi Shivers" GENNETT 2020 V+ Rare! MB $300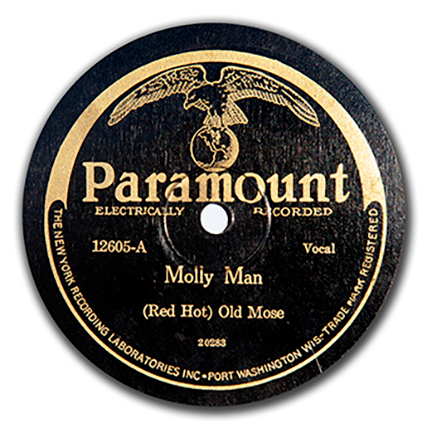 57. (Red Hot) Old Mose _ Moses Mason — "Molly Man / Shrimp Man" PARAMOUNT 12605 • E+ Moses did mostly Gospel but this is his one Blues record and it's a real throwback to the 1800's style Blues — Nice one! MB $800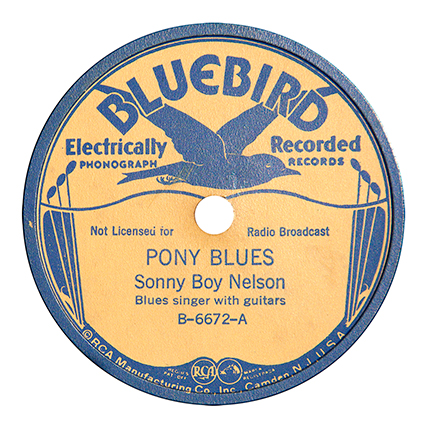 60. Sonny Boy Nelson — "Pony Blues / Street Walkin' " BLUEBIRD 6672 • E+ PATTON COVER . . . AND FABULOUS!!! MB $2,000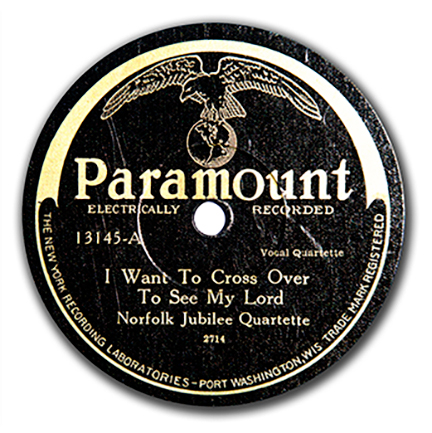 63. Norfolk Jubilee Quartet — "I Want To Cross Over To See My Lord / Swing Low, Sweet Chariot" PARAMOUNT 13145 • E+ Gorgeous Store Stock New copy of one of the VERY LAST PARAMOUNT RECORDS ISSUED—REALLY RARE!!! MB $1,000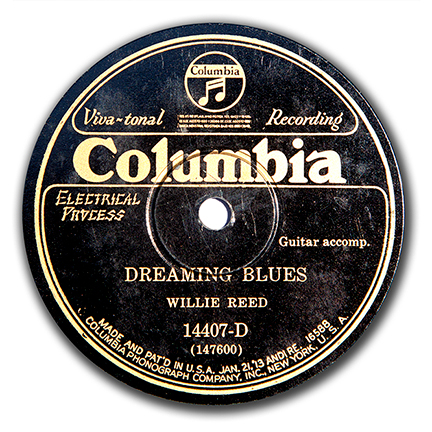 65. Willie Reed — "Dreaming Blues/Texas Blues" COLUMBIA 14407 E+ GREAT ONE MB $500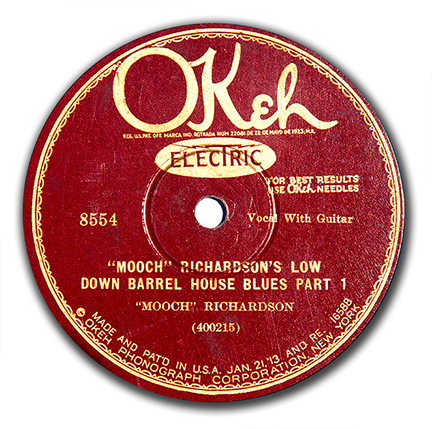 66. "Mooch" Richardson — " "Mooch" Richardson's Low Down Barrel House Blues Part 1/T And T Blues" OKEH 8554 E/E+ MB $500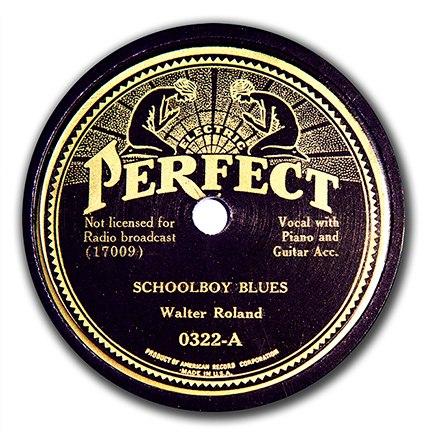 68. Walter Roland — "Schoolboy Blues/Screw Worm" PERFECT 0322 E- MB $200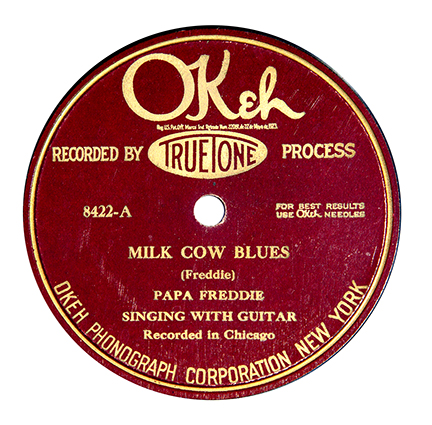 70. Papa Freddie Spruell — "Milk Cow Blues / Muddy Water Blues" OKEH 8422 • E+ FABULOUS! MB $2,000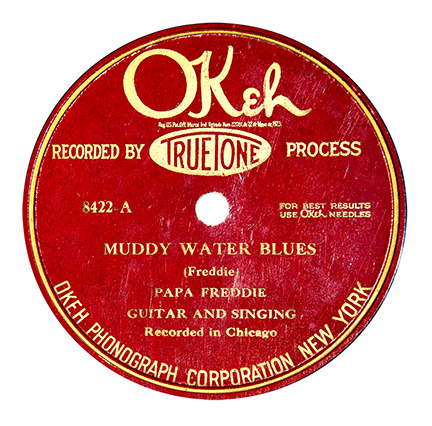 71. Papa Freddie Spruell — "Muddy Water Blues / Way Back Down Home" OKEH 8422 • E This was issued twice, with different B-sides and the same release number. Both issues are incredible! MB $2,000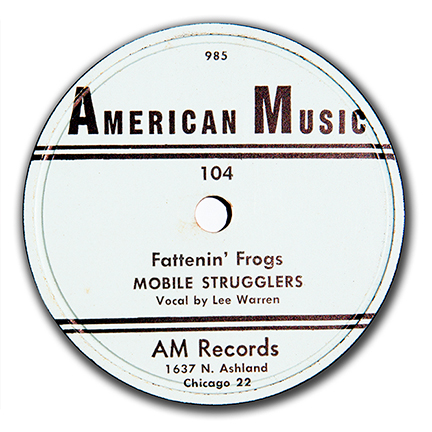 72. Mobile Strugglers — "Fattenin' Frogs/Memphis Blues" AMERICAN MUSIC 104 E- Probably the greatest "throwback" record ever!!! Recorded and released in 1949—this sounds exactly like 1929!!! FABULOUS RECORD MB $100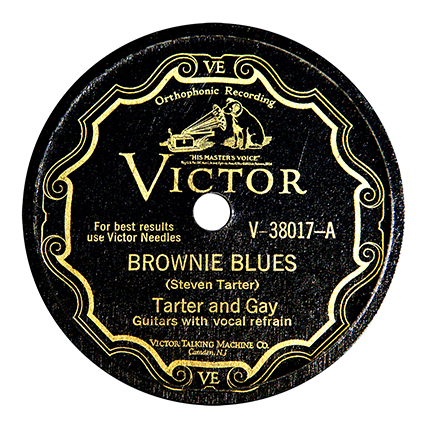 73. Tarter And Gay — "Brownie Blues / Unknown Blues" VICTOR 38017 • E- MASTERPIECE MB $1,000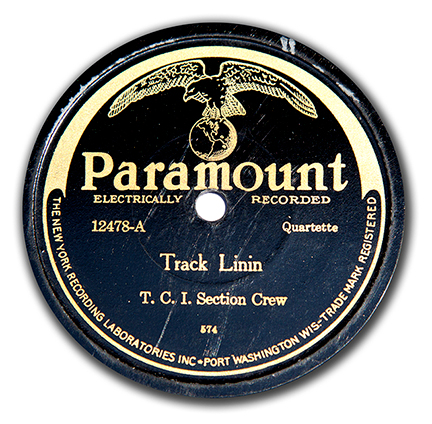 74. T. C. I. Section Crew — "Track Linin/Section Gang Song" PARAMOUNT 12478 V+ MB $300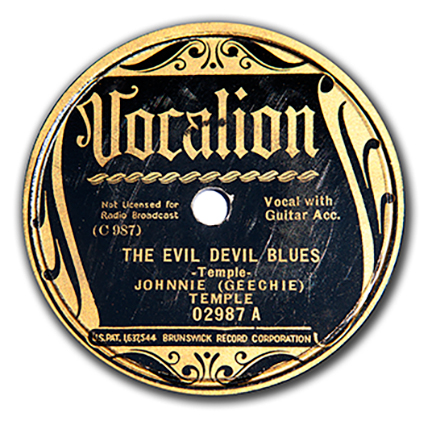 75. Johnnie (Geechie) Temple — "The Evil Devil Blues / Jacksonville Blues" VOCALION 02987 E-/V+ HAUNTING VERSION OF SKIP JAMES CLASSIC "DEVIL GOT MY WOMAN" from Temple who learned the song from Skip—Rare and Fantastic! MB $500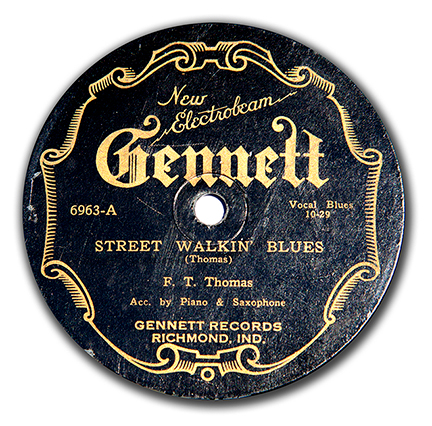 76. F. T. Thomas — "Street Walkin' Blues/Moanin' Piano Blues" GENNETT 6963 E- RARE MB $300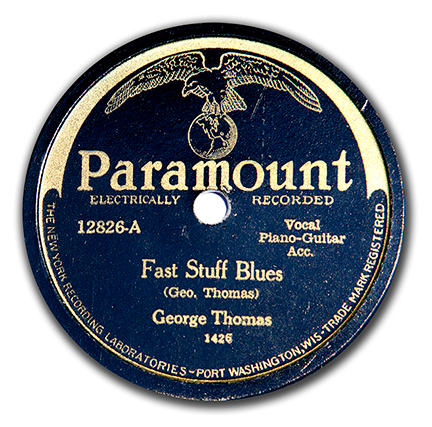 77. George Thomas — "Fast Stuff Blues/Don't Kill Him In Here" PARAMOUNT 12826 E MB $500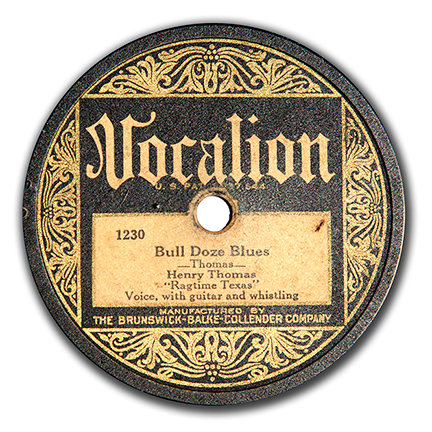 78. Henry Thomas — "Bull Doze Blues/Old Country Stomp" VOCALION 1230 POOR BASICALLY A WALL HANGER MB $100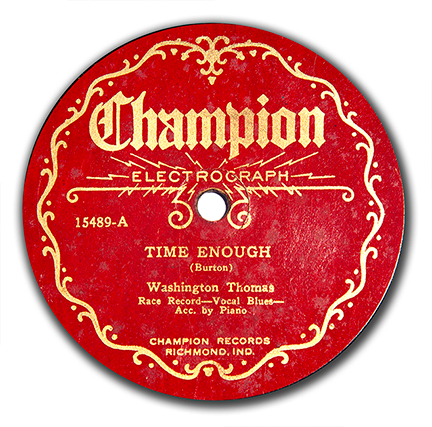 79. Washington Thomas — "Time Enough/My Senorita" CHAMPION 15489 E- RARE MB $300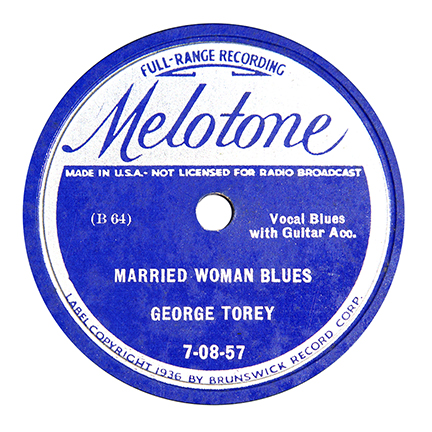 80. George Torey — "Married Woman Blues / Lonesome Man Blues" MELOTONE 7-08-57 • E FANTASTIC RECORD!!! MB $2,000
81. Henry Townsend — "Henry's Worry Blues/Long Ago Blues" COLUMBIA 14529 E MB $800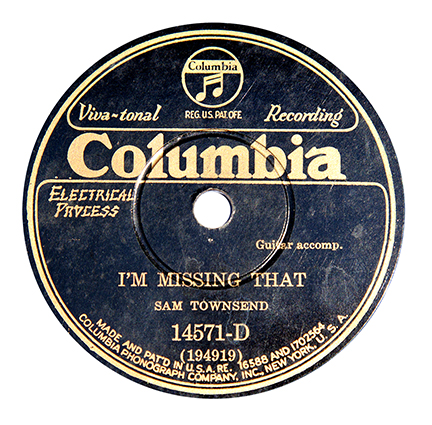 82. Sam Townsend — "I'm Missing That / Lily Campbell Blues" COLUMBIA 14571 • E MB $2,000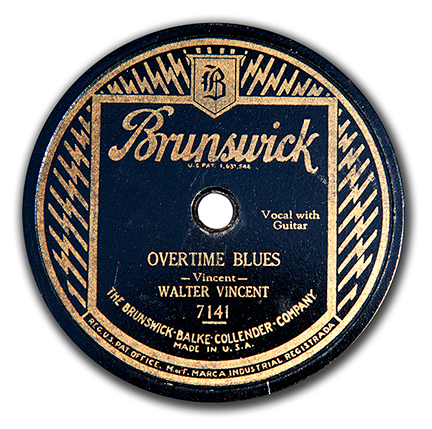 85. Walter Vincent/Charlie McCoy — "Overtime Blues/Last Time Blues" BRUNSWICK 7141 E+ MB $500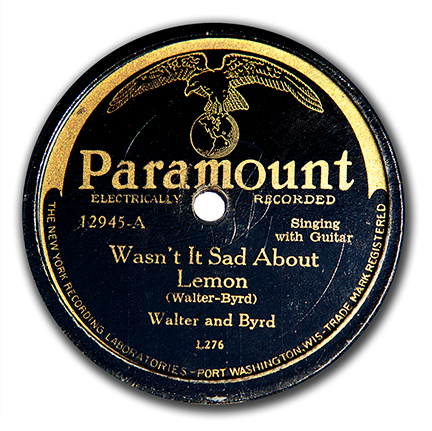 86. Walter And Byrd/Rev. Emmet Dickenson — "Wasn't It Sad About Lemon/The Death Of Blind Lemon" PARAMOUNT 12945 V MB $100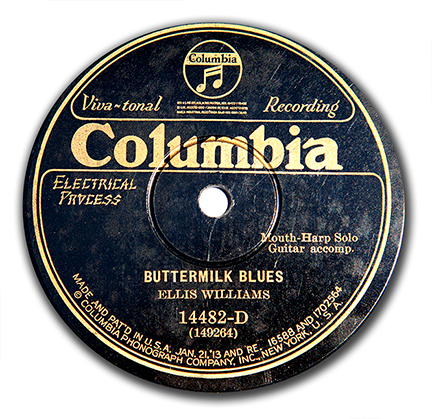 88. Ellis Williams — "Buttermilk Blues/Smokey Blues" COLUMBIA 14482 E MB $300
89. George "Bullet" Williams — "Frisco Leaving Birmingham / The Escaped Convict" PARAMOUNT 12651 • V+ MB $1,000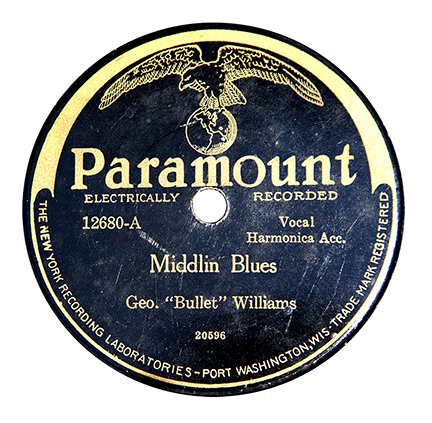 90. George "Bullet" Williams — "Middlin Blues / Touch Me Light Mama" BRUNSWICK 12680 • V+ MB $1,000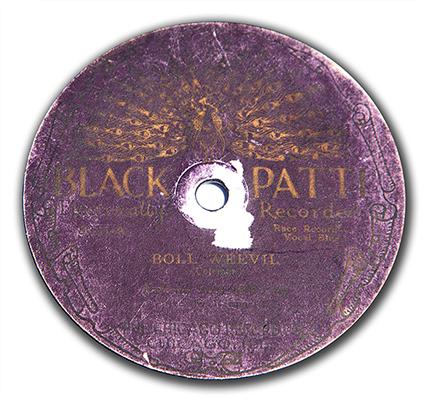 91. Rabbits Foot Williams aka Jaybird Coleman — "Boll Weevil/You Heard Me Whistle" Black Patti 8055 POOR Wall hanger with faded labels—Only known copy??? MB $500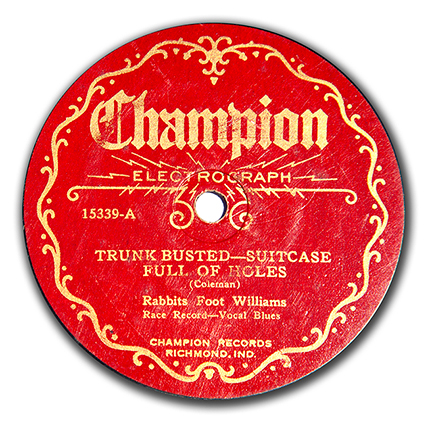 92. Rabbits Foot Williams aka Jaybird Coleman — "Trunk Busted—Suitcase Full Of Holes/Mill Log Blues" CHAMPION 15339 V MB $500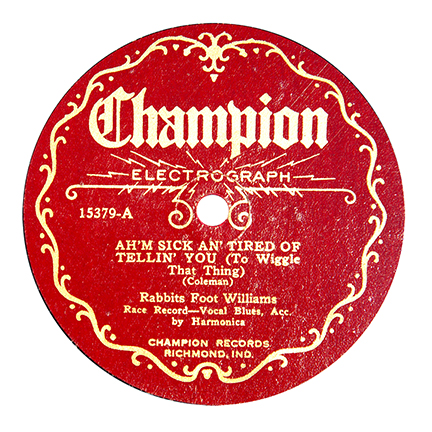 93. Rabbits Foot Williams aka Jaybird Coleman — "Ah'm Sick An' Tired Of Tellin' You (To Wiggle That Thing) / Man Trouble Blues" CHAMPION 15379 • E MB $2,000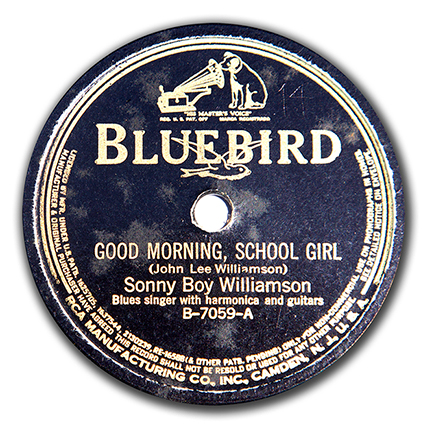 95. Sonny Boy Williamson — "Good Morning, School Girl/Sugar Mama Blues" BLUEBIRD 7059 E MB $300
Pete Whelan Pre-War Blues 78's Auction #2 COMPLETE LIST:
Good luck, everybody!
John Tefteller

Next Month's Auction:
Rock & Roll 45's – ROCK ON!!