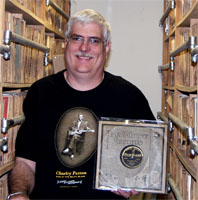 My name is John Tefteller-I have been buying and selling rare phonograph records for the past 35 years. I have a worldwide reputation for my knowledge of rare records, especially Blues 78's.
My personal collection contains some of the rarest records on the planet. My auctions in Discoveries magazine have featured some of the rarest records on the planet. Many have sold for "record" prices. For top quality records, no one can top The World's Rarest Records!
I have the world's largest inventory of Blues, Rhythm & Blues and Rock & Roll 78's with over 75,000 in stock. I also have a fabulous selection of over 100,000 45's from the 1950's and early 1960's in the following categories: Blues, Rhythm & Blues, Rockabilly, Rock & Roll, Girl Groups, Surf and Country.
I am always interested in buying more rare records! I will pay top dollar for your rare Blues and Rhythm & Blues 45's and 78's in Near Mint condition. Before you sell your rare records to ANYONE, you should at least talk to me. I consistently pay the highest prices for records for my collection and am more than fair when buying for resale.
Email my webmaster to sign up for my email newsletter! I'll have upcoming auction highlights and sound samples. We will NEVER give out your information to ANYONE!
---
Bill Sabis, "His Royal Koolness," Consignment Auction 1: February 10th– All Original 78's:
R & B Vocal Groups / Blues / Rock & Roll / Rockabilly / Gospel / Country!
Welcome to the very first auction of 78's from the collection of "His Royal Koolness," Bill Sabis of Florida! "HRK," as he is known to his friends, is a long-time 78 collector and former DJ who has amassed a world class collection of post-war 78's. HRK is now 75 years old and has entrusted me with the selling off his collection. It will take years to do this so I gotta get started now.
HRK loves R&B Vocal Groups and Rock & Roll late era "Late 78's." There are some super world class rarities along with classics and more common records. The auctions will each feature about 400 records and there will be four auctions per year until they're gone. Records are pulled at random for each auction so you'll never know what's coming up!
Remember, I have stopped using a VG++ grade so all records are either Mint, M–, VG+ or less. Everything graded VG+ should play better, with most playing M–. I have personally graded each one. Minimum bids are, in most cases, lower than normal. This was done to encourage bidding and ensure that EVERYTHING sells. "His Royal Koolness" does not want any records back!
Good luck to all and happy bidding!

Phone me at (800) 955-1326 (USA Only) or (541) 476-1326 (Outside the USA) • Write me at P.O. Box 1727 Grants Pass, OR 97528-0200 email me at John@Tefteller.com • Our privacy and security policy