In Memory of My Friend
Jon "Otis" Williams
Sept. 23, 1961 – March 27, 2018
You will be missed.
It is with great sadness that I announce the passing of Jon "Otis" Williams, my eBay manager in charge of uploading records, Blues calendars and CD's; replying to customers' record queries and carefully shipping all my eBay and auction records.
He provided excellent customer service for over a decade. Dependable, caring and multi-talented, he generously shared his extensive expertise regarding the history of recorded music. Our combined knowledge was second to none in the rare record business. I am suddenly and shockingly facing the impossible task of filling his shoes!
Otis died suddenly, at the age of 56, on March 27, 2018 doing what he loved — riding his bike. Though trim and fit as a fiddle, his big heart just stopped while on one of his long, daily rides, most likely having no idea of what had happened to him and suffering no pain.
He was the Blues manager at Rhino Records in Los Angeles where he worked for over two decades before moving to Grants Pass, Oregon. There he co-owned Vinyl Revolutions, a vintage record shop, for several years and ran his own mail order business, Otis Records.
Otis came to work for me at World's Rarest Records when searching for vinyl on his own became so time consuming he couldn't concentrate on his other passion — reproducing rare and expensive vintage bicycle parts in his machine shop and selling them at affordable prices to other cycle enthusiasts worldwide.
Otis is survived by his wife Linda, mother Florence Ollstein, father Frank, stepmother Ginger, brother Hugh, sister-in-law Dolores, his beagle Hank and a whole bunch of friends and fellow bicyclists, all who appreciated his helpfulness, intelligence and unselfishness.
Rest in peace, Otis. You are going to be missed by many.
P.S. During this period of transition, please have patience when requesting or purchasing records. Otis had knowledge in areas of music that I did not, such as 1960's Soul, Garage and Psych, which were his specialties, and Jazz, which he loved. My daughter and several other newly-promoted individuals will eventually take on his responsibilities.
Without the expertise and experience Otis provided at my disposal, it will be a slow and bumpy road getting back to our previous level.
---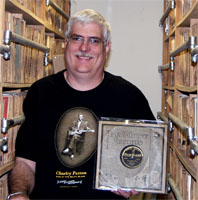 My name is John Tefteller-I have been buying and selling rare phonograph records for the past 35 years. I have a worldwide reputation for my knowledge of rare records, especially Blues 78's.
My personal collection contains some of the rarest records on the planet. My auctions in Discoveries magazine featured some of the rarest records on the planet. Many have sold for "record" prices. For top quality records, no one can top The World's Rarest Records!
I have the world's largest inventory of Blues, Rhythm & Blues and Rock & Roll 78's with over 75,000 in stock. I also have a fabulous selection of over 100,000 45's from the 1950's and early 1960's in the following categories: Blues, Rhythm & Blues, Rockabilly, Rock & Roll, Girl Groups, Surf and Country.
I am always interested in buying more rare records! I will pay top dollar for your rare Blues and Rhythm & Blues 45's and 78's in Near Mint condition. Before you sell your rare records to ANYONE, you should at least talk to me. I consistently pay the highest prices for records for my collection and am more than fair when buying for resale.
---
Email my webmaster to sign up for my email newsletter! I'll have upcoming auction highlights and sound samples. We will NEVER give out your information to ANYONE!
---
Don't forget bid and to get your bids in early! If you really want to secure your selections, please take advantage of my "call back" system. Questions? Call my cell phone: (541) 659-7175. Good luck to all!
Good luck on your bids, everyone!


Phone me at (800) 955-1326 (USA Only) or (541) 476-1326 (Outside the USA) • Write me at P.O. Box 1727 Grants Pass, OR 97528-0200 email me at John@Tefteller.com • Our privacy and security policy