Ralph DeLuca's Pre-War Blues 78's collection, part 1, Highlights!

Closes Thursday, September 16, 2021 at 7:00 pm PT
This is auction #1 (of at least five) of the record collection of Ralph DeLuca.
Mr. DeLuca is most known for his legendary collection of rare movie posters, but for about 15 years he actively, and aggressively, collected rare Blues 78's, mostly Pre-War.
He plunged into collecting rare Blues 78's hot and heavy and went for the best whenever and wherever he could find them. He bought smart and paid big to get what he wanted!
Mr. DeLuca has moved into the art world, no longer collecting 78's, as he finds it easier to buy rare art than rare records. That should tell you something!
There should be something for each and every Blues collector reading this auction. There are titles here not seen for sale in decades . . . and some may never be seen again.
This is your chance to get some LEGENDARY rarities and just plain GREAT records for your collection. Be prepared though — the great stuff is going to go for a lot of money!
E+ is the highest grade used. This is the old-time 78 grading system and I am very strict.
The next Ralph DeLuca auction will be in a few months and contains another 100 goodies.
Ralph DeLuca's Pre-War Blues 78's auction, part 1, full list


Printed (PDF) version of Ralph DeLuca's Pre-War Blues 78's auction, part 1
How to bid on my Monthly Auctions
The Three Kings of Pre-War Blues!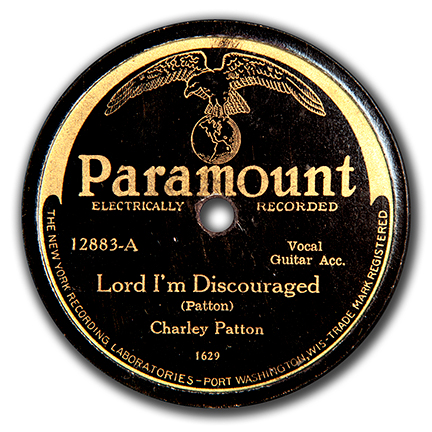 1. Charley Patton — "Lord I'm Discouraged / I'm Going Home" PARAMOUNT • 12883 E-One of the very FEW clean copies of this record out there! Here's your chance to get a clean, decent Patton that plays well. Legendary artist! Top Shelf record! MB $10,000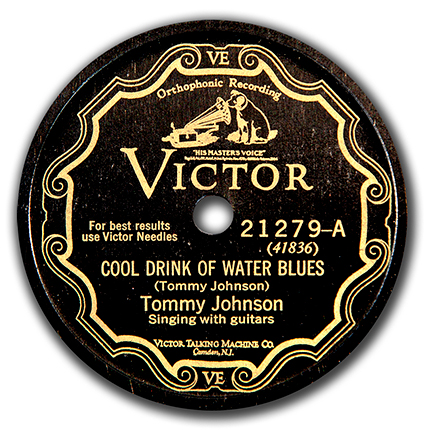 2. Tommy Johnson — "Cool Drink Of Water Blues / Big Road Blues" VICTOR 21279 • E Stunning condition copy of all time classic Delta Blues! "I asked her for water, but she gave me gasoline." Major, major investment record! MB $5,000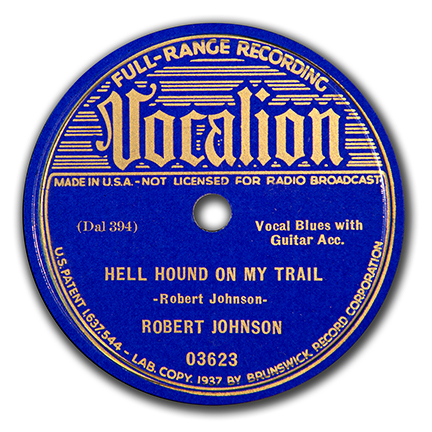 3. Robert Johnson — "Hell Hound On My Trail /From Four Until Late" VOCALION 03623 • E/E+When was the last time you saw this one for sale in near perfect condition? The stuff that dreams are made of!!! See item # 46 in this auction for another Robert Johnson. MB $10,000
The Highlights of the Deluca Pre-War Blues collection, part 1!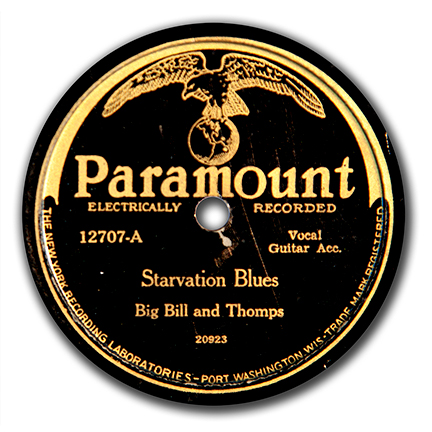 8. Big Bill And Thomps — "Starvation Blues/Down In The Basement Blues" PARAMOUNT 12707 E BIG BILL BROONZY'S SECOND RECORD — Superb copy! MB $2,000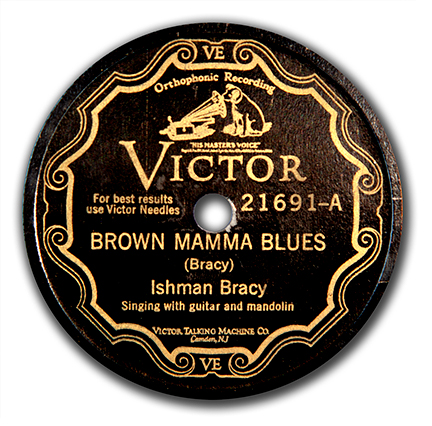 11. Ishman Bracy — "Brown Mamma Blues/Trouble Hearted Blues" VICTOR 21691 E STUNNING CONDITION COPY MB $2,000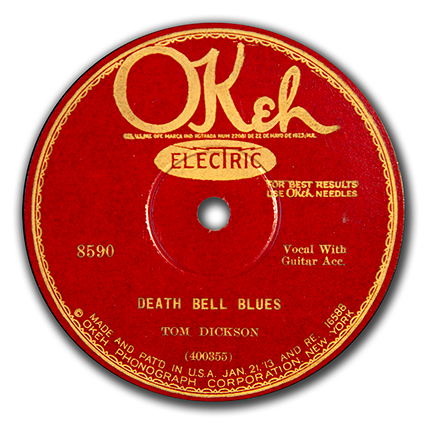 26. Tom Dickson — "Death Bell Blues/Happy Blues" OKEH 8590 E+ MASTERPIECE!!! Sounds like Mississippi John Hurt!!! MB $2,000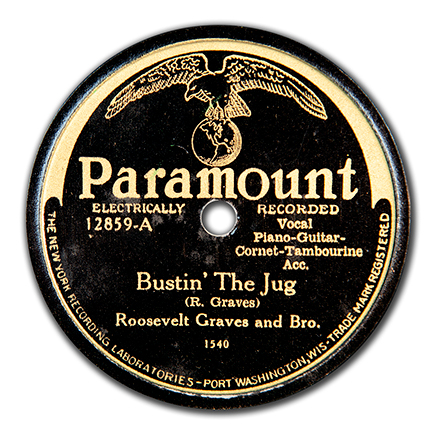 31. Roosevelt Graves And Bro. — "Bustin' The Jug/Crazy About My Baby" PARAMOUNT 12859 E- RARE MB $1,000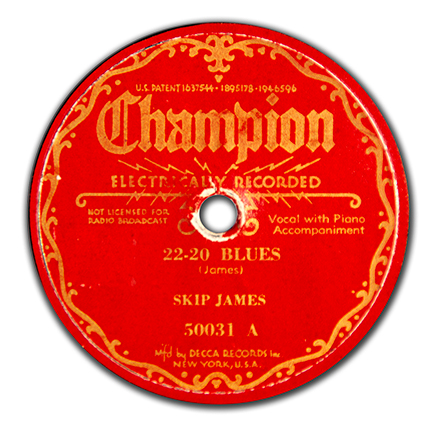 39. Skip James — "22-20 Blues/If You Haven't Any Hay Get On Down The Road" CHAMPION 50031 E- Nice copy of the ONLY "AFFORDABLE" ORIGINAL SKIP JAMES 78! MB $4,000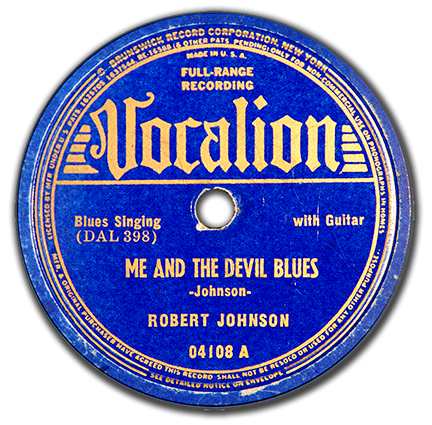 46. Robert Johnson — "Me And The Devil Blues/Little Queen Of Spades" VOCALION 04108 V+ NICE PLAYER MB $1,500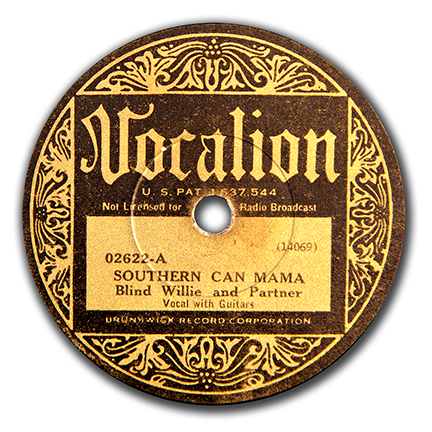 59. Blind Willie McTell And Partner — "Southern Can Mama/It's A Good Little Thing" VOCALION 02622 E- MB $1,000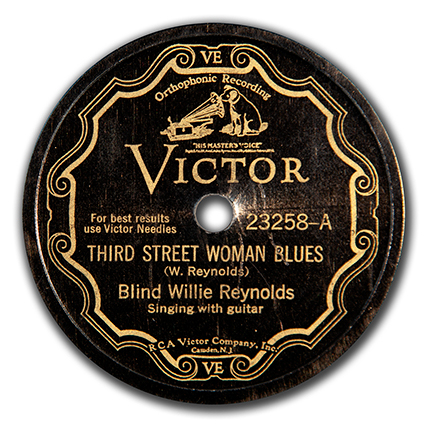 78. Blind Willie Reynolds — "Third Street Woman Blues/Married Man Blues" VICTOR 23258 V+ GREAT PLAYING COPY—Super, super rare MB $3,000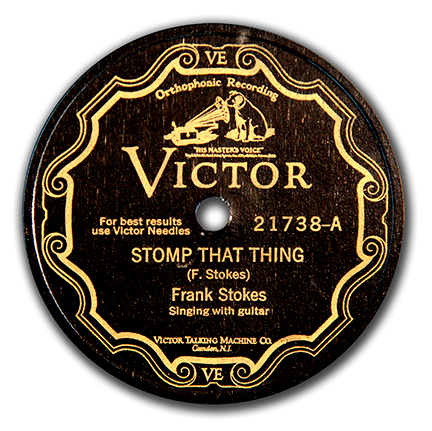 85. Frank Stokes — "Stomp That Thing/Nehi Mama Blues" VICTOR 21738 E+ STUNNING COPY of one of the ABSOLUTE GREATS!!! MB $3,000
My September 16th DeLuca Pre-War Blues 78's Auction full list:
Good luck, everybody!
John Tefteller

Next Month's Auction:
R&B Vocal Groups 45's!